Have you ever noticed the wooden pallets stacked outside businesses or stores?  Could you ever picture one of these pallets in your home as part of your decor?  This is a trend that is huge is rustic and shabby chic decorating and I am going to show you several ways that you can decorate with pallets yourself.
The nice thing about decorating with pallets is that quite often you can get the pallets for free.  Check with small businesses in your area as larger companies often resell their pallets.  Craigslist is another great place to check.  I have seen listings for free pallets there since many times people just want to get rid of them.
Here are some of the best ideas that I have found to decorate with pallets. Just click on the image for the tutorials for these great projects!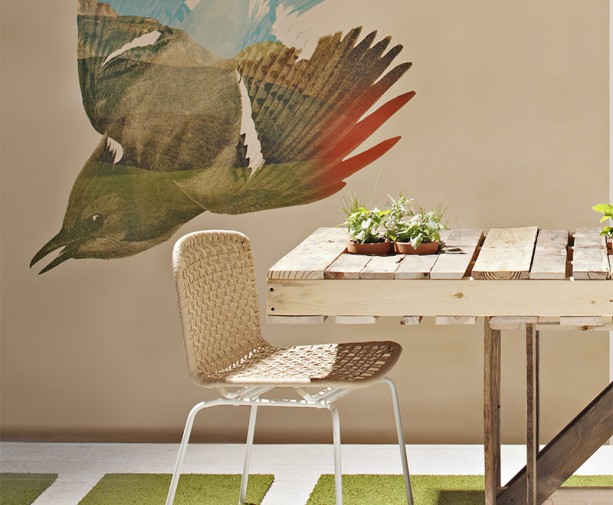 1.  Pallet Table – This pallet is sanded down for a light and fresh finish.  It is perfect for a shabby chic kitchen!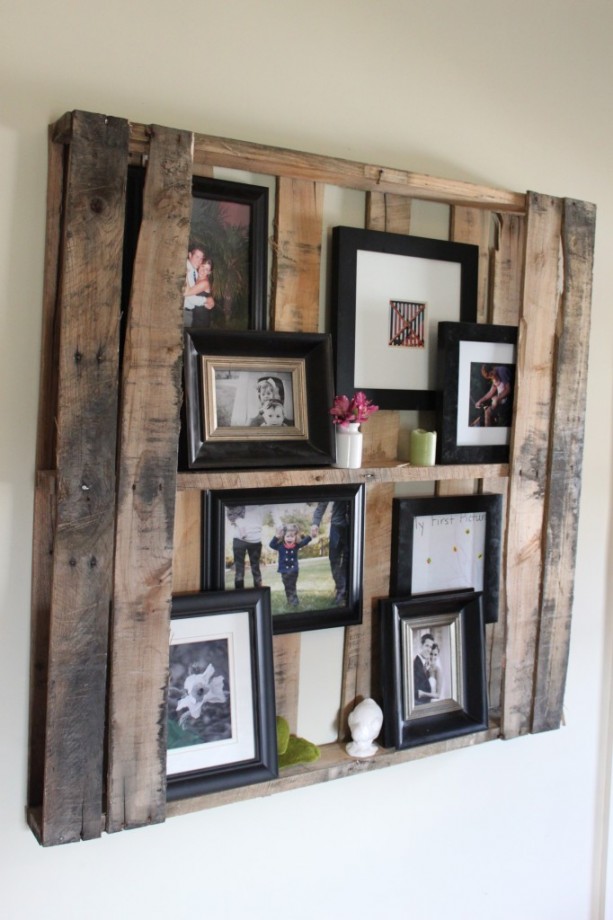 2.  Pallet Shelving – A super easy project is to simply hang a pallet on the wall to use as shelving.  All you need to do is remove some of the boards.  The decorative pieces that it holds as some chic to this shabby unit.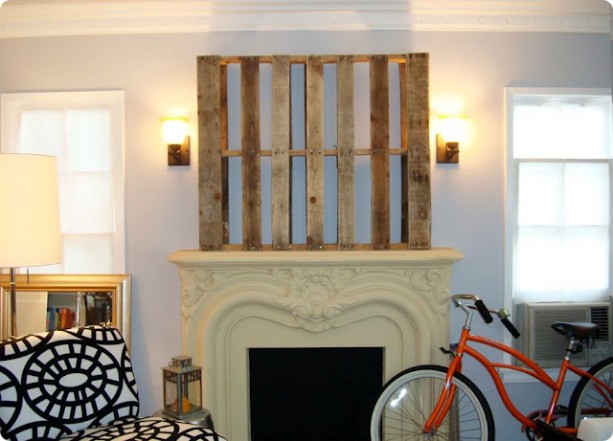 3.  Pallet Fireplace Backdrop – Use a pallet as a backdrop for hanging other decorative items.  This pallet adds a nice touch of shabby interest to the chic looking fireplace.  You can attach a picture, mirror, or any other decor directly to the wood as long as the pallet is secured to the wall.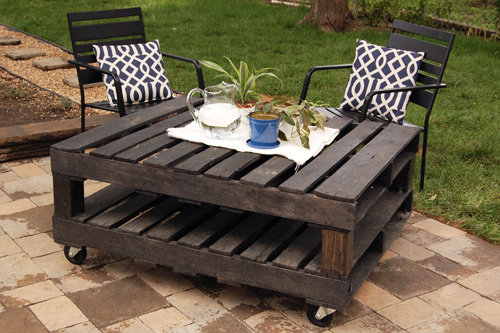 4.  Pallet Patio Table – I have featured this patio table before but had to show it again since it is one of my favorite ways to decorate with pallets.  I just love the look for an outdoor space and the fact that it is on wheels makes it easy to move around as needed.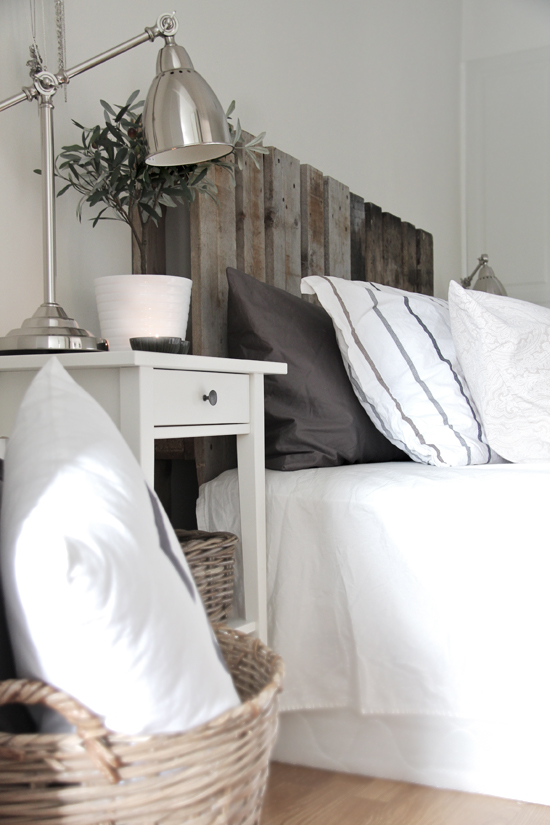 5.  Pallet Headboard – All it takes to make a great looking headboard is to attach a pallet or two to the wall behind your bed!  The rustic look is striking with the chic white bedding.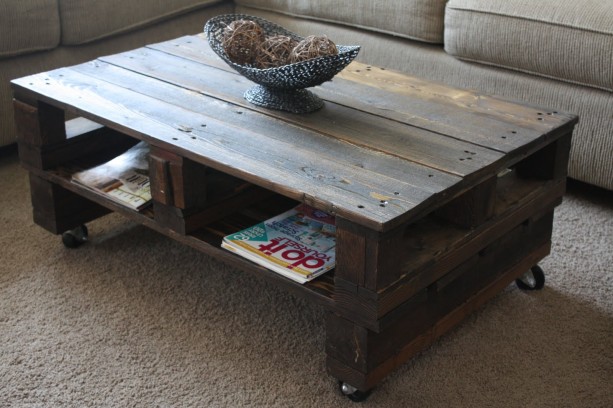 6.  Pallet Coffee Table – Adding stain to the pallets gives a nice finished look and allows you coordinate the wood color with the rest of your decor.  I love the magazine storage areas in this coffee table design.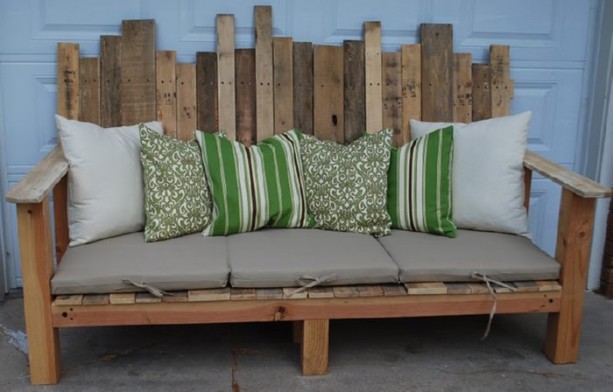 7.  Outdoor Pallet Sofa – This project make take a little more time than some of the rest but it would be so worth it!  Plus the easy to follow directions make it not so intimidating.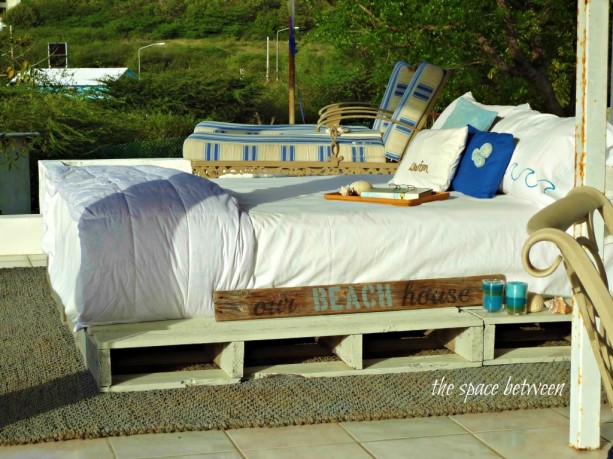 8.  Pallet Bed – If you want more than just a pallet headboard, than you may want to try this full pallet bed project.  This is such an easy way to get a cool looking bed.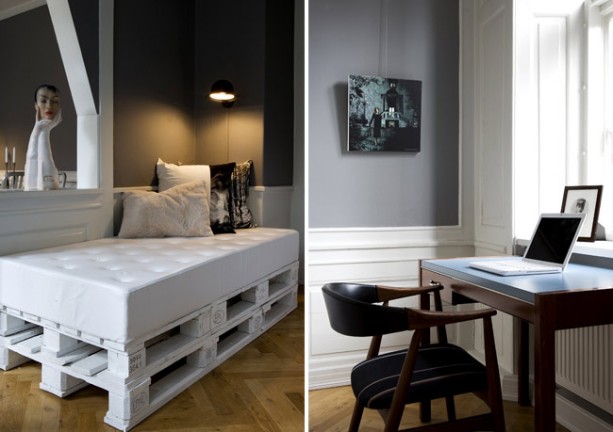 If you want a taller bed, then simply double stack those pallets! For a super chic look, paint the pallets white.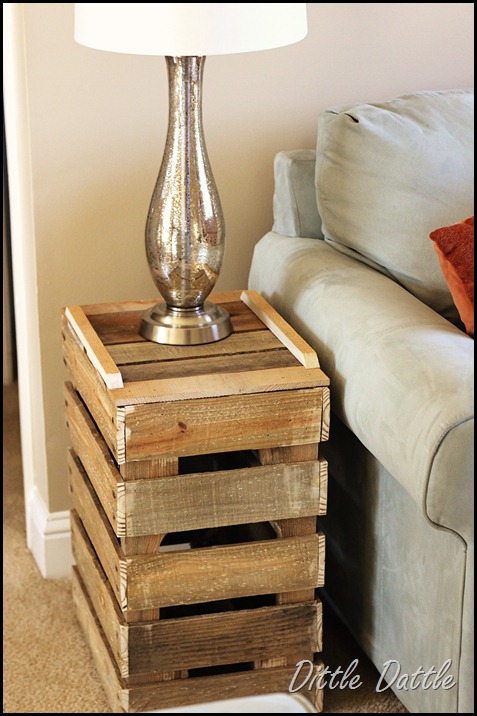 9.  Pallet Side Table – You can use pallets to make a crate style side table too.  It is just a matter of taking apart a pallet and reassembling it into your desired size.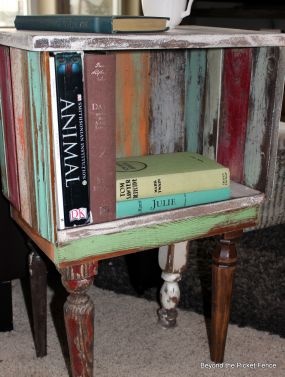 10.  Scrap wood side table – This last project was actually made using scrap plywood.  However, I thought it would be a great way to incorporate scrap pallets as well.  I love how this little table looks set on the old table legs!  Just cut your pallet pieces into a box, fit the box on recycled legs, and add a little color with paint.
Happy Decorating!