I love having storage units that are decorative and tin tubs have a great rustic look to them all on their own.  However, it is much more fun to add some embellishment to really make them stand out and be noticed.  Burlap makes a wonderful back drop for some additional design and I thought it would be perfect for showcasing some of my vintage buttons.
I thought I would spell out some words with the buttons.  Since I will be selling these, I decided to go with more generic and inspirational words that could go anywhere.  It's always nice to see uplifting words around the house!  If you were making your own, you might want to label the tubs for whatever use you have in mind.
Another idea is to make a chalkboard section, instead of using burlap, so that you can change your label whenever your needs change.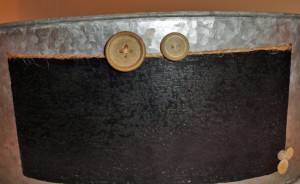 I painted a large rectangular section, with chalkboard paint, on one of the tubs for lots of versatility.  It still needed a bit more, though, for decor.  I used a hole punch that can go through tin to punch a few holes along the top of the chalkboard.  Then, I strung a thick section of jute string through the two end holes and tied them together at the inside middle.  This gave a nice little decorative border to the top.  I then threaded a thin section of jute string through a large button and inserted the ends through another hole that I had punched towards the middle.  I tied the two ends around the thicker jute string, which was inside the tub. to secure the button.  The procedure was repeated for a smaller button.  For a little extra fun, I added a few small buttons, with tacky glue, to the right bottom corner.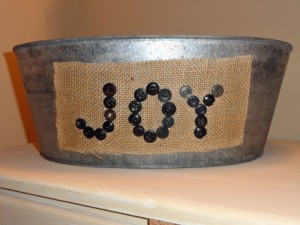 For my first tub with burlap, I used dark buttons to give a real nice contrast.  I like the way the word really stands out.  I used tacky glue to adhere the buttons in place.  When the glue was dry, I used Mod Podge matte finish to adhere the burlap to the tin tub.  First I applied the Mod Podge to the back of the burlap and then set the burlap in place on the tin.  Next, I applied another layer of Mod Podge over the front of the burlap to secure and seal it.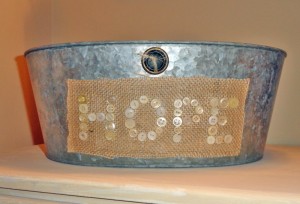 For a more subtle look, I used the light vintage buttons on the burlap.  I love how these buttons catch the light for a chic sparkle.  The large dark button at the top center gives just a little contrast to the whole design.
Hopefully, this gives you a little inspiration for labeling a tin tub or storage bin for your home.  It's fun to organize and have a decorative piece all at the same time!
Happy crafting!