When I think of rustic decorating, I immediately think of natural and what could be more natural than earth and sky?   That is why I wanted to start my color series with those two natural colors – blue and brown.   I love the combination of a very pale blue with a rich chocolate brown which is very reminiscent of the soft sky and a rich earth tone.
Brown is an easy color to decorate with, especially for accents.  You can associate brown with warmth and comfort – think of a big cozy brown leather chair!  Blue, on the other hand, is cool and soothing.  It makes a great wall color choice.  The two colors together make a perfect pair!
It was pretty easy to find several examples of this color combination in a rustic style of decorating.  I think you will like what I found:

I love the wall color in this dining area!  It is the perfect shade of soft gray blue and makes a stunning back drop to the rustic brown light fixture and rich brown floor.

This country style bedroom looks so soothing and inviting!  The colors make it feel spa like.

And, speaking of spa like, I love the color combination in a bathroom like this!

Another fun bedroom combo!  I like all of the great accessories in this one too, like the light fixture and the stack of vintage suitcases.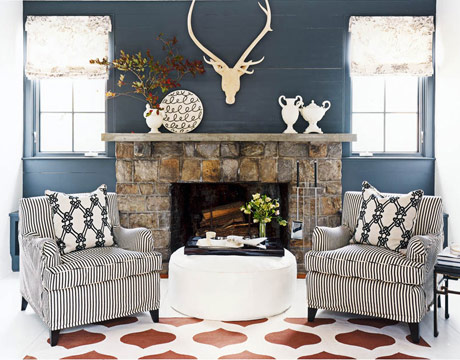 I love the blue and brown combination in this room.  It is rustic and artsy at the same time with the geometric rug and all white trophy mount over the fireplace.  The warm colors seem to draw you right in.

Here is a cottage-y looking sitting room with a lot of blue and some brown.  I would probably add a rich brown leather chair to add even more warmth and throw in some birch accents for a super cozy retreat.

I end with an example of a darker blue wall again with a brown wood floor and some wood accents on the wall.

How do you like the color combination?  Let me know your thoughts!
Happy Decorating!