Displaying necklaces and bracelets on a wall seems to be a popular way to go. It makes sense to have them hanging in eyesight where they won't get tangled up and they are easily accessible. I have seen a lot of different ways of accomplishing this and decided to jump on the bandwagon. My DIY jewelry holder is also a great way to recycle.
One item that I have an abundance of is wine corks. I figured they would make a great knob or hook to hang necklaces from. I just needed to attach them to something. So, I decided to make myself a cork board using an old picture frame and some cork you can buy in a roll.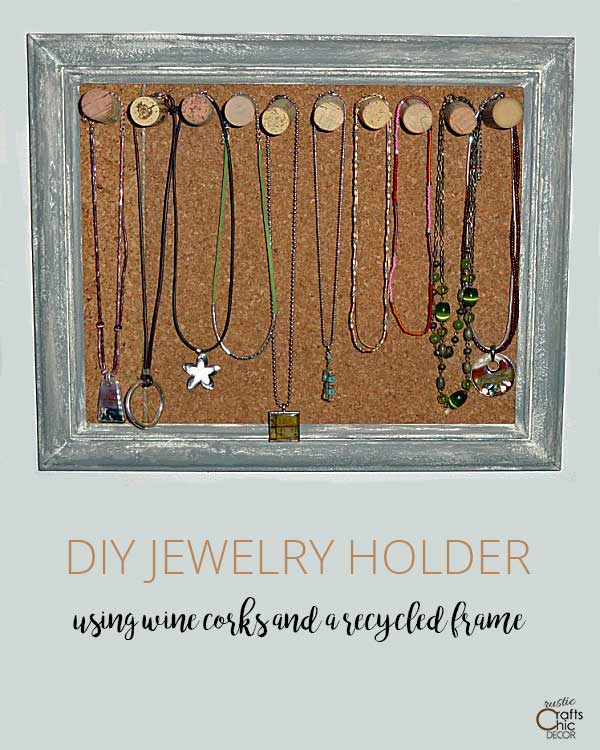 DIY Jewelry Holder Steps
Picture Frame Makeover
To make this jewelry holder, I needed a picture frame to hold the cork. Luckily, I already had an old one on hand. Unfortunately, I didn't really like the frame which is probably why it wasn't being used to hold a photo. Although, it was also missing the glass! Since I didn't need glass for this project, it was the perfect frame to give a little makeover to.
First I distressed the picture frame using a couple colors of paint and a product called Weathered Wood, which you can find at any craft store in the section where they sell the small containers of acrylic paints. I first painted the frame in a combination of a couple of colors, a gray slate and tan. When the paint was dry, I applied a thin layer of the Weathered Wood medium. After that was dry, I applied a thin layer of white. The white paint went on unevenly and crackled because of the Weathered Wood to give me a distressed finish.
Cut And Insert Cork
Using the picture frame backing as a guide, I cut a piece of cork from my roll with a sharp scissors. I then adhered the cork to the frame back with spray adhesive. The glass to my frame was already missing, making this a perfect frame to use! Then I just inserted the backing back into the frame and secured the tabs. Now I was ready to make my cork knobs.
Make Wine Cork Hooks
I decided that the easiest way would be to glue tacks onto the ends of each cork and then just insert them into the cork board. I could then easily place the wine corks wherever I wanted them on the board. This works great for light weight necklaces like the ones pictured but anything too heavy wouldn't work well with a cork tack. I tried it with a very heavy necklace and NOPE not gonna work! Another option would be to cut the corks a little shorter and adhere them with E6000 craft glue for strength. You could even do this with just a couple of the corks that you wanted permanently in place for heavier necklaces.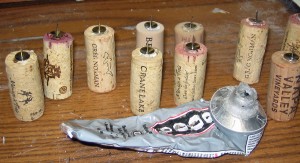 I used the wonderful E6000 craft glue to adhere the thumb tacks to the ends of my corks as well! This is a highly durable and strong glue.
Finished DIY Jewelry Holder
That's all it takes to get your jewelry up on the wall and use up some of those wine corks!