Have you ever thought about turning your craft hobby into a business? I've previously shared how to sell crafts online. However, there other craft business ideas using methods that may be a little less known. Once you figure out what you want to sell, it's just a matter of picking the best way to meet your goals and objectives.
When starting out with your own craft business, it's probably not the most lucrative idea to begin with your own brick and mortar store. A business like that takes a lot of overhead costs that would be hard to recoup. A better idea is to start smaller with an easy to manage business. Business ideas like wholesale selling, consignment selling, and craft shows are just a few of the ways to sell that I will be touching on.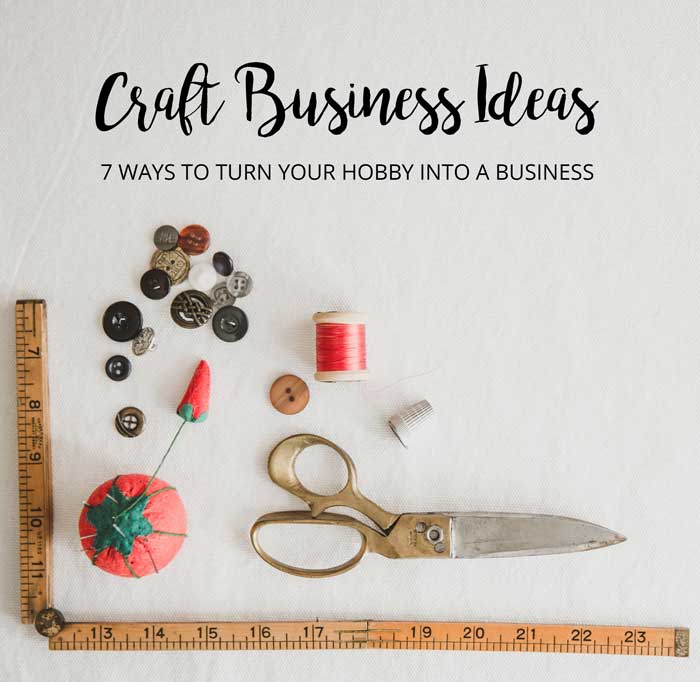 Ways To Sell Your Crafts
Besides selling crafts online at places like Etsy or Artfire, these craft business ideas offer some great alternatives. Since an online store does require some extra work with shipping, it may make more sense to first try something a little different.
Before starting any craft business, it is a good idea to check with your city or state for business license requirements. Typically a business license is required to allow government to keep track of tax revenue. Check out the basic steps for turning your hobby into a business.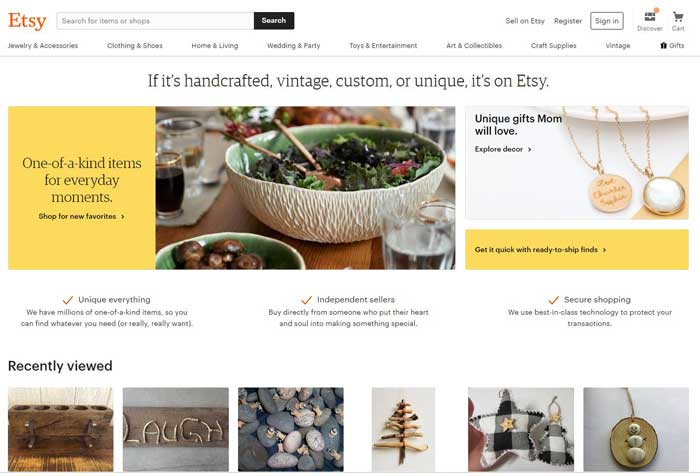 Sell Your Crafts Wholesale
An easy way to get your crafts into a brick and mortar retail space is to sell your craft items to a relevant store. You would need to sell at a lower price so there is room for the retailer to make a profit. My husband and I did this when we first started making birch lamps. We found a few rustic furniture and accessory stores that bought our lamps directly to add to their inventory. The key is to look for places that will complement your particular craft. Just think about what retail store you would shop at to find your particular craft item. You might be surprised at the amount of businesses that would be willing to take on some new product.
Steps To Getting Your Crafts In Stores
1 – Research Stores In The Areas You Want To Sell. – The nice thing about selling directly is that you are not confined to the area you live. Since you only need to revisit the store for repeat sales, you have more freedom to expand your territory. Just make sure that you are choosing to sell at stores that complement your craft.
2 – Keep Detailed Records Of Your Costs. – Before selling to stores, you need to know the costs that you have into your handmade item and what it can typically sell for at retail. If you've already been selling your crafts at an online store or craft shows, you will have a good idea of the retail price. What you charge for your items wholesale will be somewhere in between your costs and the going retail rate. It is also a good idea to include a suggested retail price in your proposal to a retail store.
3 – Get A Copy Of The Stores Resellers Licenses. – Even though you do not need to collect sales tax when you sell wholesale, you cannot sell to anyone that does not have a resellers license. It's good to have this proof for your own records and reporting.
Sell Crafts On Consignment
If you are having a hard time getting retailers to buy wholesale, you may want to try a consignment agreement. In the case of consignment, retailers are only offering selling space and there is no initial costs to the store. By providing the floor space, retailers will expect to get a commission from the sales. This will be an agreed upon percentage and should be in a signed contract. Again, pick stores that complement your craft. You are at a little more risk with selling on consignment. Since you don't have possession of your items, you have to trust the retailers to take care of them. Make sure you are comfortable with the owner and store layout.
Start A Retail Store With Other Craft Sellers
Although it can take a lot of time and money to start your own store, sharing the cost with other sellers has it's advantages. Not only do you share expensives, but you also have more of a draw for customers.
Things To Keep In Mind
1 – You will want to form an LLC to operate the business. – Because there are several partners involved, you need to form one common entity. See how to form an LLC to get started.
2 – Pick other sellers that you have a good relationship with. – Sellers with common interests and goals will work better together. Divided interests will cause unnecessary conflict.
3 – Create an operating agreement. – You need to have a clear plan when working with other owners. For instance, how will you handle it if someone wants to leave the business. Or, what do you require for adding another person. Having a clear plan, with various scenarios, can eliminate problems later.
Other Craft Business Ideas
Sell Handmade Items At Craft Shows And Fairs
An easy way to start a craft business is to sell your items at craft shows. The more craft shows that you attend, the bigger your business will be. If you don't mind traveling on weekends, this can be a fun way to go. There is very little cost involved with attending. However, you will need a few things to get started. Check out these craft show must have items to be successful. Besides display items you may also need to purchase a trailer. It all depends on the size of your crafts and the size of your vehicle.
Design Graphics Or Cards To Sell On Zazzle
If you like to create using a computer rather than a craft room, you can sell your designs on Zazzle. I have created several greeting cards using either Photoshop or Illustrator. It's also fun to create your own graphics to sell on other merchandise. Just upload your graphic onto Zazzle and it can be applied to almost any household item that you can think of. For example, pillows and coffee mugs are popular to sell.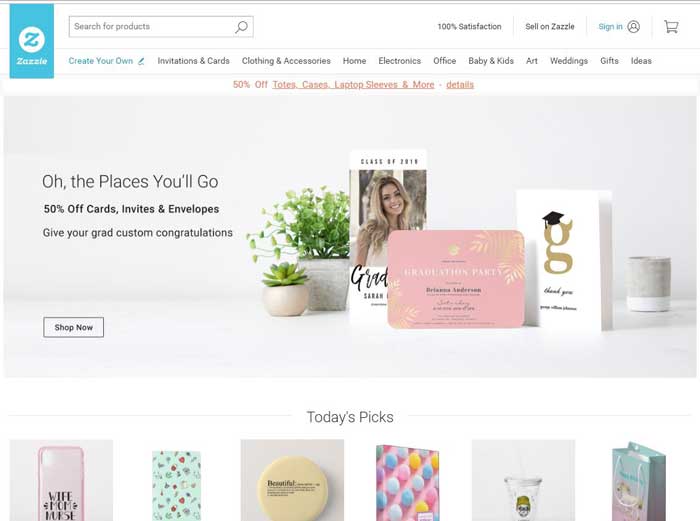 Write Your Own Craft Book
If you like to craft more for yourself, you can still make money doing what you love. Write a book with step by step instructions that you can sell on Amazon or other places. Amazon makes it easy to self publish your own book with a simple tutorial.