Get People Into Your Booth And Make More Sales With These Priceless Tips & Must Haves!
Turning a craft hobby into a profitable business is very rewarding. In fact, I have found that selling at craft shows is a lot of fun. Not only can it be lucrative, but you also have the opportunity to meet so many nice people. The trick is to get those people into your booth to start shopping. You want to draw their eye, in a positive way, with a professional-looking booth. This is where staging your booth could mean the difference between getting shoppers in versus a quick glance and walk-by. To stage a booth correctly, there are some definite must haves that you'll want to make sure you acquire.

Your booth should have a cohesive and organized theme. It's important to give adequate space for shoppers along with the essential space required for organized displays. This makes it easy to see your products. If things are too cluttered, people tend to see nothing. A roomy layout with a clear view of featured items will tend to draw customers in to see more.
You don't need to put everything out at once either. Put out enough to show that you are a serious business but don't overdo it. There's nothing wrong with keeping some boxes of items available for replenishing your inventory as you start selling.
With the right equipment, you can create a great booth design to display your craft and entice customers in.
This post contains recommended product links. If you make a purchase through one of the links, I will earn a small commission at no extra cost to you.
My Craft Show Must Haves
To start, there are some craft show must haves that you will need to purchase. Not only to draw more attention to your booth but to also be able to operate more efficiently. I took part in craft shows for several years and found there were certain things that I just couldn't do without. I'll go over each one and include links where to purchase some of the items if you are interested.
1. Craft Show Tent
Since most of the summertime, as well as warm climate shows, are held outdoors, a good craft tent is a must. Make sure to get one with sides so that you can close it up in case of bad weather. You don't want all of your hard work to be ruined by rain or wind. This also gives a look of professionalism. I have been to outdoor craft shows where a crafter's booth is nothing more than a mish-mash of tables and unorganized goods strewn about. I tend to not stop. If the quality of the booth isn't up to standard, then I have to think the craft item will also be sub-standard.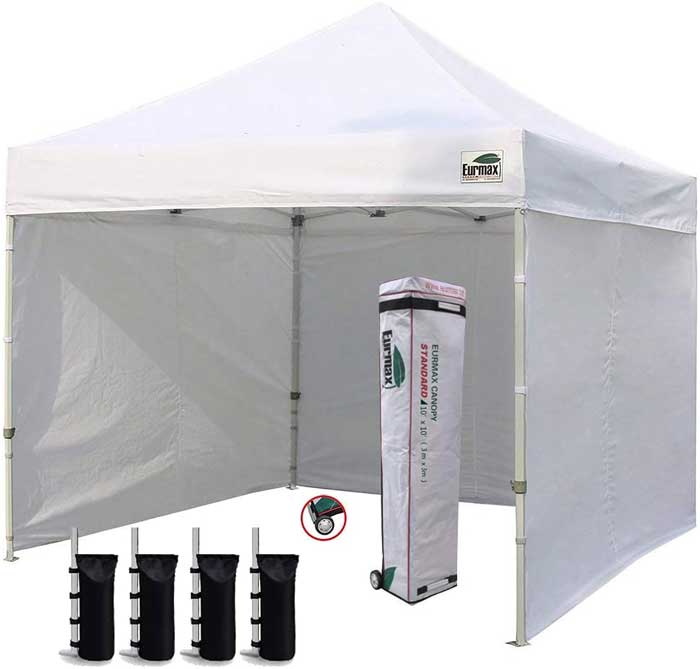 The majority of tents that you see at craft shows are white. A 10×10 tent is a good size and seems to be the standard. I have a white tent, like this, and really like the clean simple look. If you want to stand out in the crowd, you could always go for a colored tent. A bright color may go with your crafty creations or black can add a touch of elegance. Just make sure there aren't any rules pertaining to tent colors at any of the shows that you want to attend.
Related: How To Find A Craft Sale To Sell At
How To Outfit A Craft Booth
So we have the basic structure covered. Now to get to the nitty gritty with how to outfit your craft booth with all of the other necessities. Here is the list of craft show ideas and I'll go into detail about each one.
Folding table – one or more depending on what you need
Chairs
Vertical displays – pegboards, wire rack, shelving, cubes
Organizational Tools & Business Necessities
2. Folding Tables
A folding table or two is a must for sitting behind and using for displays. To give it a polished and professional look, you will want to cover it with a fitted tablecloth. This way you can also store boxes, bags for customers, tape, a cash box, price tags, pens and craft supplies underneath the table.
If you have brochures or business cards, keep them on top of your table along with a few craft items. Also, make sure to have a calculator or adding machine and a receipt book to keep track of orders and to give a copy to your customers.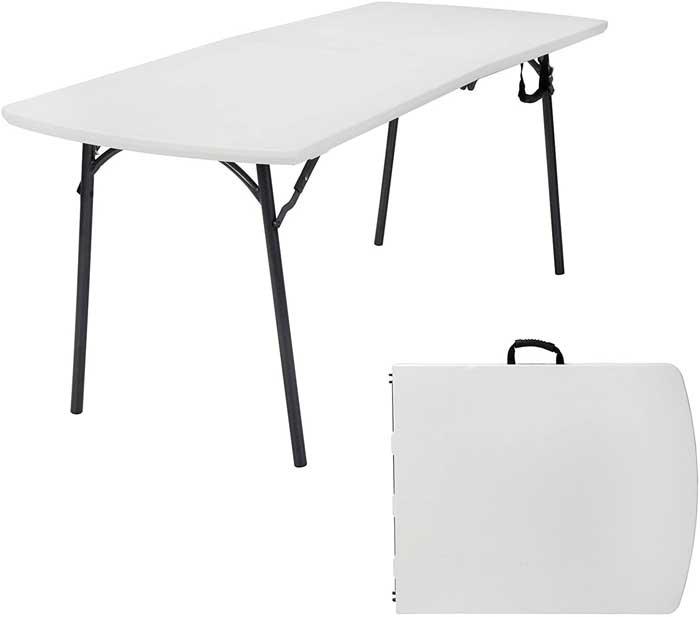 When you purchase a folding table, make sure that it is one that folds up easily with a handle. This makes toting around so much easier.
3. Chairs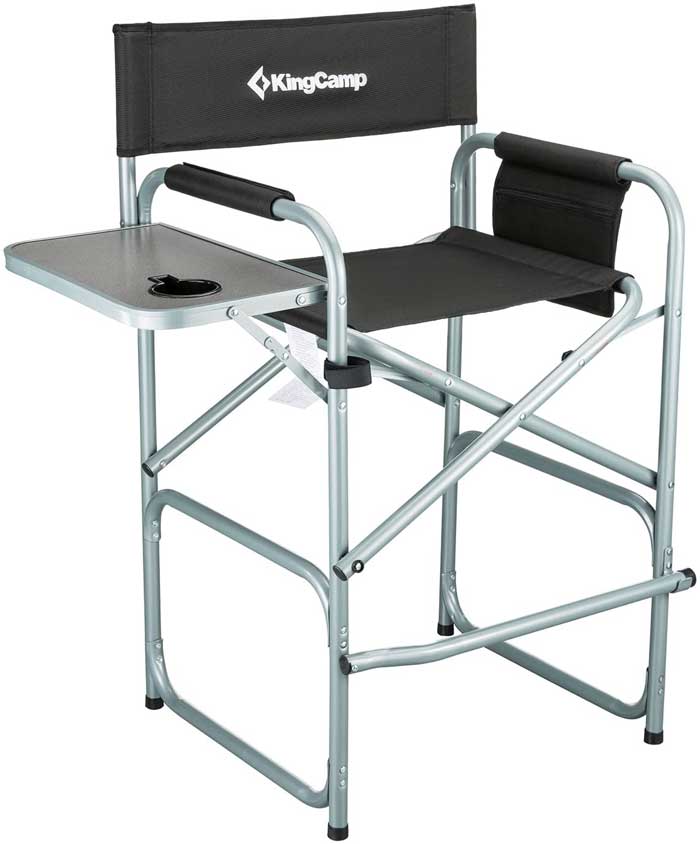 You will want a comfortable chair for yourself and anyone else that will be helping to man your booth. Since you will be up and down a lot, a bar height chair is most comfortable. Plus, you can see above your table better with a higher seat. I like this one with the little side table and cup holder. The side table is good for keeping a receipt pad and pen. The cup holder is also a better place to keep your coffee or other drink. If it's on the table in front of you, you run the risk of spilling on some of your display.
Once again, you will want to think about portability. Chairs, like this, that fold up and fit into a bag are a must!
Related: How To Come Up With A Craft Business Name
4. Vertical Product Displays
Besides using tables to display your crafts, you may also want some vertical displays. You can store more going up than you can on a table. This takes up less space in your booth and also is more eye-catching.
Make sure your crafts are displayed attractively and neatly. Also, make sure they are secure to prevent accidents. Many people will be walking through your booth so you don't want to have your items ready to topple over at the slightest bump. It's a good idea to display a small amount of each item and then as they sell bring out more. You can keep extra inventory under tables.
There are so many different types of displays that will work, depending on what you are selling. I have come up with some of my favorite picks for a variety of different crafts.
5. Craft Booth Signage
Once you have your craft show displays figured out, you will want to think about signage. A big sign outside your tent or booth advertising your business will help to draw customers in. Whether you get it professionally done or make it up yourself, you will want it to be eye-catching. There are usually hundreds of booths at a craft show and you will want yours to stand out. Having a nice sign and displays that show off your crafts in a neat and orderly fashion should help you get attention.
6. Business Necessities
How Will You Take Payments?
Make sure to have a credit card reader if you plan on accepting cards. For cash customers, you must also have enough cash on hand to give out as change when necessary. You will also want a calculator on hand for totaling the purchases.
Shopping Bags
I always like to have a box of plastic shopping bags to give to customers to put their purchases in. If you want to be really fancy, you can get custom bags made up with a business logo if you have one.
Price Your Items
Make sure to have tags on all of your items for sale. If you have several small items, post a sign with the prices. When customers don't know, they may leave without asking.
Related: Easy Things To Make And Sell
Craft Show Ideas To Get Repeat Customers
Business Cards – Have business cards available with all of your contact information. I was surprised by how many calls I had gotten and sales made after a show. Quite often a person will regret not buying something once they have had time to think about it. If they have your business card, they can easily contact you for a sale.
Future Show Information – Display a list of other craft shows that you will be selling at for the year. A lot of times people travel around to various shows, especially if they are in the same region. They will want to make sure they don't miss a show that you are at if they like what you are selling.
Customer Contact Information – Try to get an address, phone number or email from a buying customer and keep a list so that you can notify them whenever you are having a sale, especially if you extend your craft business to also sell out of your home.
Do you have any craft show ideas that you would like to add? Just leave your ideas in the comments below!