Sometimes craft room storage comes from the most unlikely of sources. When you want to organize but also don't want to spend a fortune, it becomes necessary to think outside of the box. Or, in this case, inside a cardboard six pack container! I have designed several different craft room caddies simply by recycling those six pack containers. See how to make your own DIY caddy for just pennies.
Because a soda or beer six pack container is already divided up into sections, it naturally makes using one for organizing easy. I love to use them for storing paintbrushes, pens, and other light crafting tools. It's easy to create the caddies with several different looks depending on what you use to finish them. I have decorated them with fabric, burlap, and decorated paper for a variety of looks.
DIY Caddy
Materials Needed:
cardboard six pack container
paint
paper, fabric, or burlap to cover the container
hot glue
tacky glue
other embellishments like wine corks, floral picks, or buttons
DIY Caddy Instructions
Paint The Six Pack Container

To start with a good base, paint the entire six pack container in your desired color. If the color will show through a fabric like lace or burlap, make sure the paint color coordinates. You can either paint the container a solid color or give it a distressed paint treatment.

Cover The Container With Fabric Or Paper

You can skip this step if you just want to use paint to decorate your caddy. However, to add a little more style, pick a fabric or paper to wrap around the base of the caddy. I usually leave the handle simple painted to keep it easy. Just cut your paper or fabric to fit around the base in one length. Then, apply tacky glue to the base of the caddy and wrap your material around. Keep the seam at the back.

Add Embellishments

Decorate your caddy further by hot gluing on some embellishments. Use things like buttons, wine corks, floral picks, or even a small wreath.
DIY Caddy Inspiration
Here are a few of the caddies that I have made to use for inspiration. You can see that the look of the caddy can change a lot depending on what you use to decorate with. Since I have quite a stash of scrap fabric and little embellishments, I just used things that I already had in my craft room.
Birch Bark Paint And White Lace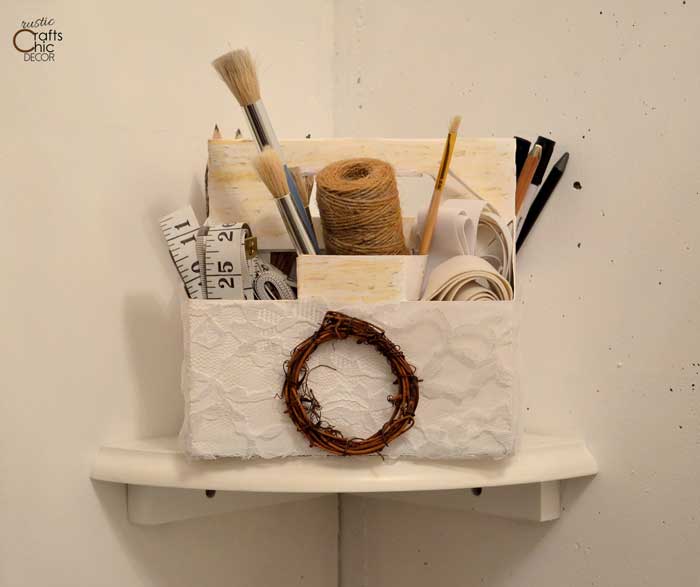 My favorite caddy fits my craft room perfectly. The style is very rustic chic with the rustic paint technique, white lace, and rustic wreath. I painted the caddy, first, to resemble birch bark. By brushing on various shades of creams and whites, I got the coloring of birch bark. Then, I added in little gray lines that are also seen in real birch bark. Because I used lace at the base of the caddy, I first painted that part with pure white paint. The little wreath was the finishing touch for the look I was going for.
Burlap And Buttons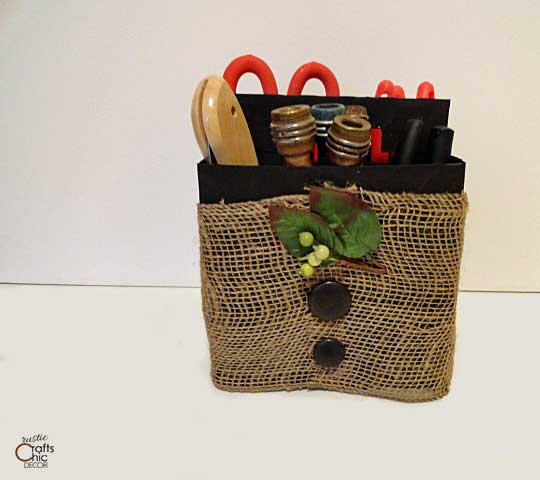 With this next caddy, I went with something a little more dark and rustic. I painted the entire caddy a solid brown. Since the burlap is such a loose weave, I wanted the darker color to show through. Then to coordinate the whole thing, I added a couple of brown buttons. The leafy floral pick gave it just a little bit of natural color.
Patterned Paper And Wine Corks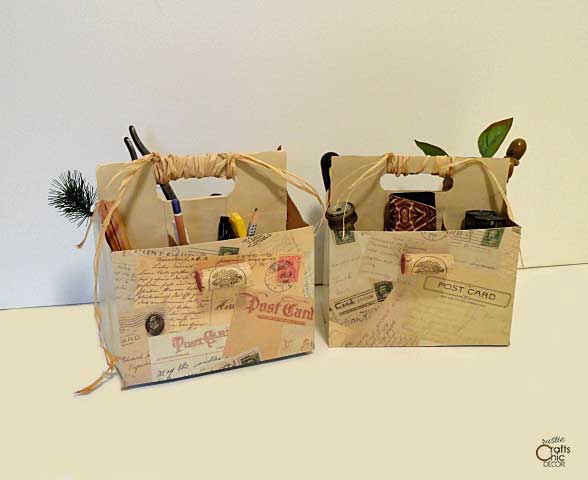 I used some fun paper for these last two. When I chose the paint color, I simply picked a dominant and coordinating color from the paper. Since, I have so many wine corks, I figured they would coordinate well for an embellishment. To add just a little more texture and interest, I wrapped the handles with raffia.
For another creative craft room storage idea, see how I recycled tin cans.