Do you ever find yourself becoming bored with the ordinary picture frame for hanging your extraordinary photos?  Or, maybe your space doesn't quite allow for the classic frame.
Well, if you dare to think outside the box…or frame…there are some other creative ways to hang photos.
I knew that when I picked up a funky metal piece from a salvage shop, that I just had to make some sort of photo wall hanging with it.  Here is what I did:
I have no idea what the metal piece is, that I purchased, but it has six numbered and hinged brackets on each side that are perfect for holding photos or notes.
I made a base for the piece by cutting a larger square of thin wood with my Dremel.  Luckily, I only had to go to our garage to find this wood and just had to make one cut to get it to the size I wanted.
I then painted the wood with one thin coat of white semi gloss latex paint (I wanted some of the wood grain to show through).  I'm all about layering textures and neutral colors so I then cut a piece from a burlap runner that was between the size of the wood and the metal and mod podged that to the wood.
For some extra embellishment, I added typewriter keys to the four corners of the burlap.  Finally, I glued the metal piece down with E6000 glue.  That glue is awesomely fantastic!  I piled a bunch of weight on top of it while it was drying overnight to keep it nice and secure.
The wood already and two holes at the top which I conveniently used to run some twine through for hanging.  Then… I just added my photos and hung it up in our hallway.  Oh…..and I ran a screw through a vintage thread spool for a decorative hanger.



You do have to be fond of the old and rusty for this one but I like the contrast with the elegant wedding photos……definitely outside the box!
Here are some more ideas of how to hang photos that are a bit out of the ordinary:
The Photo Wheel via Bob Vila

Vintage Mattress Spring Photo Display by My Blessed Nest

Clothespin Photo Wall by Project Denneler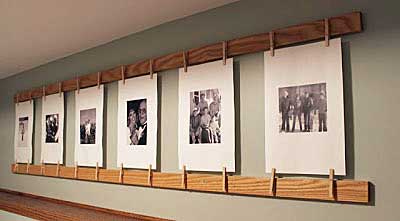 A vintage pants hanger also makes a wonderful photo display!

I hope you have been inspired!