Dried floral wreaths are probably the most popular wreaths to use in home decor.  Since the preserved florals come in such a wide range of colors and varieties it is no wonder it is the supply of choice in wreath making. While there are many styles of dried floral wreaths that are beautiful to accessorize with, I want to focus on a style that is more on the rustic chic side.  These ideas for dried floral wreaths will easily fit in with rustic decor or a shabby chic style.
Ideas For Dried Floral Wreaths
Wood Slab Wreath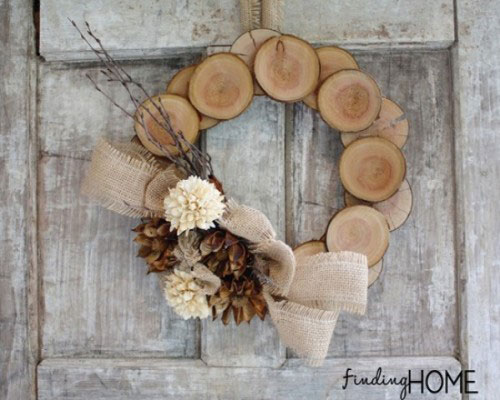 The wooden discs and branches make a perfect pairing with the neutral color of the chosen dried flowers for a rustic look with a touch of chic.  Begin by layering and gluing small wood slabs together with a good craft glue. Then, it is just a matter of gluing the florals to the base.
Grapevine Wreath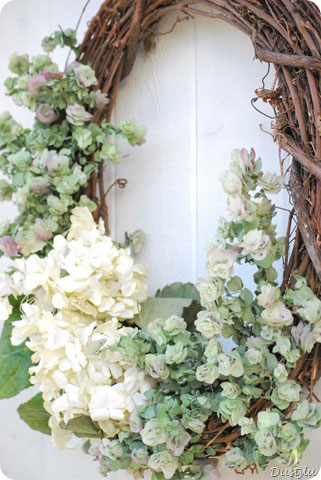 The base of this wreath is what adds a bit of a rustic touch to the soft florals.  Ready made grapevine wreaths are easy to find at most craft stores and are easy to work with.  Just add your favorite dried flowers and you are all set.  See more of the details on this one by checking out Dusty Lu Interiors.
Wheat Wreath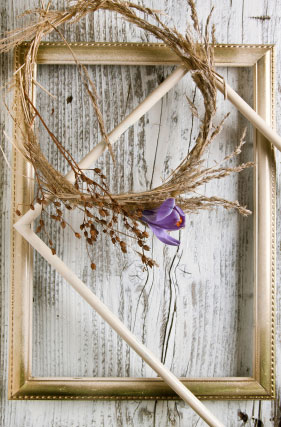 Adding just one bright purple Crocus to a dried floral wreath makes a super chic statement.  The added frames makes for some very interesting wall decor.
Hydrangea Wreath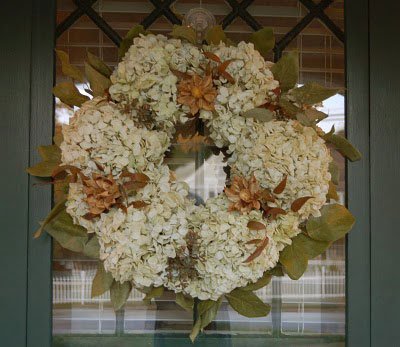 These hydrangeas make a perfect dried flower to use in a wreath and is a perfect look to incorporate into a shabby chic style.  I can also picture this on an old weathered wood door.  Check out the wreath details by Julie Ree.
Wreath Hung From Old Window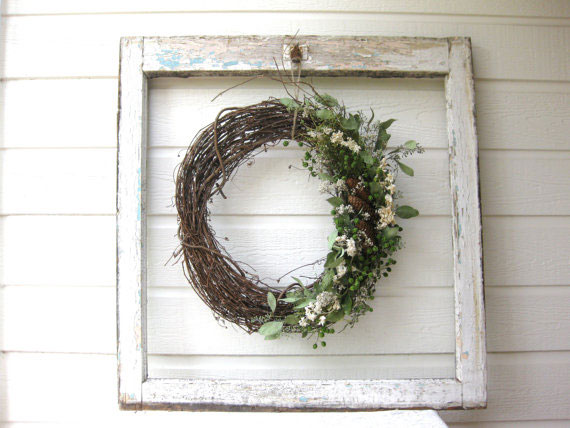 Here is a beautiful example that is currently for sale on Etsy at the Yellow Rose Shoppe.  Once again a grapevine wreath was used as the base.  I love how just half of the wreath is decorated with the dried flowers. Because this wreath is also hung from an old window, it looks especially rustic chic.
I hope you have been inspired!