At the end of Winter, I always look forward to sprucing up the outdoors for Spring and Summer.  One of my favorite things to do is to purchase new potted annuals to set around the firepit, porch, and deck.  Most of the time I end up buying at least some of my flowers already in pots which leaves me with a lot of leftover pots from the years before. This led me to come up with some creative uses for flower pots. You'll be surprised at what you can do with a simple clay pot!
Repurposed Flower Pot Ideas
Outdoor Uses
I thought of placing a couple of my larger clay pots next to our fire pit up at our cabin and filling them with kindling. It might be nice to have another one just for keeping our metal marshmallow sticks in after using them. Basically anything that you would want to store in an open container can be done with a clay pot. Another idea is to turn a terracotta pot upside down and make it into a fun outdoor side table.

SOURCE: Thrifty And Chic
Clay Pot Pin Cushions

SOURCE: Nettle Knits
Nettle Knits makes these fun pin cushions out of flower pots. You can create a custom look with your favorite fabric and you could even paint the pot for a different look too!
Colorful Flower Pot Garden Art

SOURCE: Garden Muse
Create some colorful garden art with painted flower pots strung together with beads and hanging from a garden stake.
Indoor Storage

SOURCE: Word Play House
Clay pots are not just for the outdoors. You can also use them as storage containers inside your home. A large pot works great for toys or fireplace kindling. Use smaller pots to organize bathroom or kitchen essentials. A clay pot would make an excellent kitchen utensil crock. To make the pots more decorative, paint them to fit in with your other decor. Both solid colors and patterns are easy to paint on terracotta.
Utensil Storage

SOURCE: Pretty Handy Girl
How about dressing up some flower pots as utensil holders for your next outdoor party? Besides paint, you can also add other embellishments to dress up ordinary pots. Rope or twine is easy to wrap around a container. 
A Creative Bird Bath

SOURCE: Flower Pot Crafts
You can get really creative by stacking several painted pots together to form a bird bath. And, if you didn't want to paint, just leave the pots as is. The design is clever and decorative no matter how you finish it.
Other Creative Uses For Flower Pots
Use Flower Pots To Display Address Number – A unique way to show your house number is to paint your number on as many clay pots as the amount of digits for your address. For example if your address number is 310, line up three pots each with one of the digits. Just don't get the order mixed up!
Use A Clay Pot As A Candle Holder – Turn a clay pot upside down, top with a clay saucer, and set a pillar candle on top. You can also use small pots as rustic votive candle holders.
An Old Flower Pot Makes A Great Base For A New DIY Centerpiece – One idea is to create a French inspired pot to use for your indoor plants.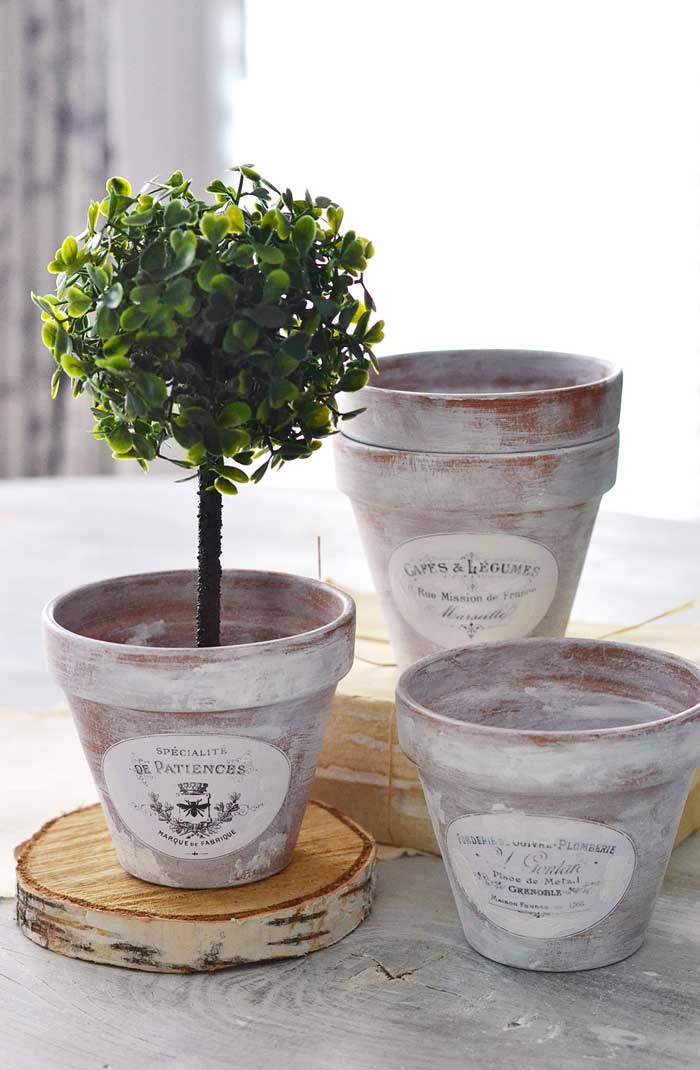 It's easy to create a French inspired look with the free template provided by The Graphics Fairy. The template plus a white wash of paint creates the perfect rustic chic container. If you didn't want to fill them with plants, you could also use the decorated pots for storage throughout your home.