Lately, when I shop for home decor, I look more at flea markets, scrap yards and antique stores than I do actual home interior stores. The things that I find interesting are rustic or industrial type items that add some fun character to the rest of my decor. Most of the items are pretty random and unusual but what they have in common is interesting texture, shape or color. Many of my finds could be otherwise forgotton and useless but as upcycled home decor they get a new life with maybe even a story or two.
Upcycled Home Decor
I just picked up this old crate and was immediately drawn to it because of the color and the metal trim. It has a couple of cracks but that's okay with me. It just adds to the character! I filled it with some driftwood for now and placed it on my fireplace hearth.

I also just love industrial pulleys! We have been collecting these from metal scrap yards. I have also seen these popping up all over at flea markets as well as many antique stores. They look great on shelves or mantels. I like to prop them up against a stack of old books.

In case you missed it before, here is a look at our study fireplace mantel that is decorated with lots of upcycled finds and architectural salvage.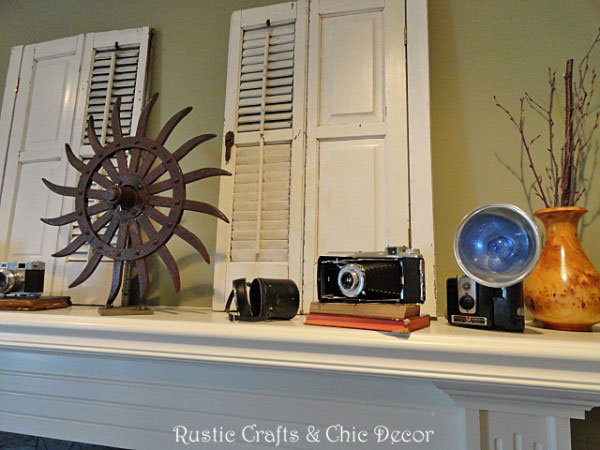 You can see the complete mantel, after I added the birch logs, here.
Old ladders are a fun item to upcycle and use in home decor. I just added this old metal one behind my living room sofa.

You can find many more ideas for ladders at Ideas For Decorating With Ladders.
There are some interesting bushel baskets floating around that make wonderful home decor. I was so happy to find this particular basket with the company initials and year stamped on it. All I had to do was clean up and add a coat of paint to the inside so that I could store throws in it.

See how I used sections of fence posts in my decorating here.
What have you upcycled to use in home decor? Share your ideas below!