A wreath form that has the most rustic styling is one made with grapevines. The grapevines themselves are part of the wreath's appeal. This means that you don't have to cover the entire form to create a unique look for the season. Plus, it's easy to tuck your floral picks or other decorations between the vines. You can even make your own wreath form if you have access to grapevines. I'll show you how to decorate a grapevine wreath whether you make your own or you purchase one.
The other day, I had to run to Dollar General for a couple of things and found that they had some craft supplies. A small grapevine wreath captured my attention and I ended up buying it. It's smaller than any grapevine forms that I've worked with before and pretty skinny. However, it was cute and I figured it would take no time at all to decorate it.
I'll show you what I did to decorate it for Christmas. You can modify look by what you attach to the wreath form using the same procedure.

This post contains recommended product links. If you make a purchase through one of the links, I will earn a small commission at no cost to you.
Add Fresh Clippings For A Holiday Wreath
Since my wreath form was very inexpensive, I figured it was a good one to add fresh clippings to. I collect evergreens and winter berries anyway for Christmas buckets so I had more than enough available to use. Once the season is done, I can take the wreath apart and throw out the clippings. Then, I'll have a fresh wreath form to use for the next season. Below is what I did and how you can make something similar.
What You'll Need
evergreen and berry clippings
tin snips
hot glue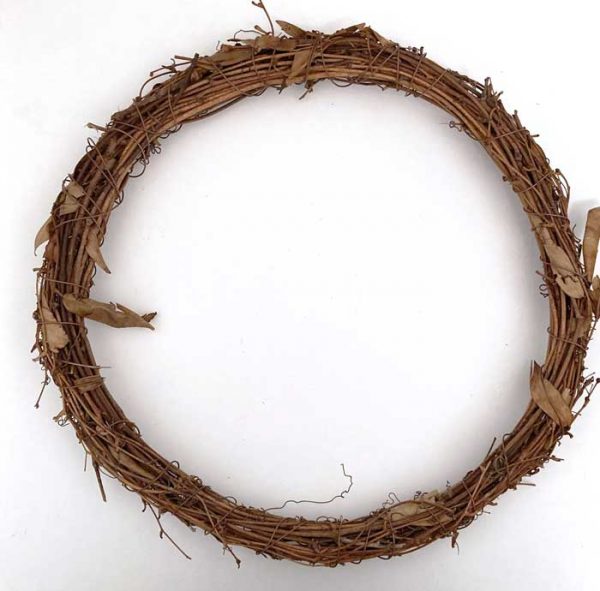 Isn't this a cute little wreath form? It's only a little smaller in diameter than most wreaths that I see. However, it is so much thinner than the wreath form that I used for my Fall book page leaf wreath. That's probably what make it cheaper in cost but I love the dainty look.
How To Decorate The Wreath
1. Make A Four Strand Thick Length Of Pip Berries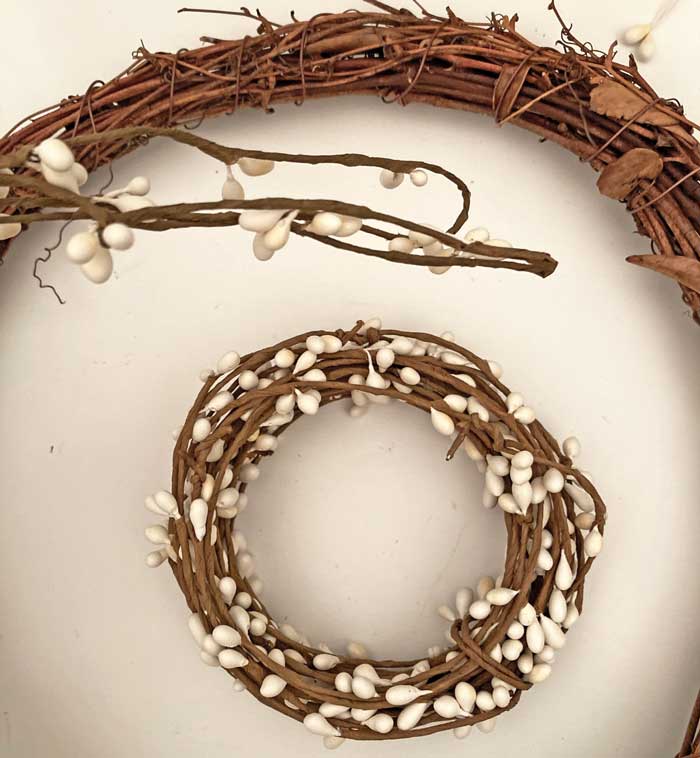 As you can see from this photo, the wire holding the grapevines together shows up pretty good. To camouflage this, I started attaching some pipberry garland over the top of the wreath form. To do this, I started unrolling the pipberry strand to measure around the diameter of the wreath.
I could have cut that section and attached it to the wreath with wire but it wouldn't look like much. This means I would have to repeat that step over a few times. Instead, while the length was still attached to the roll, I pulled out more length to double the strand and folded it in half. Now I had the same length only double the thickness. I repeated this two more times until I had a thick enough strand to decorate my wreath.
2. Attach The Pip Berries To the Wreath With Wire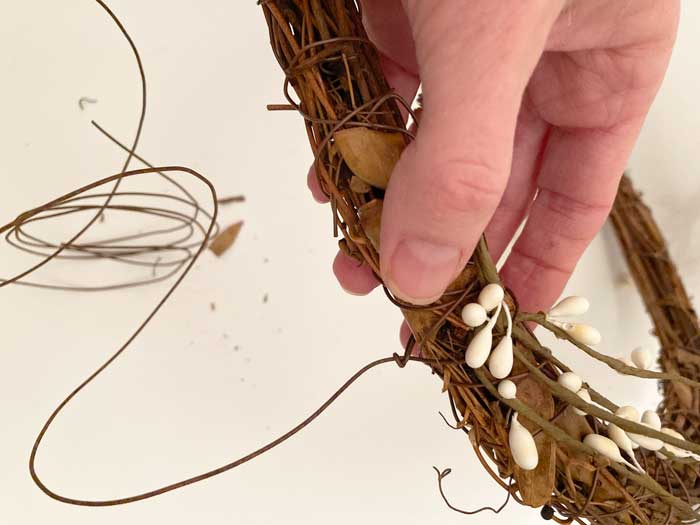 Loop the wire around the end of your stands and then twist the wire together at the back. Keep securing with loops about every few inches as you go around the wreath. When you get to the end, twist the wire again at the back and cut the wire end off.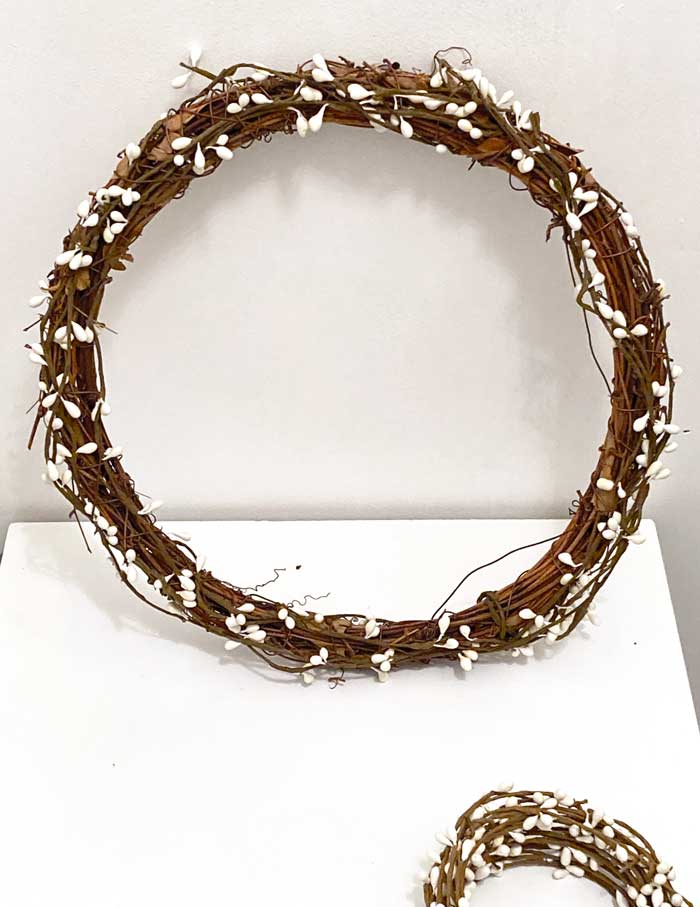 Now the base layer is done and ready for the fresh clippings from outside.
3. Attach Fresh Clippings With Wire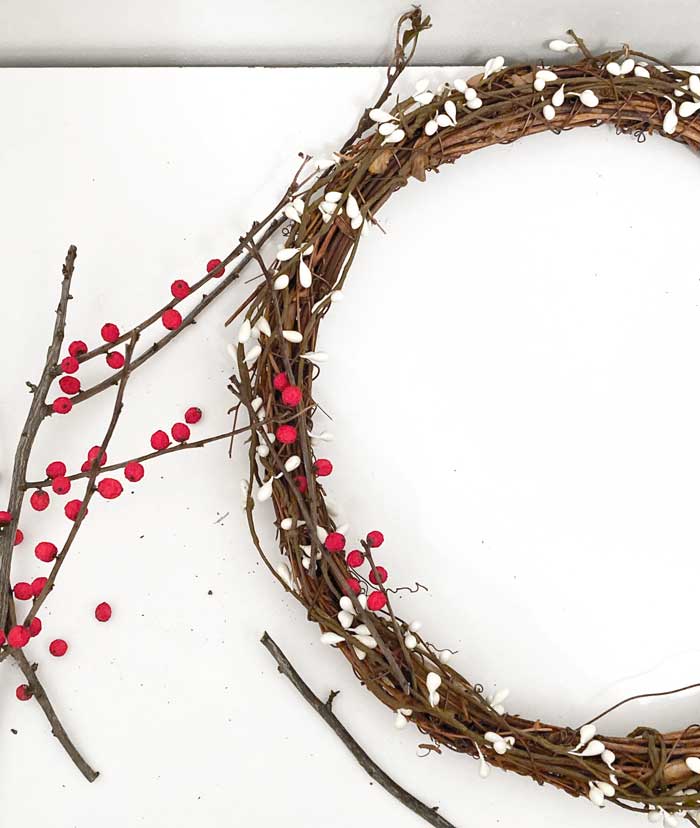 Cut sections of florist wire about three to four inches long. Lay out your clipping and hold it in place with just one small section of wire. Loop it in front and twist the wire together at the back.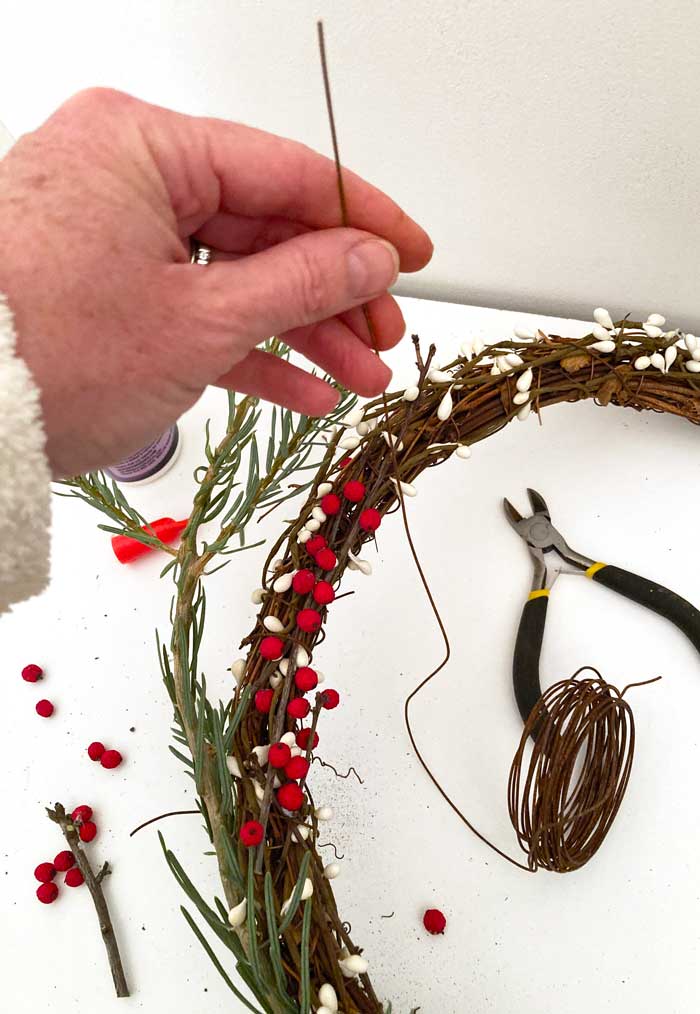 I only attached the winter berries and evergreens to half of the wreath. It's a personal preference on how much coverage you add to the grapevine wreath.
4. Fill In With Some Clippings That Are Glued
After I wired in most of my clippings, I wanted to add a little more fullness and cover the squishy look at the areas where the wire was looped around. To do this, I switched to hot glue for securing the ends. I laid out where I wanted the clipping and then attached glue to the end. Then, I put it back where I wanted it by inserting the glued end between the vines.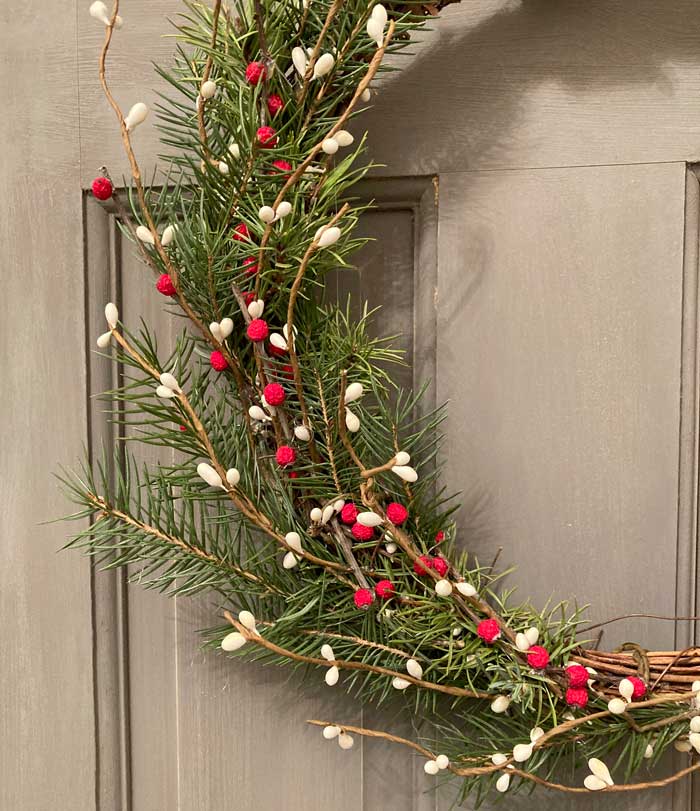 I also cut my leftover pip berry strand into short sections to glue in. This provides a nice wispy look.
Decorated Grapevine Wreath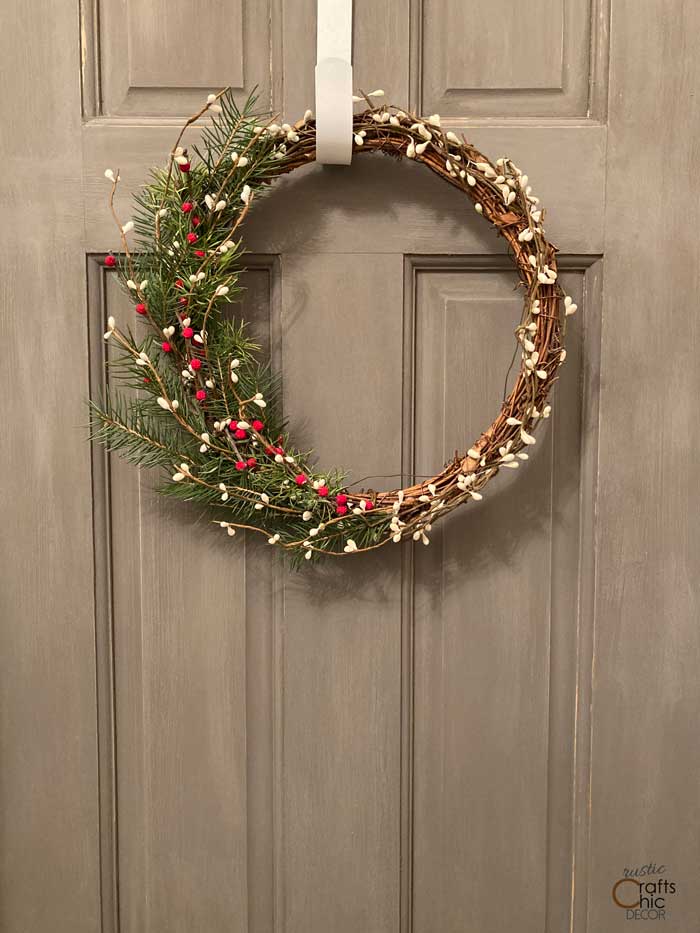 With all of the red and white, I feel like this would be a good wreath for Valentines Day as well. Who knows? Maybe the clippings will last that long! If not, I know where to find more clippings.