When you have a lot of buttons, you start to think creatively. I knew that I would never use all of my stash for sewing projects. There were just too many. So, I thought about what kind of art project I could put together with some my buttons. I also had a random slate roofing tile that I really liked the look of. It would be a good rustic base for something but I just didn't know what. I then, decided to combine the slate and the buttons to make some fun wall art.
Because I like birds and they are easy to draw, I decided to use my buttons to form a bird onto the slate. This ended up being a super easy project that gave me a fun piece of rustic wall art.
Bird Button Art Project
Materials Needed For This Button Art
slate roofing tile with pre-drilled holes at the top
small buttons – I used vintage mother of pearl buttons
2 larger buttons
birch branch
small unfinished wooden disc
craft paint
bark covered wire
jewelry glue
Mod Podge decoupage
small section of pip berries and a clear button for crown
How To Create Button Art
Bird Button Art Instructions
Draw Bird Outline On Slate With Pencil

I drew my bird freehand but you could also use a stencil for this.

Fill In The Outline With Buttons

Using jewelry glue, adhere the buttons to the slate inside the outline. If you don't have jewelry glue, use another good tacky glue. Overlap some of the buttons to get good coverage with no spaces showing.

Cover The Buttons With Mod Podge Decoupage

Once the glue has dried, cover the buttons with a coat of decoupage. This helps to secure the overlapping buttons and will dry clear.

Add Details To Bird With Twigs And Pip Berries

Use birch twigs to make the bird's legs. Then, add small pieces of twigs to create the beak and eye. Wrap a small section of pip berry around a clear button to form a whimsical bird nest crown.

Finish The Hanging With Some Inspiration

Since my tile was long, I needed to add a little something to the top. I had a clear epoxy sticker with an inspiration message that would be nice for the top. However, since the lettering was in black, it wouldn't show up well against the tile. So, I painted a round wooden disc a distressed white to act as a backer to the sticker. First I glued the wooden circle to the slate and then adhered the sticker to the wood. I also added a larger branch perch below the bird to give it a stronger base.

Add The Button Art Hanger

Because I used a roofing tile for my base, there were already pre-drilled holes at the top. This made it really easy to string some bark covered wire through the holes for hanging. I just looped the wire through the holes on each side and twisted the short ends around the loop.



Glue Large Buttons Over Twisted Wire

The last step was to cover the twisted wire for a cleaner look. I simply glued large buttons over the wire. The buttons kept with the theme and added some interest to the top of the hanging.
Completed Button Art Hanging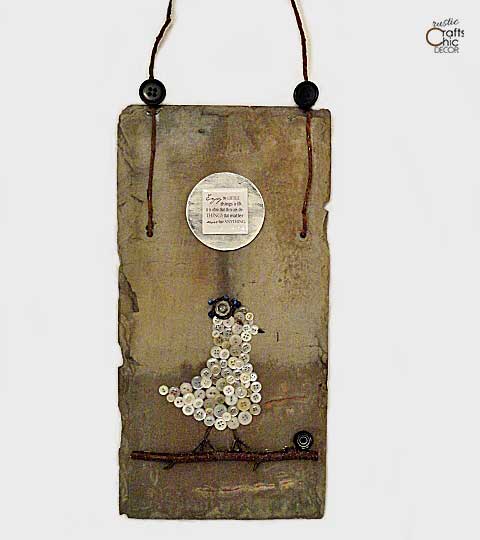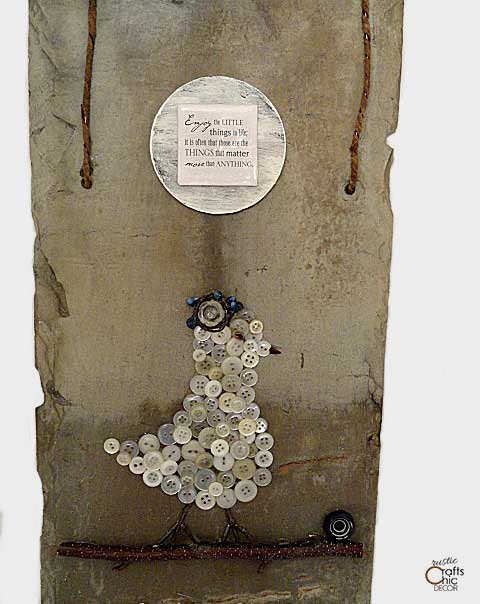 For more ideas on what to do with buttons, check out these ten button crafts.