At this time of year, I start to think about weddings and like to include a post dedicated to  rustic weddings.  After all, rustic decor isn't just for the home.
Rustic weddings continue to be popular and there are more and more unique ideas for decorating that are chic and at the same time rustic and relaxed.
I thought I would focus just on centerpieces since there are so many different ideas to choose from.  You can find more ideas for rustic wedding decor here.  Some popular places to buy rustic wedding accessories can be found here.
Here are some of the best ideas that I have found:

For some simple elegance, these floral branches create a stunning centerpiece especially against the white linens and tableware.

For a nice splash of color, this rustic apple centerpiece adds some cheer!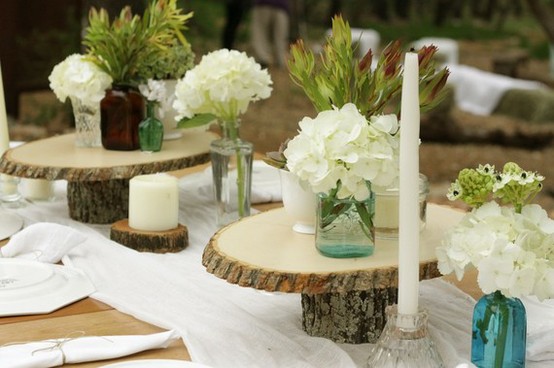 I love this arrangement.  You can make the stands with either burl wood, small stumps or sections of logs and large log slices that you can buy from a craft store or cut yourself.  I love all of the different jars and white florals with contrasting greenery.

Flower pots filled with vibrant bouquets are perfect for a rustic wedding!

Fresh red flowers in clear glass vases are a perfect combination for love!

Branches and candles light up the table for a romantic evening wedding.

I like the wooden box that was made for the base of this centerpiece.

Here is a unique idea using a rustic wreath and tea lights.

Finally, you had to know that I would be including some birch wrapped vases!  I just love these centerpieces with the different florals and embellishments.
Are you planning a wedding?  What rustic ideas have you come up with?  Let me know your thoughts!
Happy Decorating!