Every year, it seems, we have at least one wedding to go to. And, each time I am impressed with how creative and beautiful all of the decor is. It would seem that almost everyone has done a little DIY for their wedding accessories or decor. With all of the costs of a wedding, it's no wonder that brides are getting more creative. Not only does making your own wedding decor save money but it also makes your wedding unique and easy to customize.
Things like invitations, party favors, bouquets, and gift boxes are just a few of the things that you can make yourself. Whether you want to make just one thing or several, there is a huge variety of ideas to try. If you are getting married yourself or know of someone who is, this collection of DIY wedding ideas and crafts could be a big help in the overall planning.
If you have an overall theme for your wedding, it is helpful in determining the style of your decor. However, most of these rustic chic ideas can be incorporated into a variety of themes such as vintage, rustic, barn or even traditional. I've divided the crafts into DIY categories to make it a little easier to reference.
DIY Wedding By Project
Wedding Bouquets
DIY Vintage Brooch Wedding Bouquet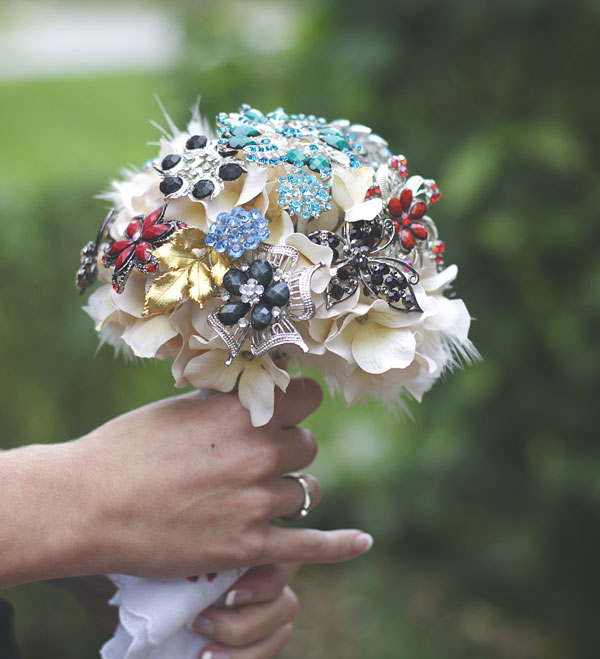 I made these vintage brooch bouquets for my daughter's wedding. Six small ones, like this, for the bridesmaids and one large one. It's a pretty alternative to flowers and can be affordable if you have access to old brooches. Check with grandma! My mother in law supplied most of the brooches and the rest I found on Ebay. You can definitely find some for good prices.
Mini Fresh Flower Bouquets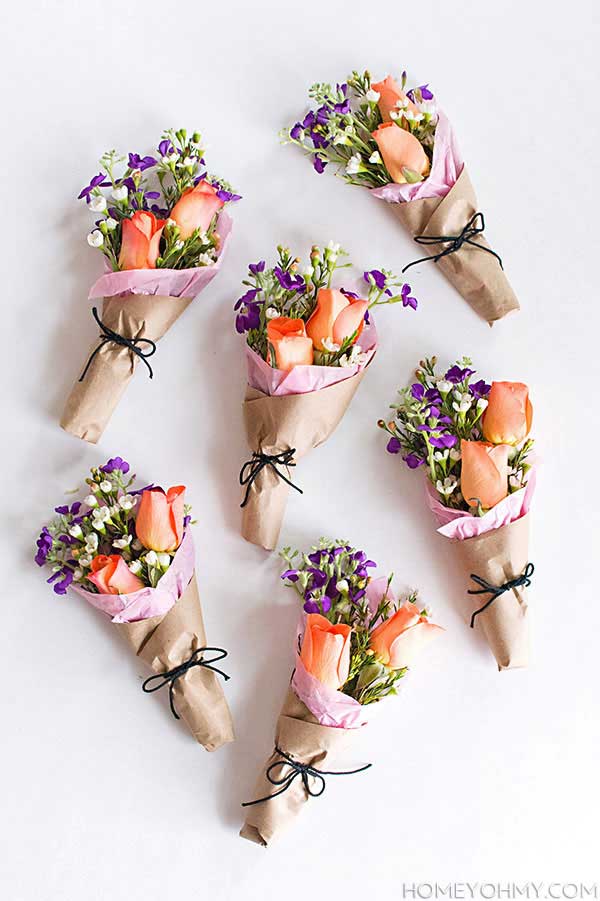 Choose a couple of stems, from a few coordinating flowers, and tie them together. When they are wrapped in tissue paper and Kraft paper, they look particularly rustic chic. The twine that ties it all together seals the deal. Because these are fairly small, they don't cost a fortune to make several as bridesmaid bouquets. You can also make a larger bouquet, that is similar, for the bride.
Burlap Bouquets

Burlap flower bouquets are really popular for a rustic chic wedding. I see them for sale all over Etsy. You can make your own by following my tutorial for burlap flowers. Then, attach the flowers to thin branches or florist stems. If you are using florist stems, choose 18 gauge raffia or string wrapped wire. The wire will give you more flexibility in arranging the bouquet.
Apply hot glue to the end of your stem and poke it through the center of the burlap at the underside of the flower. You could also insert the stem during the rolling of the flower stage. Choose a variety of different color burlaps to make your bouquet more interesting. Use pearls or shiny gems to decorate the flowers further. Bundle all of the flowers together and tie or wrap the stems with twine. You can also use the flowers for centerpieces.
DIY Boutonnieres
Vintage Key And Burlap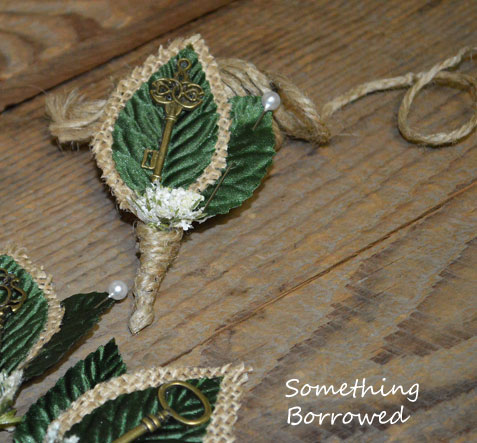 These rustic vintage boutonnieres are easy to make with silk leaves and burlap. Add another embellishment, like a vintage key, to enhance the theme of your wedding. Since silk leaves come in a wide variety of colors, you can easily get a color to coordinate with your color scheme. Or, choose a neutral white or black. If you can't find the exact color that you want, you could also paint the leaves.
Hydrangea And Wheat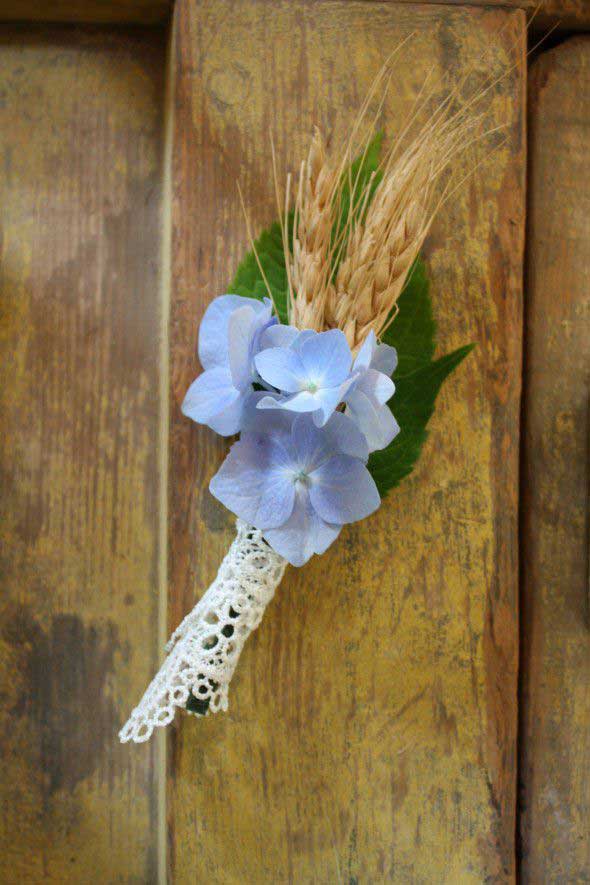 A stalk of wheat is a nice contrast to the soft hydrangea. Basically, a little rustic and a little chic. Since this DIY project uses fresh flowers, it is best to make them the day of the wedding. For less stress, you may want to consider using silk flowers so that you can make them ahead of time. Or, have someone, other than the bride, make them.
Vintage Button Boutonniere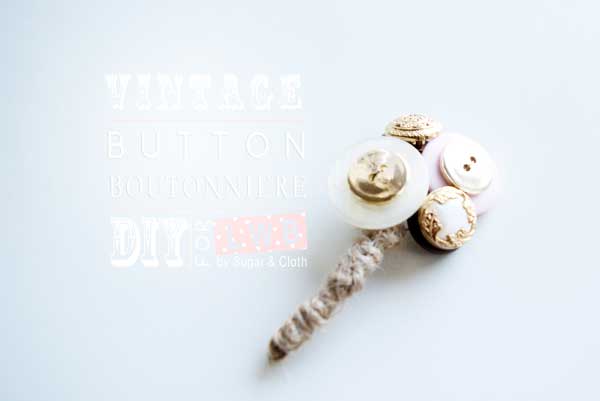 Make your own floral look using vintage buttons. It's a creative way to get a unique boutonniere. This idea is another good one for a vintage inspired wedding.
DIY Wedding Signs
Signage is an important part of both the wedding ceremony and reception. Let guests know where to sit, where to sign the guest book, or where the gift table is. Use chalkboards, old windows, old doors, or salvaged wood as a base for any signage. There are so many ways to use signs to direct the guests. Here are some creative DIY ideas.
Kraft Paper And Sharpies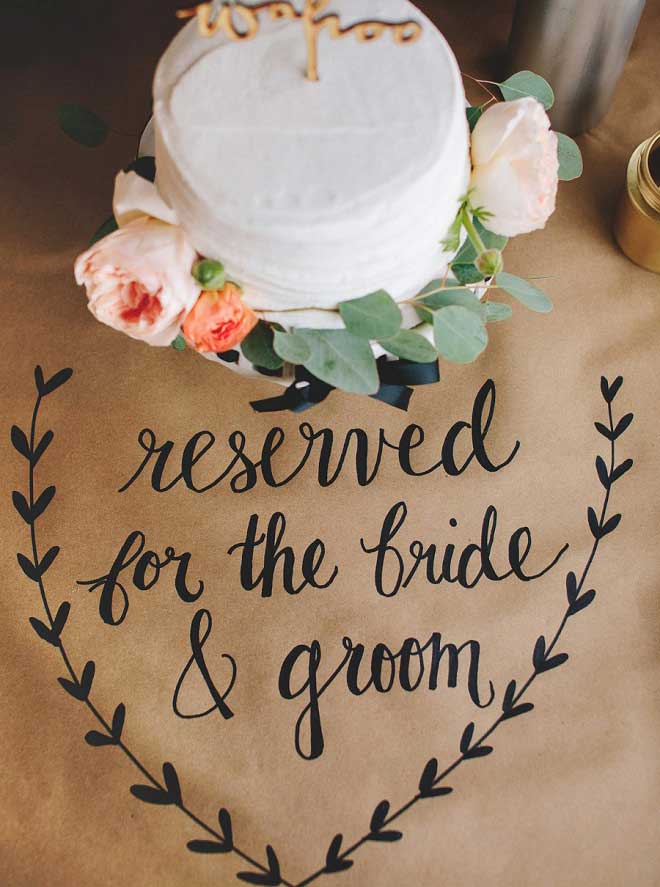 Here is a clever idea for table marker signs. Just write out your message on Kraft paper using Sharpies. Line a whole table with Kraft paper and then designate spots for the bride and groom cake, wine, refreshements, or a bridal party seating chart. If you don't want to do hand lettering, then just use your favorite stencils.
Easy Painted Wood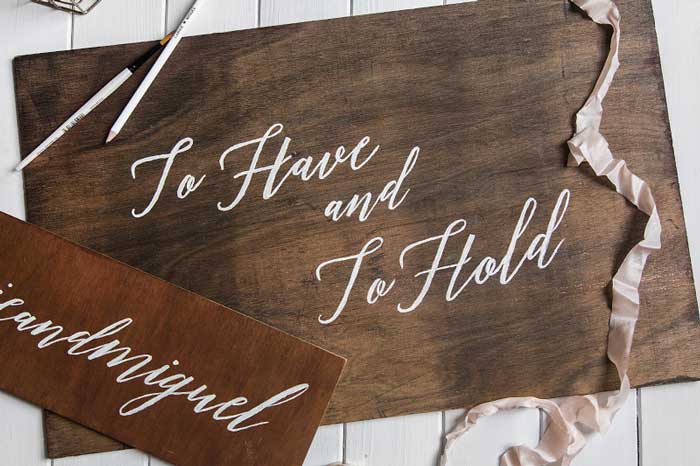 Whether you paint on wood or use a chalk marker on a chalkboard or window, there is an easy way to get perfect lettering. This tutorial shows you how to design your message using Photoshop or another program and then tracing and painting it onto your base. If you were using this technique on glass, you would just need to put your paper design under it and trace away. Old windows are great to use for signs.
More DIY Wedding Decor
Thread Spool Sign Holder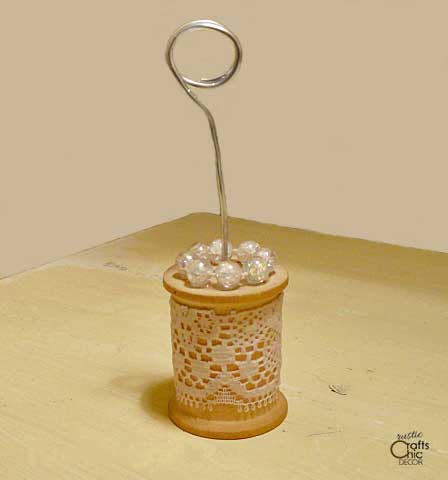 Wooden thread spools make a great base for a wire sign or photo holder. Decorate the spools and use them to display photos at your wedding reception. They are also great for holding mini signs such as place card or table number holders. Use them wherever you want a small display.
Wine Cork Keychain Wedding Favors

Start saving your wine corks to make these fun little keychain party favors. The thank you charms can be purchased from a craft supply store like Joann or Michaels. If you are going to serve a particular wine at your wedding, maybe you will want to start drinking some bottles so you can use those corks for this project.
Bride And Groom Glasses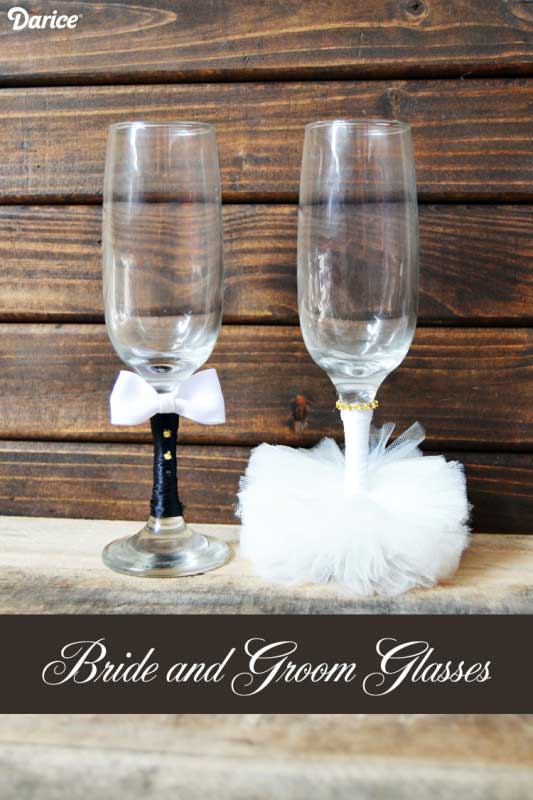 Add a little fun decor to the bridal table with these creative bride and groom champagne glasses. This would be a good alternative to using Mr. and Mrs. signs, on the chairs, to signify where the bride and groom sit.
DIY Rose Centerpieces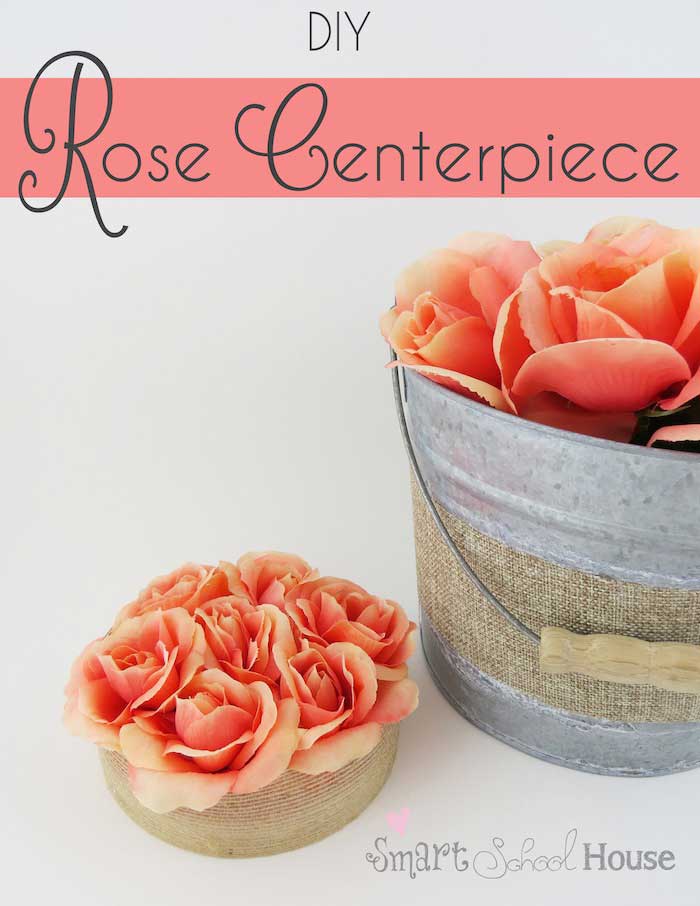 It really doesn't take a lot of extravagance to create pretty reception table centerpieces. These centerpieces are super easy and affordable. They are made with faux roses so can be made well ahead of time. Because they sit low, it is easy for guests to see each other across the table. If you still want a little more height, set them on top of a small birch log or combine with some other decor.
Other Ideas
Use thick wood slices or stumps for displaying a cupcake tray.
Glue glitter onto glass vases and fill with baby's breath or fresh flowers for chic centerpieces.
Fill vintage milk glass vases with silk flowers for easy vintage inspired centerpieces.
If you have twelve or less reception tables, use vintage clocks as table numbers. Just set each clock to a different hour.
For more creative DIY wedding ideas, check out my post on DIY rustic chic wedding decor.