The big news at our house is that my oldest daughter is now engaged to be married!
So……I have weddings on my mind big time!  She hasn't decided exactly what type of wedding she is going to have yet but I'm already thinking about getting creative.
I just love all of the rustic wedding ideas out there and wanted to revisit some of those and see what types of things we may be interested in making.  After all, anything that you can make yourself ends up being a great savings to the pocketbook as well!
Here are some of the craft ideas that I particularily liked: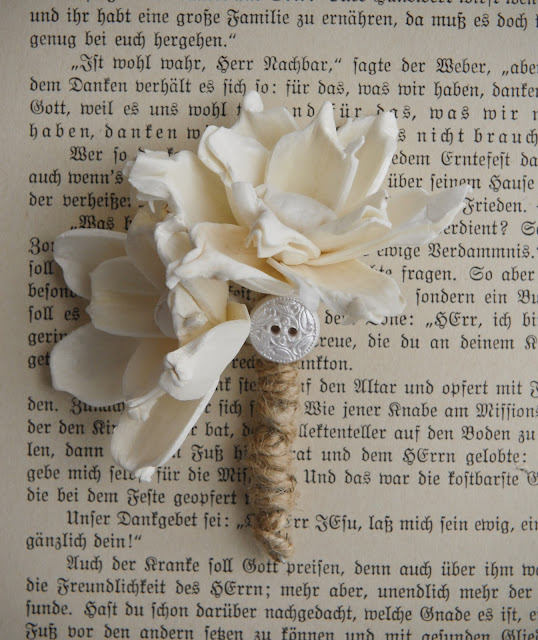 I love these balsa flower accents that could be used for boutonnieres.  This design was created by Head Over Heels Rustic and is a great alternative to fresh flowers.  You can buy the Balsa flowers from Save On Crafts.

See which flowers made up this bouquet and other great recipes for bouquets at Rustic Wedding Ideas.  I thought this was especially pretty for an outdoor wedding.

I LOVE this idea from The Fun Times Guide for Green Wedding Ideas.  I like to collect old windows anyway and this would be a pretty and unique way to make a fun display.  It was used here to write which drinks were available at the bar – love it!

This is a beautiful bouquet idea by Green Wedding Shoes, especially for a beach wedding.

These rustic chic centerpieces by Elizabeth Anne Designs are simple yet exquisite.  I love the table number idea that complements the floral arrangement perfectly!

Here is an idea for making your own wedding invitation.  If you want to get the wording pre-printed and the burlap already cut to size for both the invitation and the reply and if you want the envelopes to fit, you can order the kit from Invitations By Alecia.  The fact that you are putting together the invitations yourself saves you a little money too!
Happy Crafting!