Whether you are Irish or not, you can show off your festive spirit by adorning your front door with a wreath on St. Patrick's Day. It doesn't have to cost you a pot of gold to display something special either. With a little luck and maybe an ounce of magic, you can create your own wreath quite easily. All of these DIY St Patricks Day wreaths are sure to please your friends and family as well as any leprechauns that may pass your way! And, don't stop with just a wreath when you can also make shamrock signs, rainbow banners, and more with these 17 crafts for St. Patricks Day.

This post contains recommended product links. If you make a purchase through one of the links, I will earn a small commission at no extra cost to you.
Split Pea Shamrock Wreath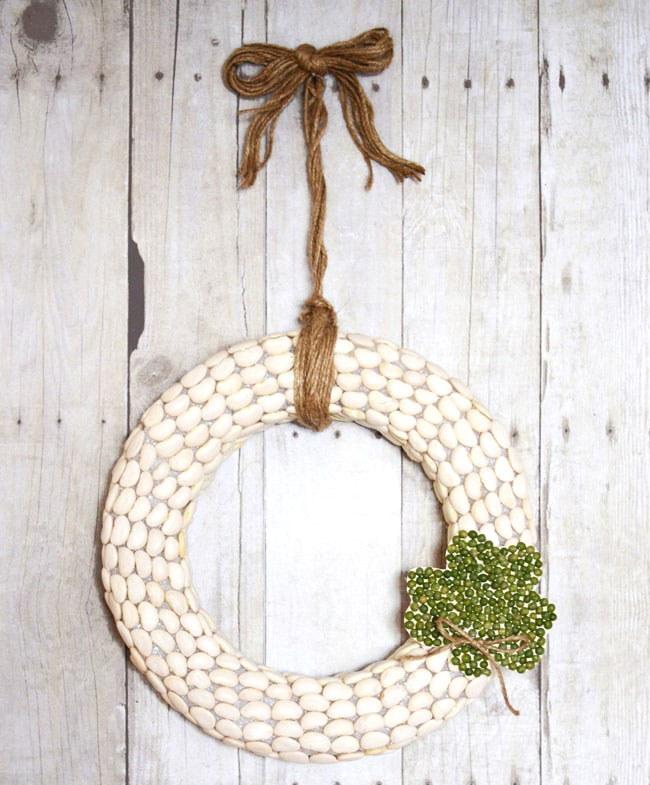 What's not to love about the simple rustic styling of this St. Patricks Day wreath you can make with items from your pantry?
St Patricks Day Straw Wreath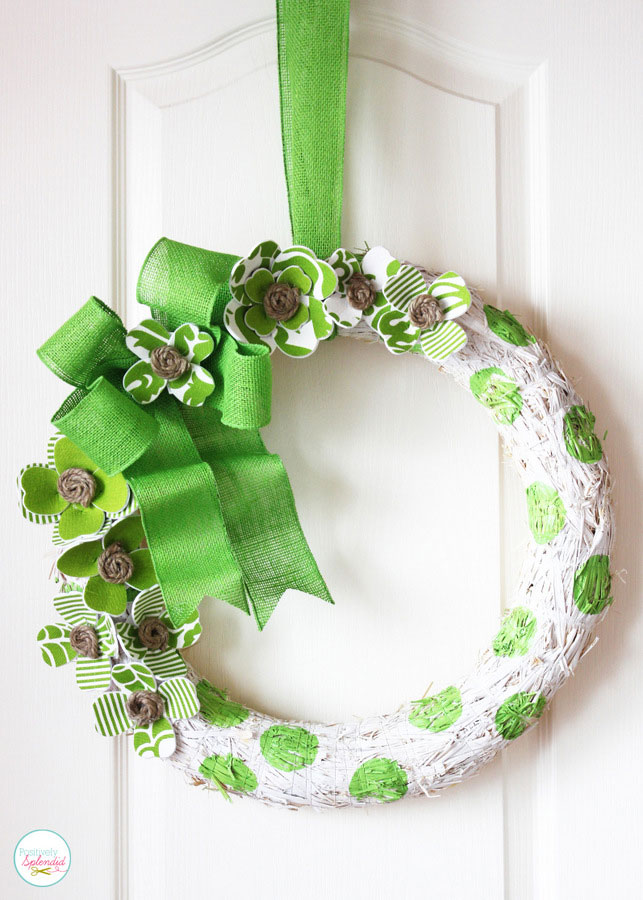 The texture of the straw wreath form adds a nice bit of shabbiness to this festive clover wreath.
Rustic St Patricks Day Wreath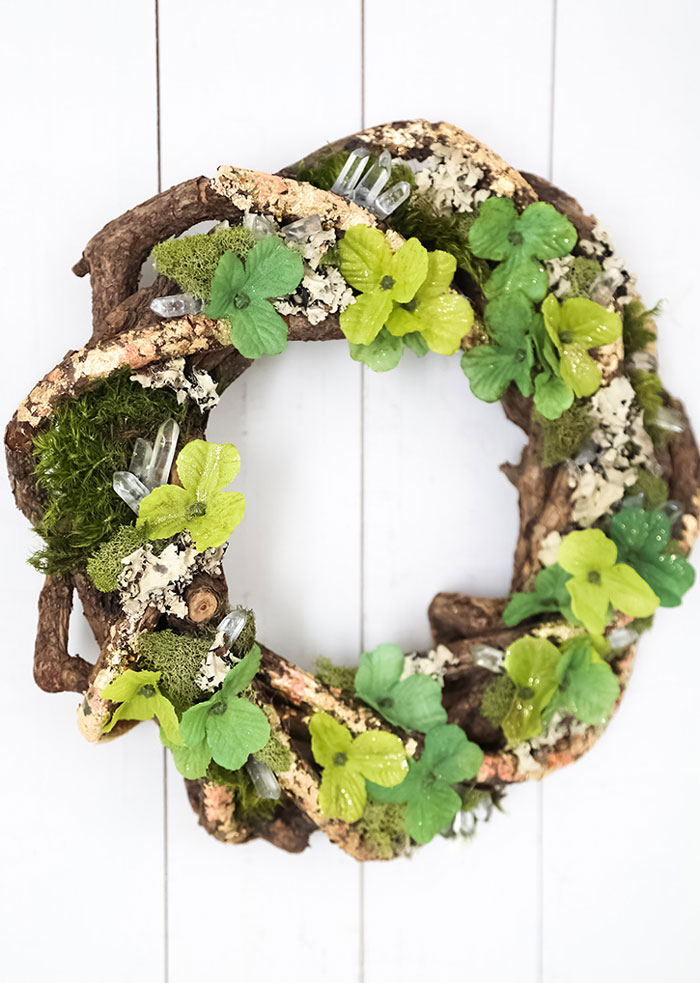 For those that like to keep even holiday decor looking rustic, this DIY wreath definitely fits the bill.
Ribbon Tied Irish Wreath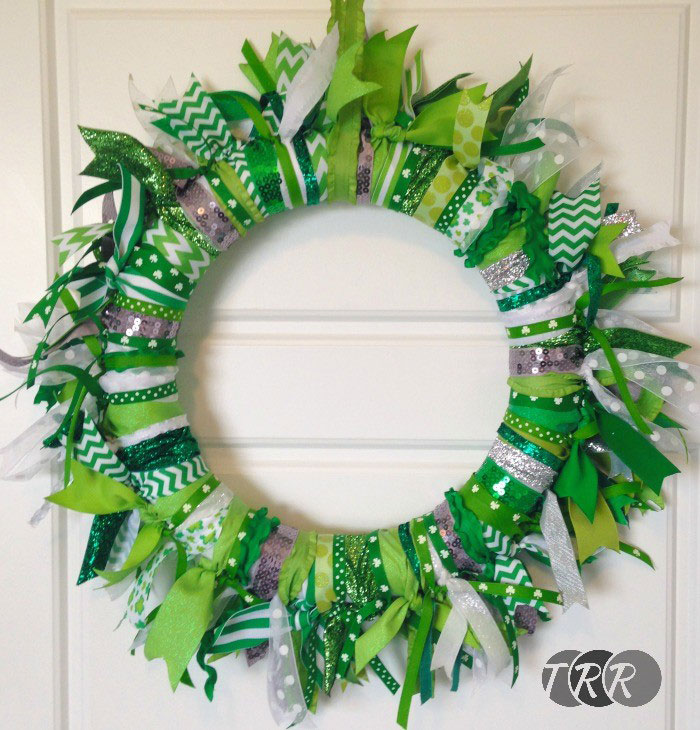 A foam wreath form plus a variety of green ribbon equals a super easy wreath for your door.
Ribbon Rolled Shamrock Wreath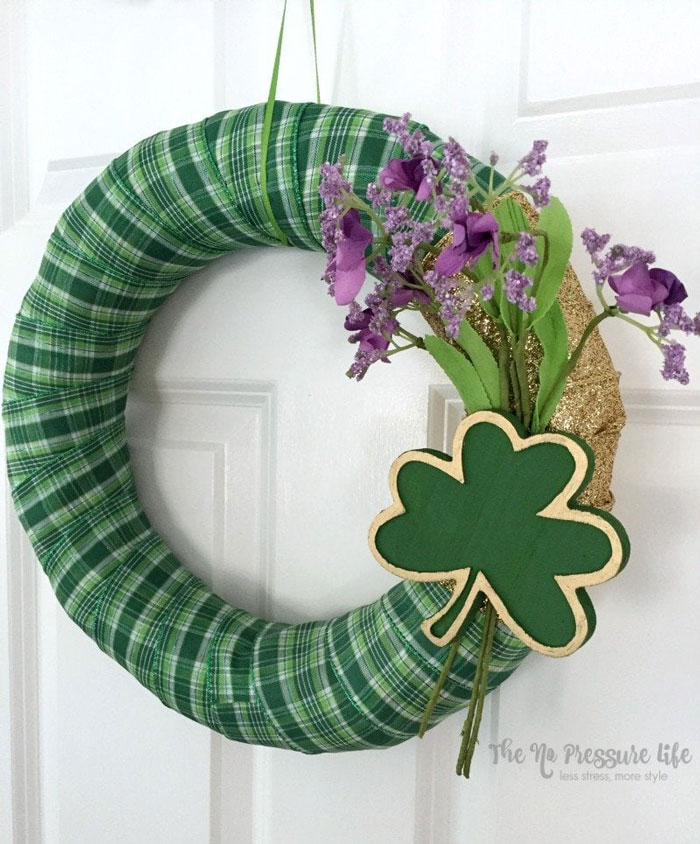 If you like the idea of using ribbon to make a wreath but are look for something a little less time consuming, try rolling instead of tying. Choose a wider green ribbon and just wrap it around your wreath form.
Pool Noodle Shamrock Wreath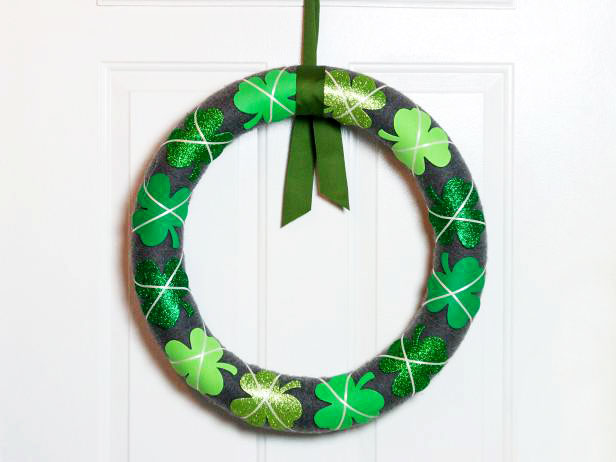 Would you have guessed that the wreath form is made from a pool noodle? Such a clever and easy idea!
Lucky Shamrocks St. Patricks Day Wreath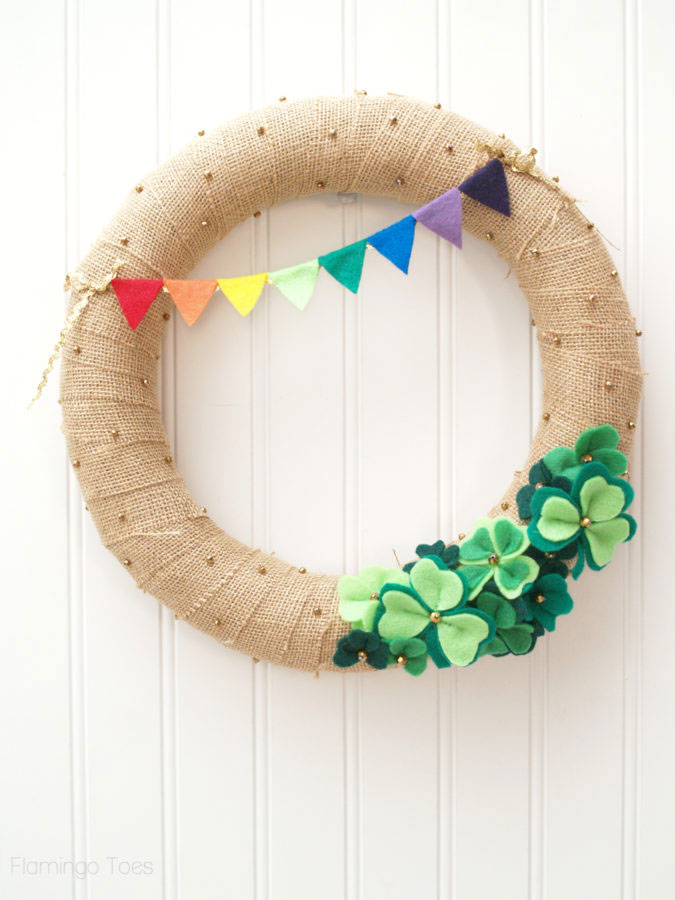 It's easy to create a rainbow banner and green clovers with felt. Then, just apply them to a wrapped burlap wreath form for a cheerful display.
DIY Reversible St Patricks Day Wreath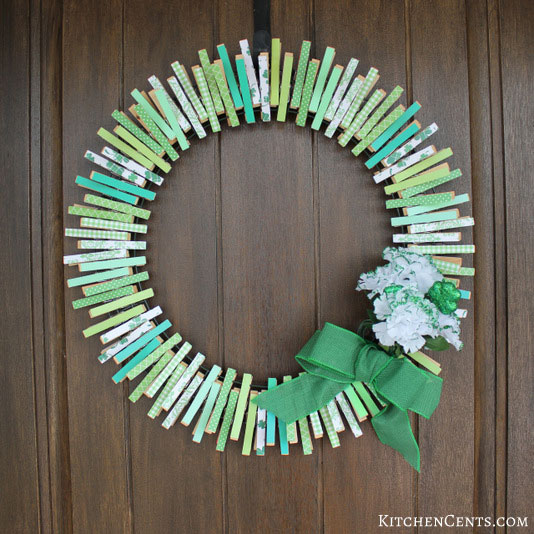 By placing decorative green patterned paper on one side of a clothespin and red on the other, you can have a dual holiday wreath just by flipping it over!
Shades Of Green Rag Wreath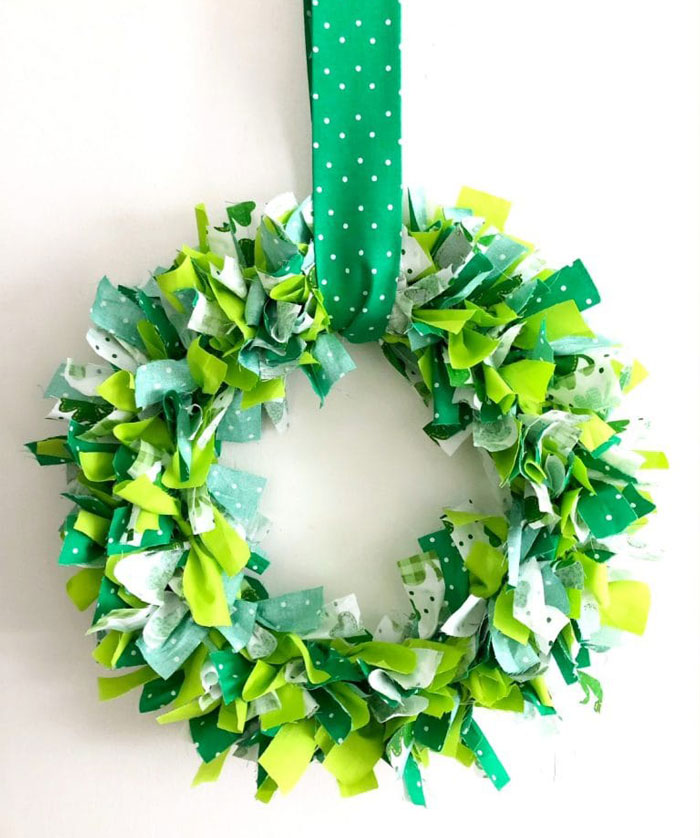 Using a wire wreath frame, you simply tie on strips of coordinating fabrics to create a wreath full of cheer.
More Like This: How To Make A Burlap Rag Wreath
$3 Clover Burlap Wreath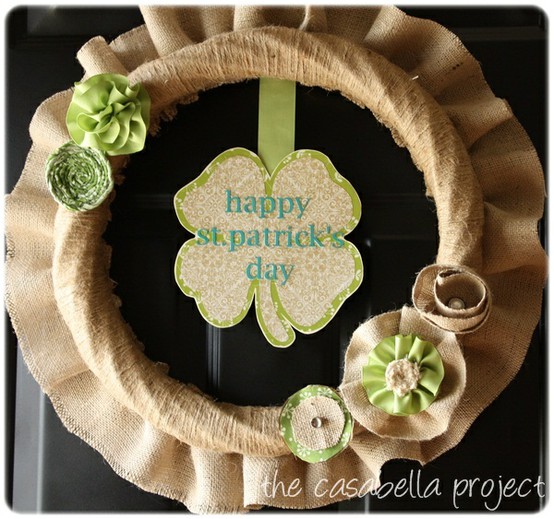 You don't have to spend a lot of money on a holiday wreath. In fact, this wreath only cost three dollars to make. Just embellish any plain wreath form with jute and burlap. Add a touch of green and a clover sign and you are all set to welcome guests on St. Patrick's Day.
Green Bandana Wreath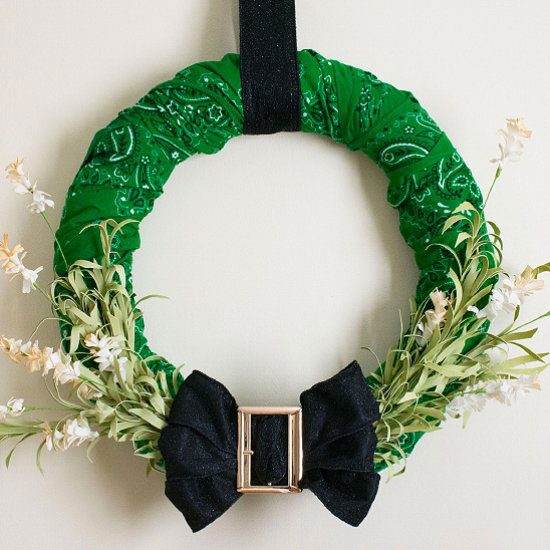 The leprechaun buckle really makes this green bandana wreath for St. Patricks Day.
Pot Of Gold Wreath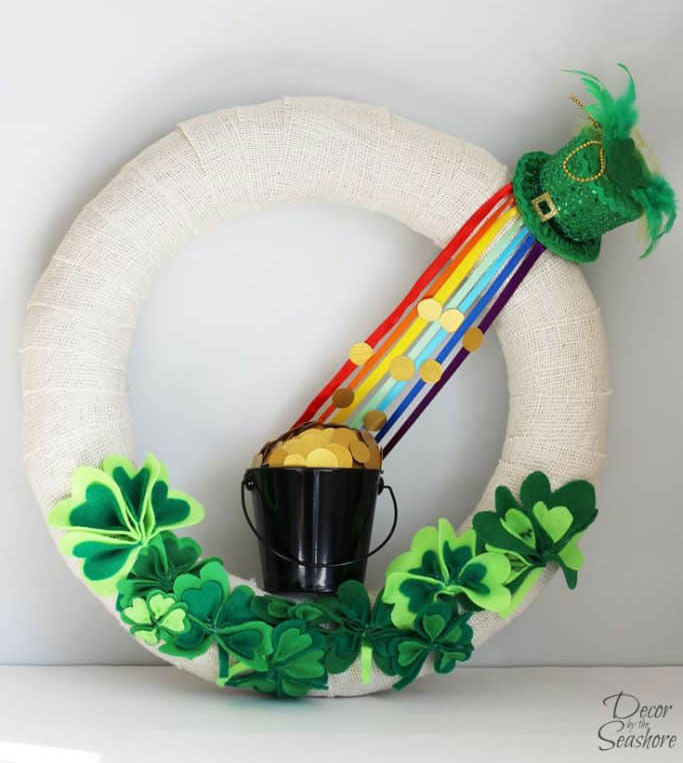 A burlap covered wreath is the perfect base for adding festive decor that can be changed out for the seasons.
Burlap Strips And Lucky Banner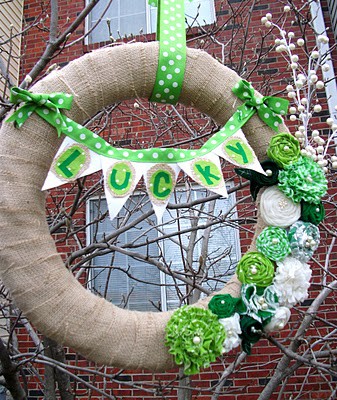 For a similar look, use a thicker wreath round and just wrap it in burlap strips without the ruffle. Then, add some extra chic with flowers that have pearl centers. Make a "lucky" banner to add the fun Irish touch. The use of polka dot fabric also adds some extra cheer.
Buttons, Burlap, And Clover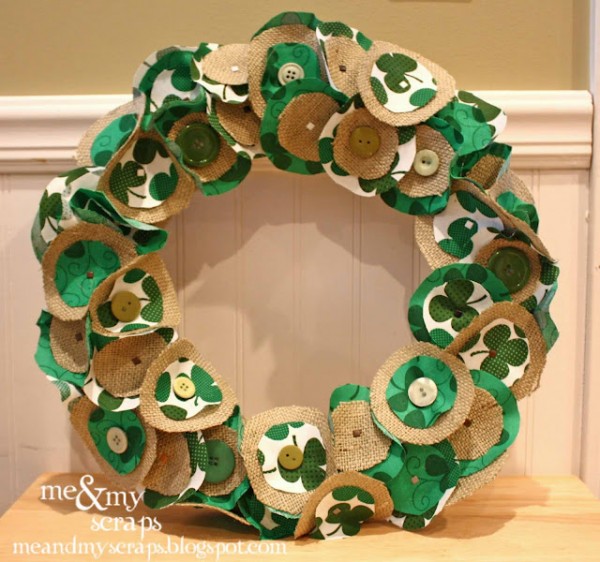 Instead of wrapping a wreath in burlap, why not cover one with a variety of burlap and fabric rounds? Notice that the fabric, used with the burlap, is full of clovers. The addition of buttons makes this wreath idea especially shabby chic.
Clover Garland Wreath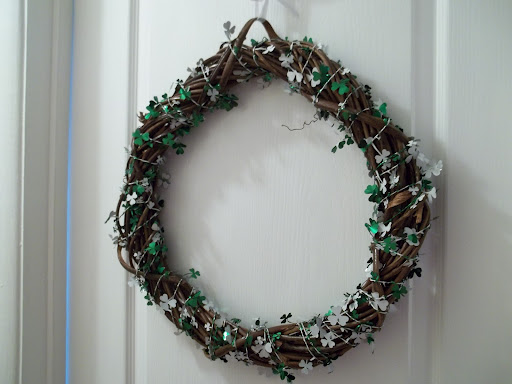 You can't get much simpler than wrapping a grapevine wreath in clover garland. It's a quick and easy way to create something festive. Once the holiday is over, just unwrap the clover and use the wreath for your next decorating project.
Decked Out Green Boxwood Wreath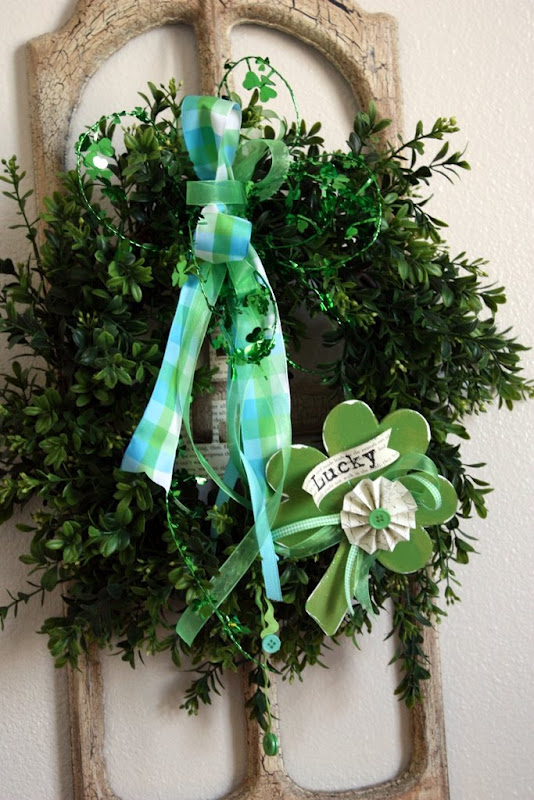 My favorite idea is to simply embellish a boxwood wreath. The boxwood gives you the green naturally so you just need to add a little cover embellishment and ribbon to give it a festive look. A St Patricks day wreath like this only takes minutes to make.
Lucky Green St Patricks Wreath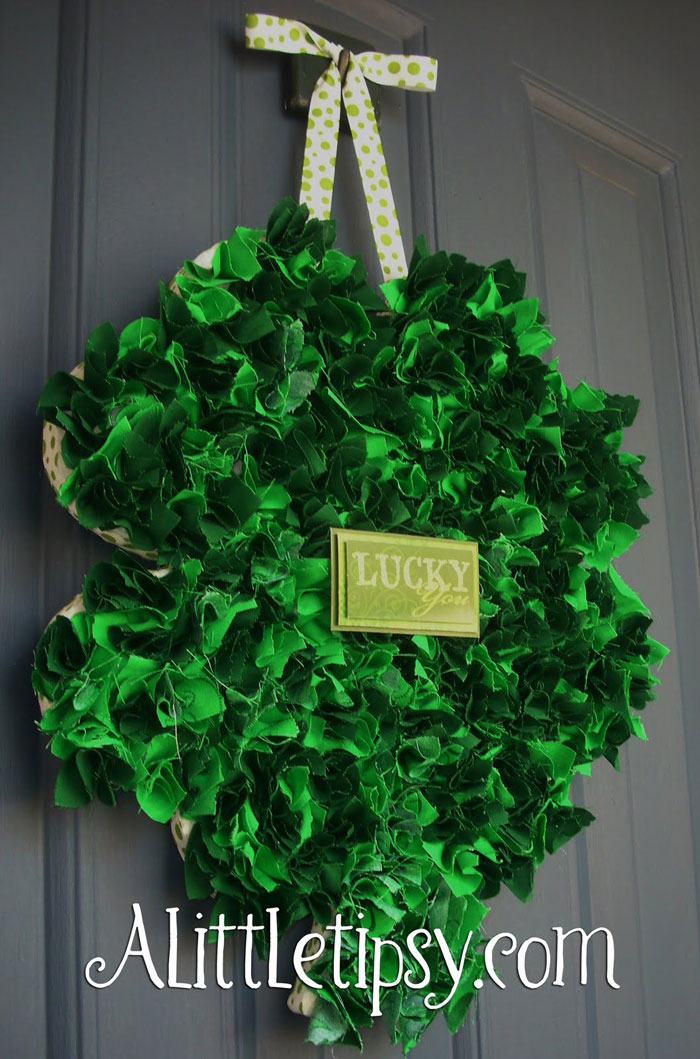 Although this wreath looks similar to fresh greenery like the boxwood wreath, it is actually made from fabric!
Now that I have you thinking about creating wreaths, maybe you would like some wreath ideas for everyday use. Check out these rustic chic wreath ideas that you can make. You will find a whole collection of creative ideas to use in your home.