Sometimes bulky cabinets in a kitchen don't exactly work. Either your space is too small or you want a look that is more light and airy. This is where open shelving in the kitchen comes to the rescue. In fact, open shelves have become increasingly more popular for the simplicity and ability to display decorative kitchenware. If you have open shelving in the kitchen, you may be struggling with what to put on those bare shelves. I'll give you some tips and examples of open kitchen shelving that works.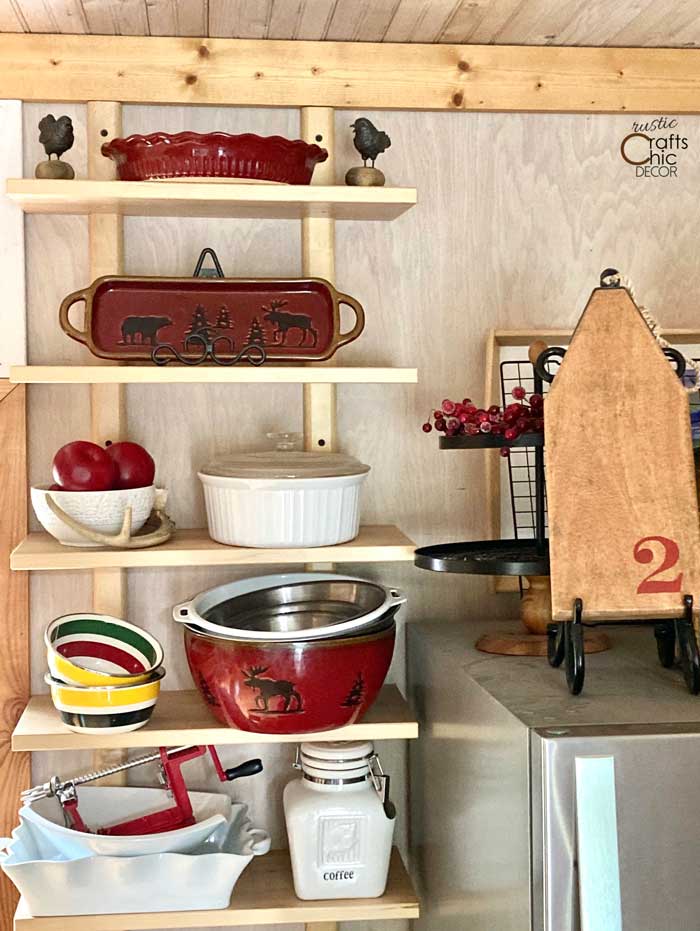 Open shelving is great for storing dishes and other kitchen essentials that also add some decorative appeal. It's not so great as random storage or as a dumping spot for miscellaneous items. The key is to store items that go together visually and offer a cohesive look. Other items may be better placed behind cabinet doors. Since shelves can quickly become cluttered if you're not careful, start minimal and only add select items.
Tips For What To Put On Kitchen Shelves
1. Use Color Wisely
For a cohesive look, stick with one or two dominant colors. An all neutral look works great too. If you like a lot of color, use colors that coordinate together without a lot of different styles and patterns.Too many uncoordinating colors can soon look chaotic and unorganized.
2. Display Favorite Items
Pull out all of your favorite kitchen essentials and group by color. Choose items that coordinate the most and start with them. Place larger items first and then add in smaller things where they fit by shape and size. You may want to add in small decorative items or plants to fill in gaps. Choose items that make you happy.
3. Combine Different Textures
A mixture of different textures will help to add depth and interest to your display. For example, if you have a lot of ceramic dishes, you may want to add in some wood for a nice contrast. Or, throw in some vintage pieces along with newer serving ware. Things like old cutting boards or kitchen scales can warm up a kitchen shelf.
4. Stack Where Necessary
If you need added height in some spots, don't be afraid to stack two or more small items together. As long as they coordinate together, it will help to fill in blank space.
Styled Kitchen Shelving Inspiration
Neutral With Texture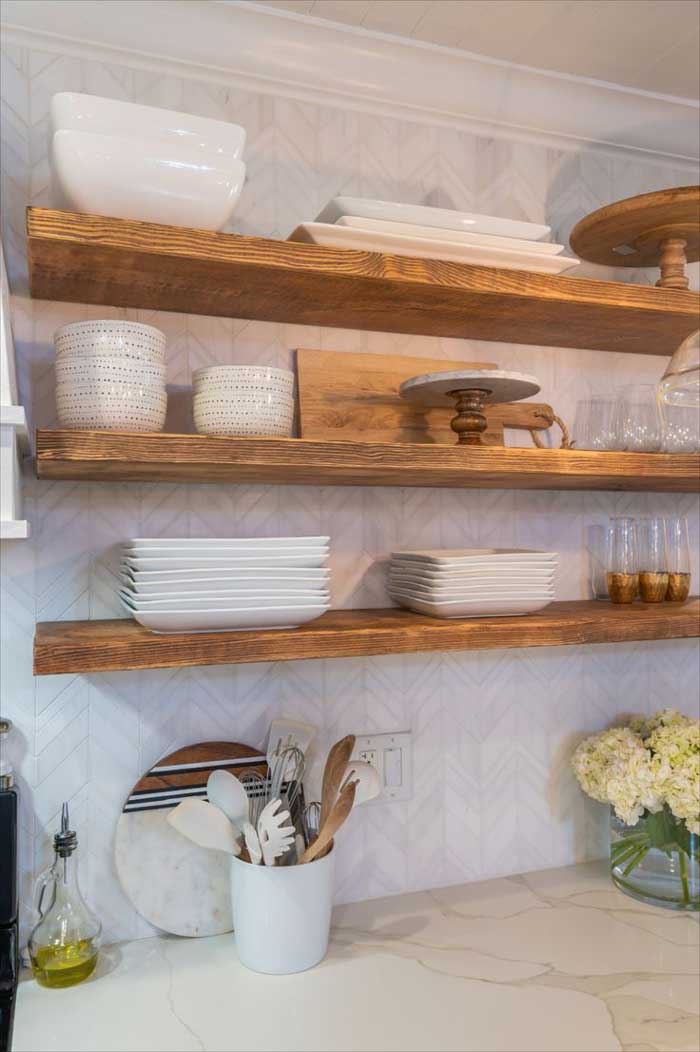 In this example, the neutral creamy whites and glass are contrasted perfectly with the wooden shelves, cutting board, and pedestal tray. It's very restful to the eye without looking boring or plain.
Splashes Of Greens And Blues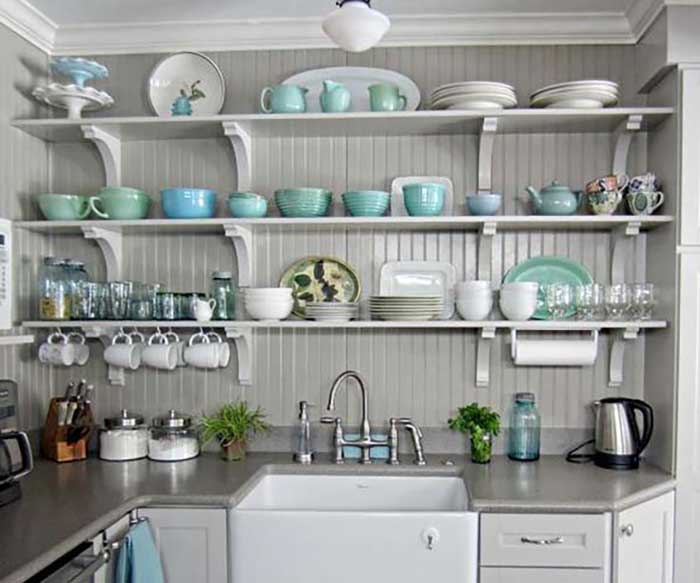 There is plenty of color and pattern in this open shelving. However, since the colors and limited patterns coordinate together, the look is cohesive and organized.
Books And Pictures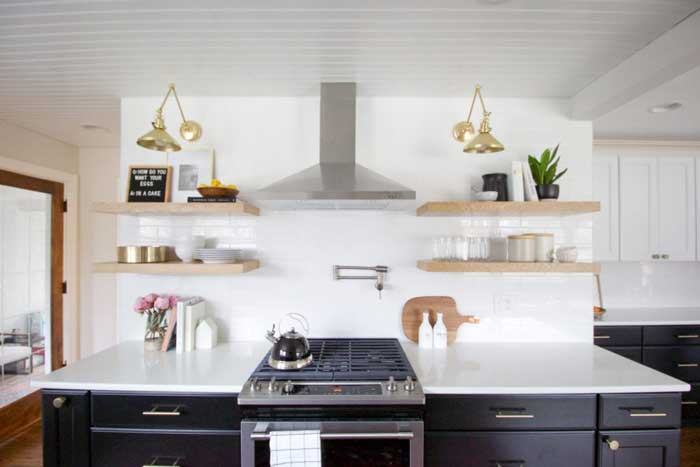 Although open shelving in a kitchen is super handy for storing decorative kitchen essentials, the shelves can also be strictly decorative. Keep the bottom shelves for kitchen dishes for easy access. The upper shelves can be hard to reach so they are good choices for displaying decorative items. Books, plants, and pictures are all good ways to dress up open shelving.
Clean And Simple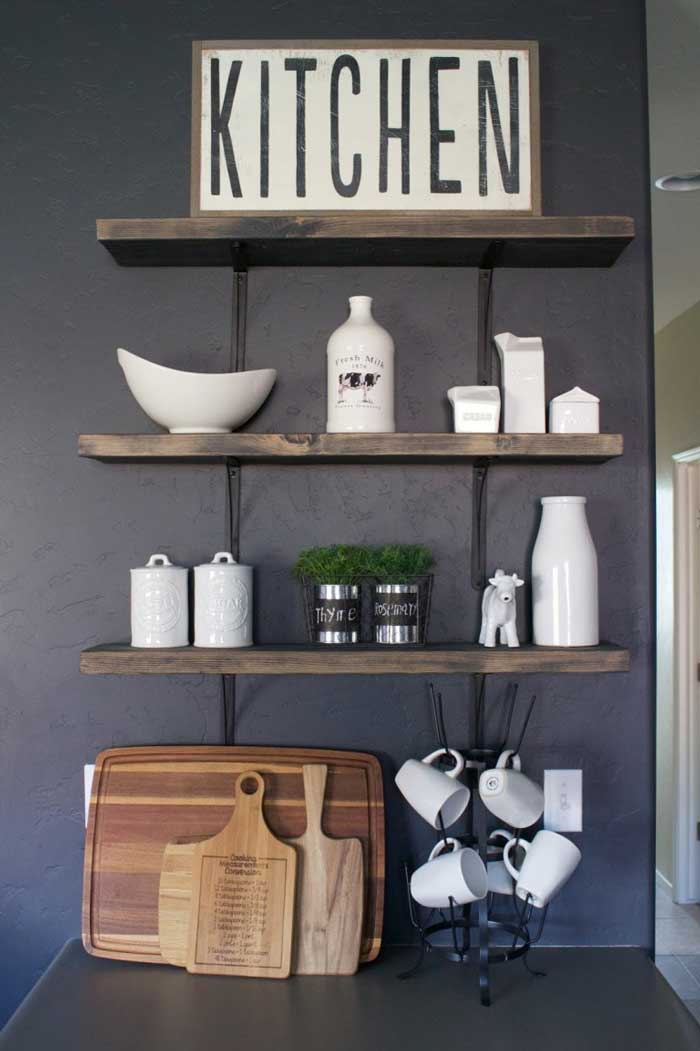 The simple styling of this open kitchen shelving is both functional and pleasing to the eye.
What do you think of open shelving in the kitchen? Do you love it or prefer to keep your essentials behind closed doors?