10 Decorative Organization Crafts
There is something about the start of a new year that makes everyone want to get organized.  A new beginning can mean a fresh start or out with the old and in with the new.  For me, I know that when that feeling, to organize, is there…. I better jump on it!
It may be gone tomorrow!.
So…today I am focusing on craft projects that help with organization.  All of these ideas will help to declutter your home in no time.
10 Organization Crafts:
1.  Wooden Boxes With Paper Hardware by Country Living
Inexpensive wooden boxes are given an upgraded look with paper hardware and new paint.
2.  Chalkboard Vinyl Tags Jar Organization by Little Birdie Secrets
3.  DIY Storage Using Recycled Tin Canisters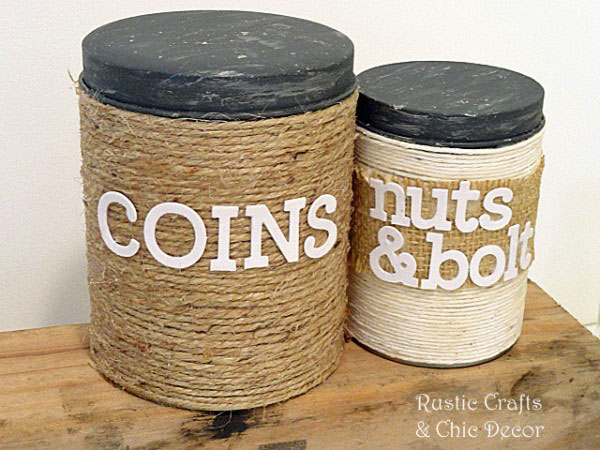 I recycled a set of old gift tins to use for storage by wrapping them in twine and making labels with linen sticker letters.
4.  Paint Brushes In Vases by Christina's Adventures
I am loving this idea for storing paint brushes.  The vase filled with rocks looks so decorative as a base for the brushes – you hardly even realize it is meant for storage!
5.  DIY Storage Caddy Using A Recycled Six Pack Container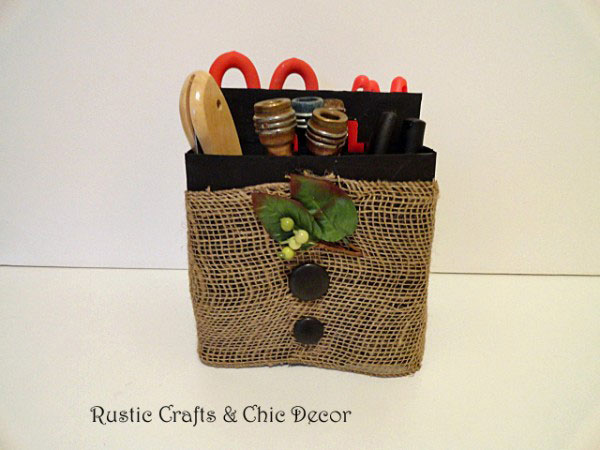 I love to turn six pack drink containers into useful storage caddies.  The separate compartments are perfect for storing a variety of supplies.
6.  Cereal Box Drawer Dividers by I Heart Organizing
This is an amazing solution to drawers that can easily get out of hand!
7.  Mason Jar Paint Storage With Chalkboard Paint Lids by It All Started With Paint
I like how the labels for these jars are on the lids so the jars can be stored in a cool industrial basket.
8.  Tin Can Caddy by Cynthia Shaffer
Tin cans plus a lazy susan equals a super functional storage caddy!
9.  Twine Storage by Your Home Based Mom
This is just plain pretty!
10.  Cereal Box Paper Organizer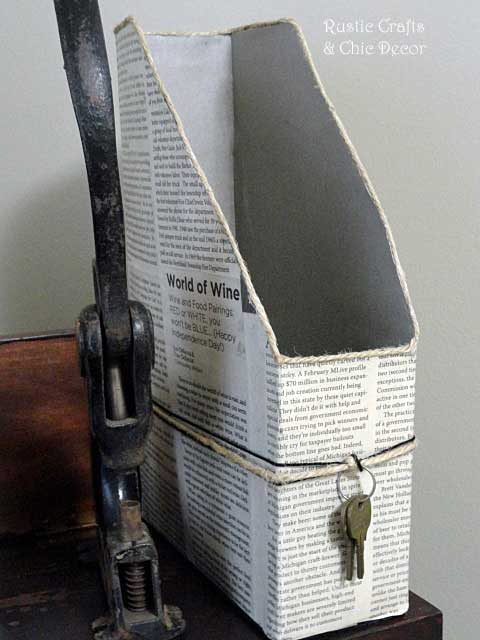 This paper holder was super inexpensive to make since I covered the cereal box in newspaper!
I hope you have been inspired!
Happy Crafting!