What do you do when you love crafting but you don't have a dedicated spot to pursue your hobby. Not everyone has a spare bedroom or extra space in the basement for a craft room. Even if you could turn a closet into a little craft nook, your particular hobby might require more space. I previously showed how to turn a storage shed into a brand new functional craft shed, which is super fun. However, there is another space that usually gets overlooked. A garage, or a portion of it, can also be revamped to create the perfect craft room. I'll show you some garage craft room ideas that I found which are sure to get you thinking.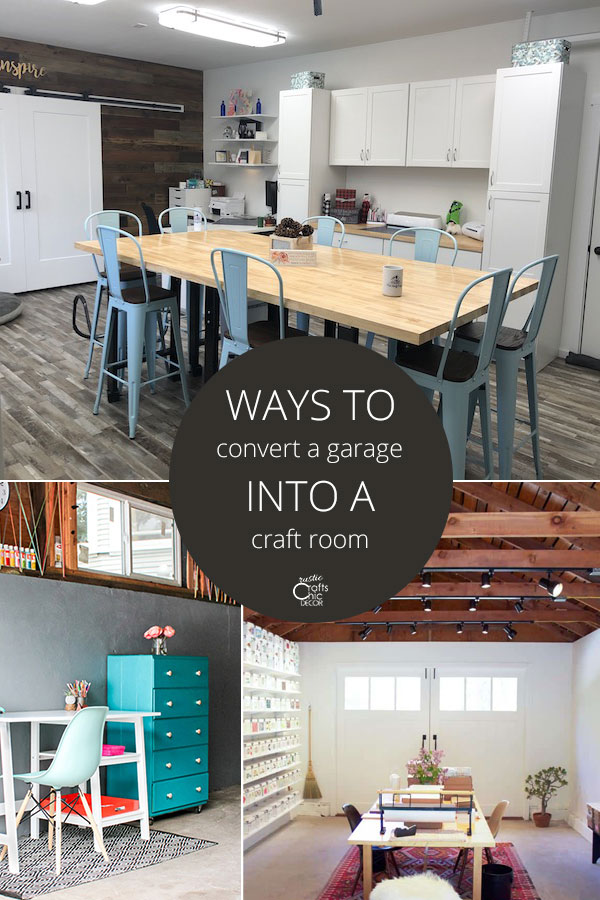 I do realize that probably for the majority of us, a craft room in the garage is out of the question. My own garage, for instance, is so full of stuff that we barely just have room for the vehicles. I can't imagine giving any of the space up. But, we are planning on building a pole barn so it is a little more conceivable to think about taking over some of the space in either the garage or barn, maybe. For some of you though, it may work out perfectly. Maybe you have an extra stall or several out buildings on your property. Then, a garage craft room may sound like the perfect idea!
Makeover A Single Stall Garage
With a few decorative upgrades and added storage spaces, it's easier than you might think to create a stylish and functional craft room in the garage. Incorporate one or more of the following in your design plan and you will be good to go.
Garage Craft Room Checklist
Upgrade the garage door
Install decorative task lighting
Add storage cabinets and shelves
Leave room for a large work surface
Upgrade the walls and floor
Add electricity if not already there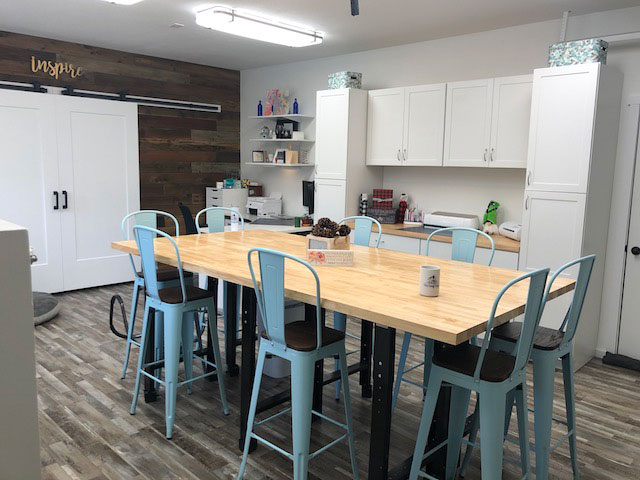 If you don't already have a drywalled garage, now is the time to do it. The space will look much more finished and homey. Then, you can decide if you want to warm it up even more with wood planks or colorful paint.
The best way to make a garage not look like a garage is to upgrade the large garage door. A sliding barn door is a perfect option that you already see in many homes.
Depending on how easy it is to clean your cement garage floor, you can either leave it as is or install vinyl flooring over the top. When the cement is clean, you can always add an area rug to warm it up and add texture.
Of course, you are going to need something to store all your craft supplies in. You can install new cabinetry or simply add lots of open shelving. If you have old furniture like hutches or dressers, they can easily be added as stand alone storage options.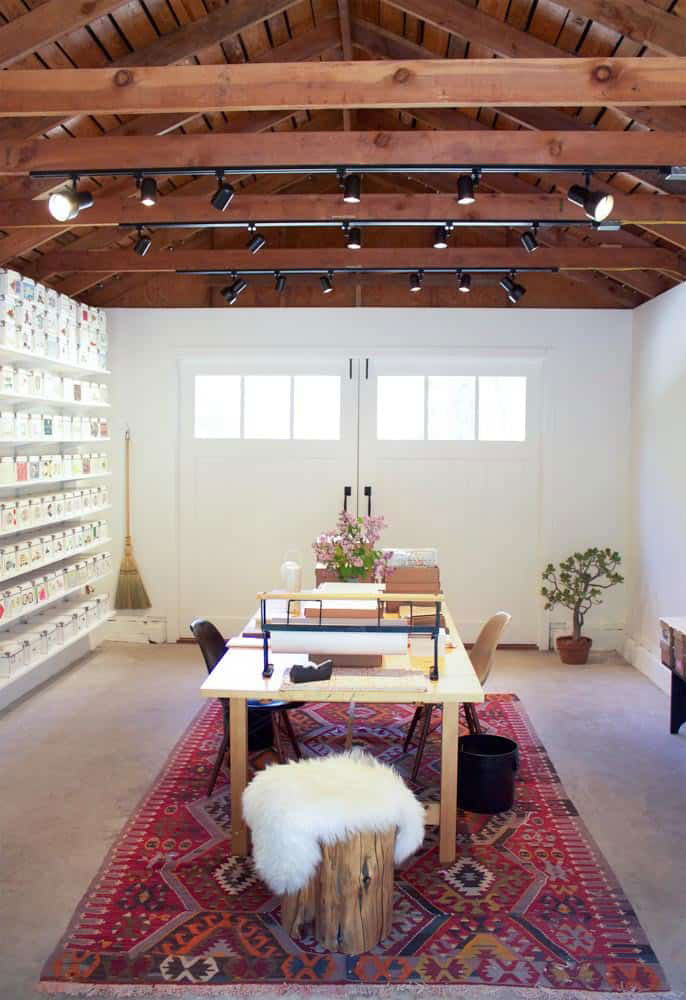 A high ceiling in a garage adds a ton of style. I love the dark warm tone of this wood contrasted with the bright white walls.
Transform An Old Unused Garage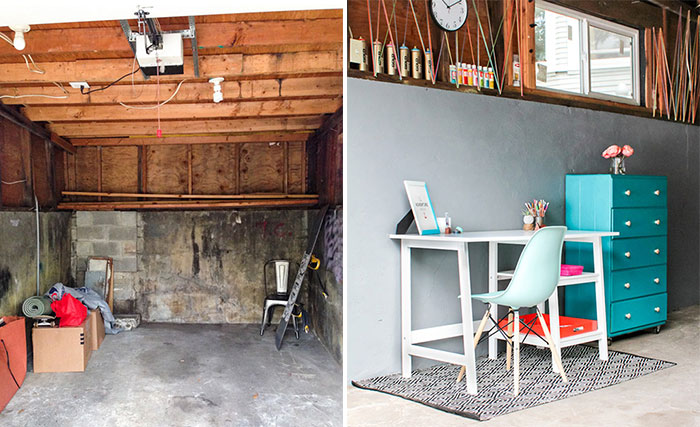 Even an old unused garage can be made over to house craft supplies instead of a car. It probably will take a little more work to get it clean and usable but the effort will be well worth it.
Carve Out Space In A Multi-Stall Garage
If you have a two or three stall garage, you may want to transform just one of the stalls into your craft room. This might mean add a wall to separate the craft space from the rest of the garage. Or, many garages are built either extra wide or deep. There may be a section of the garage that you can partition off to fit your needs. Depending on your craft, you don't always need a large space. However, you do want the space to inspire you. Make sure to check out these craft room decor ideas that will inspire creativity in any size space.