If you have ever wanted to take your crafting supplies with you on a vacation, to a class, or to a friends house, then you know how necessary it is to have a good craft tote to carry everything in. You don't want to throw everything into a random bag where things can get lost easily. Instead, you want a storage container with separate pockets, zipper compartments, and loops for easy retrieval. Crafting on the go requires the same organization for one project that you would expect from your regular craft room.
Shopping for a craft tote can be just as fun as shopping for a purse. Any savvy crafter will want to be styling while on the go so taking care to find the right bag is a must. Since I love to shop, I went on a search of some of the most stylish and functional craft totes that I could find. Depending on what type of craft projects you do, one tote design may work better for you than another. I've included a variety of styles to fit a variety of supplies. I'm pretty sure you will like some of the options I came up with.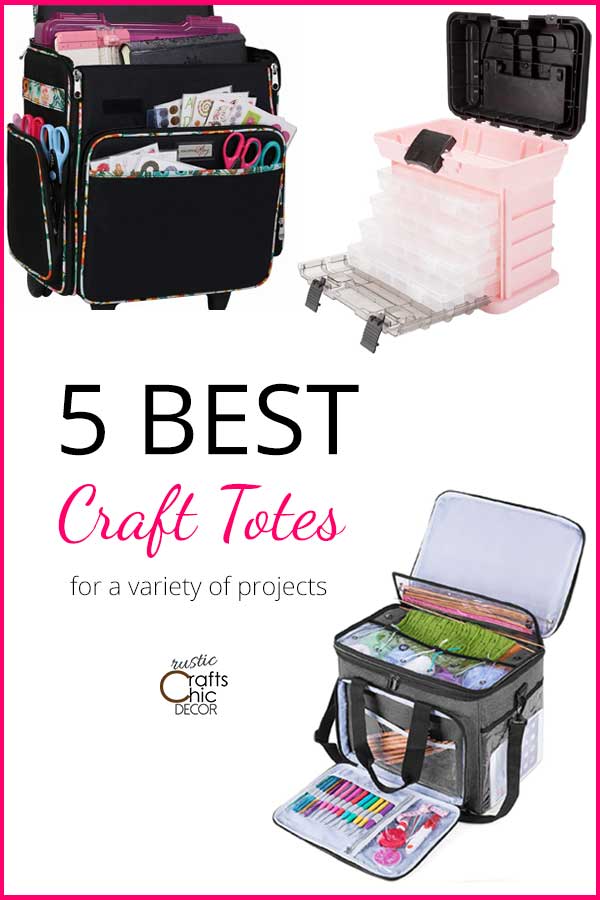 This post contains recommended product links. If you make a purchase through one of the links, I will earn a small commission at no extra cost to you.
Best Craft Tote Bags
All of these craft totes make an excellent gift for any crafter. So whether you are shopping for yourself or a craft lover that you know, these choices are guaranteed to be special.
Teamoy Crafters Tote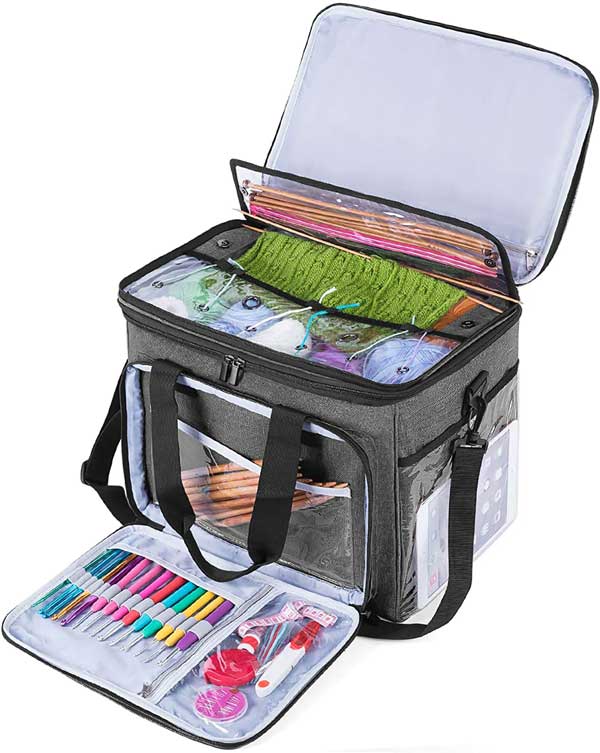 Some of the best qualities for tote bags are separate compartments, straps, and a top cover. This bag has them all with several zippered compartments and dividers. It's easy to keep all of your project supplies organized and easily visible with the clear, see through pouches. No more guessing what's inside each pouch! This bag is a number one seller with a solid 5 star review. It works especially well for knitting or fabric crafts.
Small Supply Tool Box Tote

For craft projects like beading or keychain making, that require a lot of small pieces and parts, a tote that works more like a tool box is a must. This pink plastic toolbox contains several pull out storage compartments with lids. Small parts can be easily organized within the compartment dividers. There is also plenty of space for larger tools or supplies at the top of the toolbox. The sturdy latches and carrying handle make it perfect for crafting on the go.
Rolling Craft Tote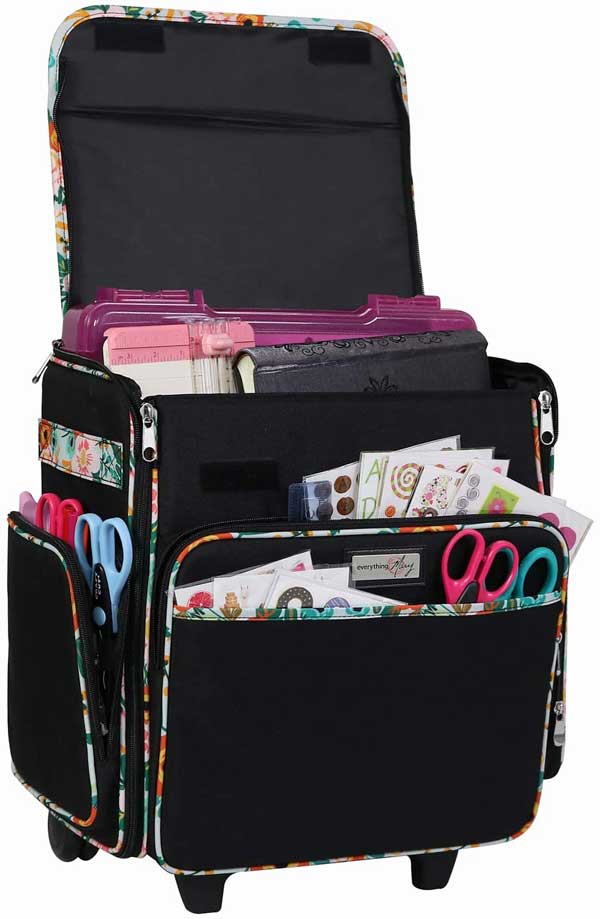 If your project require a lot of larger supplies, you will probably need a bigger tote than the average size. For totes like these, it's super handy to also have it be a rolling tote with an expandable handle. This tote has it all! Just fill it up with paper and stickers and easily pull it around to your next destination. Going to scrapbooking parties has never been easier!
All In One Cricut Carrying Case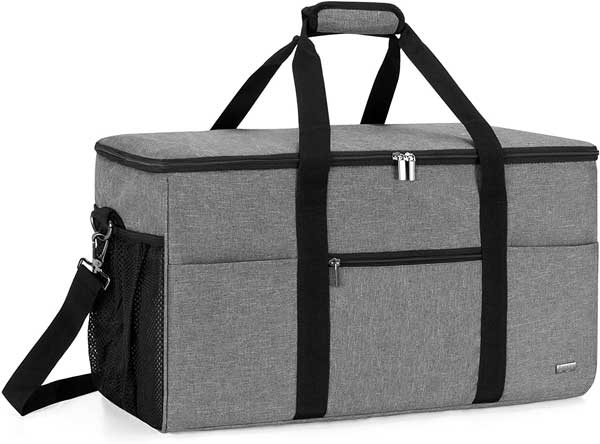 With this case, not only can you carry around your Cricut but also all of your vinyl and other supplies. There is plenty of cushioning inside to protect your machine. Plus the heavy duty carrying straps makes it easy to tote.
Roomy Craft Bag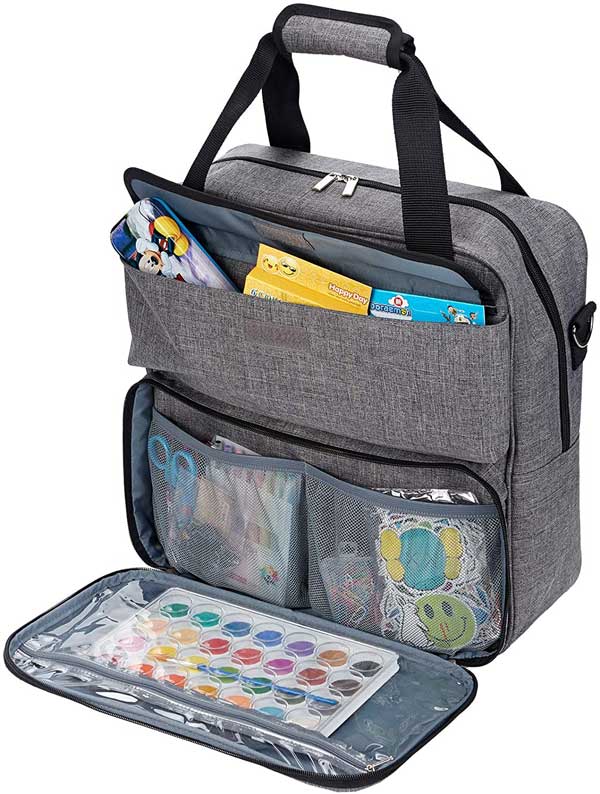 Sometimes you may need a craft tote that is roomy enough for some larger items but not too big to require wheels. This bag may be just the ticket for those needs. There is room in the large zippered compartment for some canvases or watercolor paper while the smaller compartments could hold paint, pencils, pens, or other smaller supplies.
Now you just need to pick a craft tote and start filling it with supplies! For the best glues, check out my guide to finding the right glue.