The other day I was thinking that I would like a unique container for storing lemons and limes on the kitchen counter.  I wanted something tall and cylinder but not the usual glass.  Since I still wanted to be able to see the fruit that I stored, whatever I used had to be see through.
I have a lot of antiques in my kitchen and one of my other favorite items is a large pig….who is a chef!
So….for my somewhat country kitchen, it made perfect sense to use chicken wire!  A chicken wire basket would be easy enough to make.  At least I hoped it would be as easy as the plan in my head…..
We had some chicken wire in the garage, that we had picked up along the way, so I cut off a section with my heavy duty tin snips.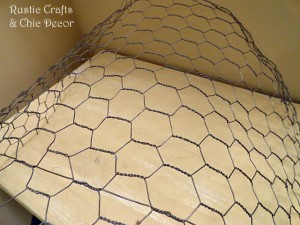 The only thing that I needed to buy for this craft project was something to act as the bottom of my container or basket.
I found a round flat piece of wood at Michaels that was just the diameter of the basket I wanted.  The first thing I did was to give it a thin coat of white paint.
To begin getting the chicken wire ready to be formed into a cylinder, I trimmed it down to the exact height and width that I wanted.  I just eyeballed the wire and ended up okay but it is probably a good idea to take the extra step of measuring.
Next, I bent the bottom row of wire in.  This bent part would be attached to the bottom of the wood to hold the cylinder in place in the end.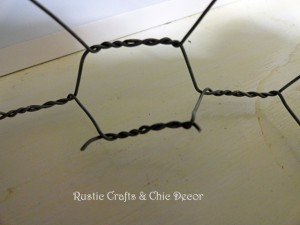 Before I glued the wire to the bottom of the wood, I first wrapped the cylinder all the way around and began to secure the sides together by twisting the chicken wire ends together in a couple of key spots.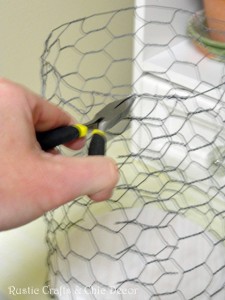 To further secure the ends together, I used twine to loop through the edges, working my way down the cylinder and back up on the other side of the seam.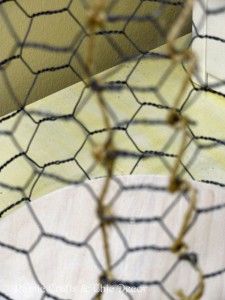 This left a not so pretty section in my cylinder so I had to come up with a fix!  I ended up cutting a section out of a bushel basket lid, that I had, and attached it right over this section using Loctite adhesive.
I also wanted to add something a little more decorative around the top rim of the basket.  It didn't need anything too heavy so I decided on using my bark covered wire…….which happens to be one of my favorite craft items ever!!
I made it real loopy and fun!
And then I put the finished product next to my favorite pig.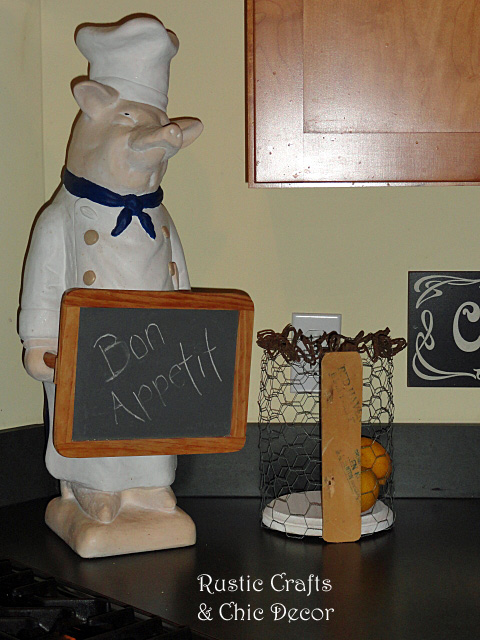 I'm a little low on lemons and am due to go grocery shopping!  I am ready to fill that basket up.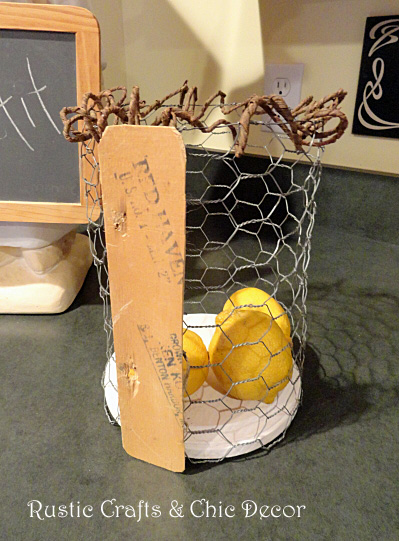 For more craft ideas like this, check out my Rustic Crafts page.
Happy Crafting!