I have been wanting to make some changes in my home office space for quite some time now.  I've had a wonderful small antique writing desk for doing writing or computer work but I wanted to expand the space for a little crafting.  I also had some white…put together particle board furniture pieces…that I wanted to replace with something…..old.
Here is what my office looked like before: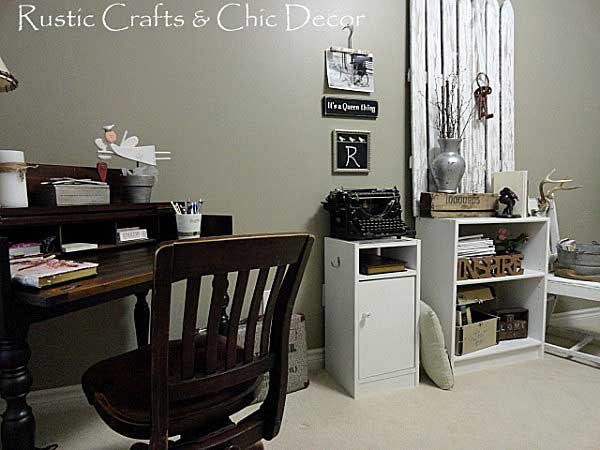 You can see that I had tried putting old things on top of that white particle board but it still wasn't quite doing it for me.  So, I finally took everything apart and started over.
And, I really thought about what I wanted the purpose of the room to be.
The first thing that I needed was another work space for small craft projects that related to my store.  I wanted to keep these separate from all of my other bigger home decorating projects that I normally do in my craft room.
A while ago, we had picked up an old ice sled with the intention of making it into a coffee table.  Since we really don't need a coffee table, it has been sitting in storage.  Why did we buy it?  Because it looked so cool of course…..and at the time we figured we would find a place for it….
Anyway, that sled came to my mind as the perfect size for a crafting surface.  I just had to figure out what to do about legs.  So, on Friday night I determined that I would just have to make a run to Target on Saturday to pick up a couple of bar stools for the two ends.  I happily went to bed with my plan and woke up with another!
Sleeping definitely makes you smarter or at least clears out the cobwebs.  I remembered that we had two old concrete pillars just sitting in our garage.  My husband had picked those up along side the road somewhere!  The hardest part was getting them up the stairs to my second floor office.  (My husband and son were gone to a father and son retreat)  But, where there is a will there is a way and I hauled them up like they were made of plastic….and then I nearly collapsed!
Then, everything went together as planned and I have a new space that is more functional and inspirational for the type of work that I do.