Happy weekend and welcome to another Shabby Shares Saturday link party!  This party runs each week from Saturday all the way through Wednesday so you have plenty of time to share your creativity with us.
You can link up as many craft and decorating projects, that you have been working on this week, as you would like.  Anything that you link up has the chance of being featured either at next week's party or later in a special feature post.
There were some great projects linked up last week and here are some of the favorites: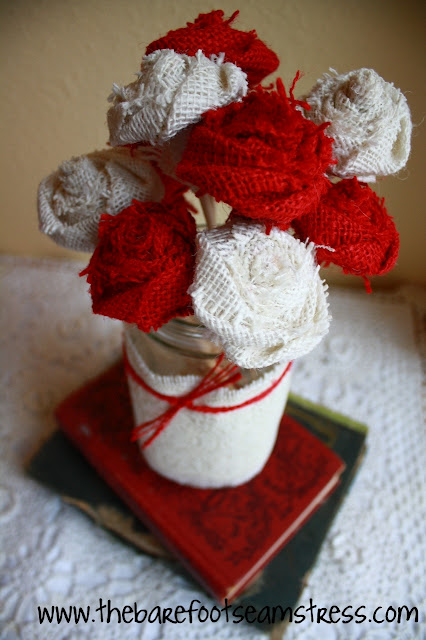 This no sew burlap bouquet by The Barefoot Seamstress would be a perfect accent for Valentine's Day!  I love the fact that the bouquet is held in a mason jar as well, which gives it a little extra chic.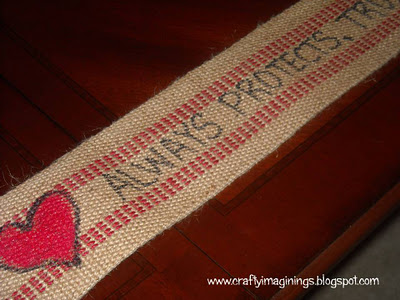 How cool is it that this next project is also a Valentine craft that uses burlap?  If you want to make both of these, they would complement each other quite well!  This runner by Crafty Imaginings has a paraphrased verse from I Corinthians 13 written out on it.  Talk about a great love theme!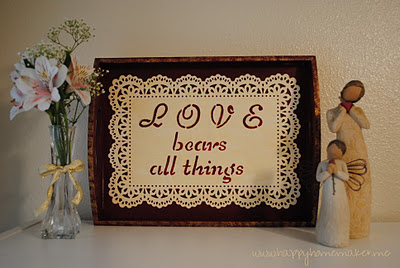 And, we are definitely on a roll with the theme this week.  This Valentine serving tray by Happy Homemaker also uses a section of a verse from I Corinthians for it's inspiration!
Now it's time to see what you have been working on.  As always there are just a few guidelines to follow:
1.  Link up the URL to your project post and not your blog home page.  We want to be directed straight to your project.
2.  I would appreciate a link back to this blog to help spread the word about the party.  You can either grab my button from the side bar or simply place a text link in your post.
3.  Check out some of the other entrys and vote on your favorites by "liking" them.
That's it!  Link away 🙂