Although some cabins are huge and luxurious, I would say that the majority are probably much smaller than a home.  That would be ours.  Since space is limited and we like to have lots of guests over, we needed to come up with the best possible sleep arrangements that we could fit.
Bunk beds seemed like the most logical choice.  If you can't spread out, you might as well stack up!  However, we have a lot of adults staying with us so we needed a design that would accommodate any size person and be easy to access.  My husband starting pouring over the internet for unique cabin bunk bed designs and found something that would be perfect!
Luckily, we have a finished basement, with a bathroom, that we use primarily for guests.   It is all open with the main area holding two full size sleeper sofas.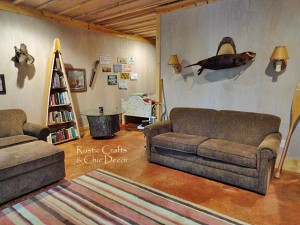 Around the corner from this sitting/sleeping area, we had a very narrow space where we had an old bunk bed with a double bed on the bottom at the far end and an antique twin bed that butted up to it.
There were a couple of problems with this set up.  First, the double bed was too large as it was only allowed about eight inches of walking room between the wall and the bed.  Second, the antique twin was not a normal size twin….it was short.   Any adult had a difficult time stretching out.
Both of the beds had to go!
We decided on a double bunk bed design that had a set of stairs between the two beds.  This allows for easy access into those top bunks.  After all, it is a little harder for an adult to maneuver those bunk bed ladders than it is for kids.
My husband also had the great idea to make the lower bunks a little higher off the ground for easier access as well.  This also allows for some nice storage space under the beds for luggage.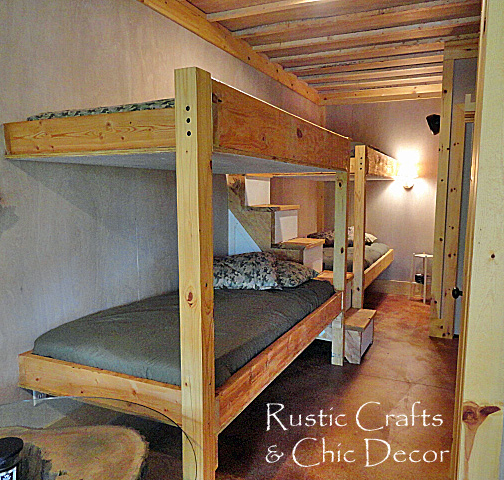 You can see how narrow this space is!  To make the most of the area, my husband attached the bunks directly to the studs in the wall so there would only be posts on the outer side.  He built the frame with 2×10's with a plywood bottom – a simple but effective design.
To make it much more unique, he built stairs in between the two sets of beds.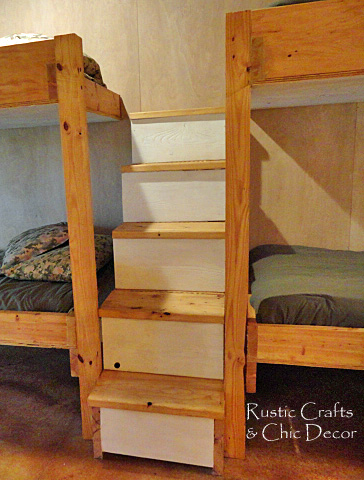 They are just wide enough for an adult to fit between the two beds comfortably.
I painted and stained the stairs to match our two staircases in the cabin.
The best part about these stairs is that the treads lift up for storage underneath!  I didn't get pictures of this feature when we were up last so I will have to add those later.
Since we are always in need for extra storage space, this is one of my favorite parts of the design!
My husband basically attached the stair risers to the wall studs and the inside posts at the bottom.
He used 2×10's for the treads and plywood for the risers and sides.
Originally, he was going to completely enclose the stairs with large pieces of plywood on each side.  However, as I was looking at the design, I really liked seeing the stairs as you looked through from the end.  Plus, it allowed for more air flow in such a small space.
So, he modified his plans and just cut small triangular pieces of plywood to fill in the sides where there will be storage.
Now I am ready to have lots of guests at a time at our cabin!