Springtime at the cabin usually means a little sprucing up of some of the decor inside. Where Winter calls for a lot of rustic reds and buffalo check, Spring can be a bit brighter and cheerful. Personally, I like to keep things rustic but a little more colorful. This is easy to accomplish and affordable when you make your own rustic decor. I have some favorite crafts for Spring that I will share with you. All of them add color and freshness but still keep with a rustic theme.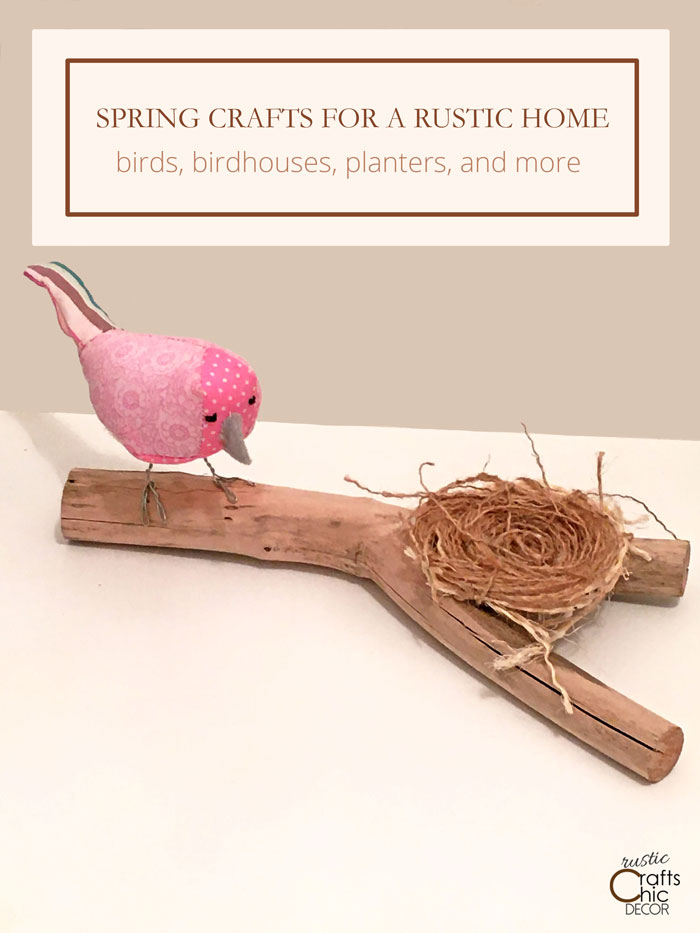 This post contains recommended product links. If you make a purchase through one of the links. I will earn a small commission at no extra cost to you.
DIY Spring Birdhouses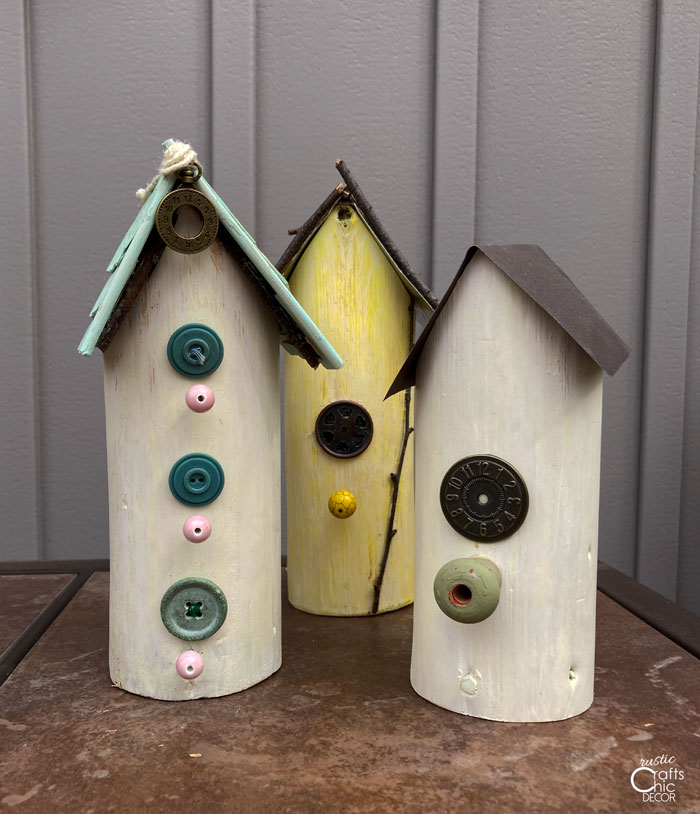 I never get tired of making log birdhouses. In fact ,a birdhouse made from a birch log was one of my very first rustic craft projects. For these Spring birdhouses I just changed things up a bit. First, I removed the bark from the logs for a nice smooth finish that I could paint. Then, I added fun embellishments using buttons, beads, knobs, and other trinkets. It's a great way to customize and get colors to match your decor.
Fabric Bird On Driftwood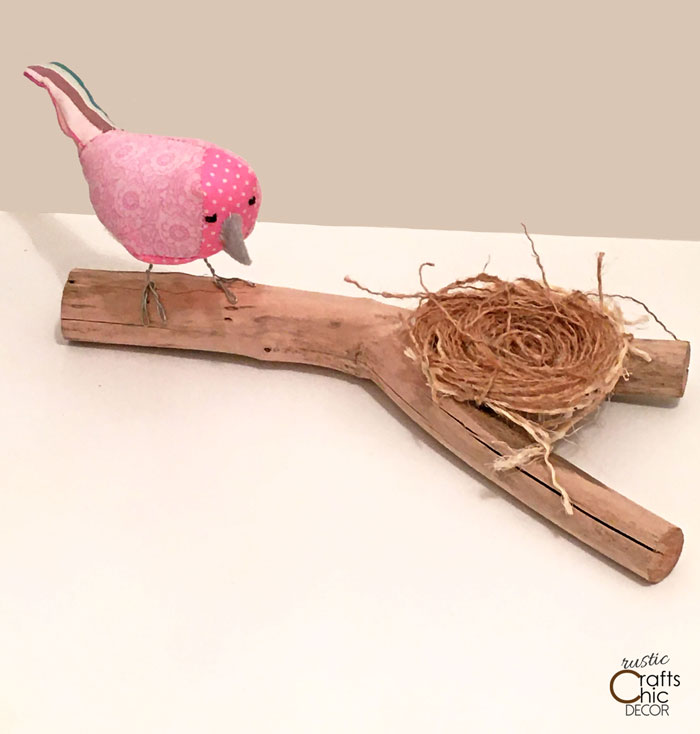 When you love birds, it just makes sense to sew together your own in fun Spring colors. I used the wren pattern from the book Pretty Birds, which you can purchase below. Birds on their own are nice to prop anywhere but when you put one a rustic base it really warms up the display.
I love to collect driftwood from the Pere Marquette river near us and this is a fun way to put it to use. Once I made by bird, I just positioned it on the driftwood and glued it's feet down with E6000 craft glue.
The nest came together super easy. I had previously frayed some burlap and these were the strings that were left. The pile on my desk actually already looked somewhat like a nest. So, I just took that pile and formed it into a circular nest. Then I held the form together by tying random burlap strands loosely around a few sections to hold it in place.
Craft A Flower From A Faucet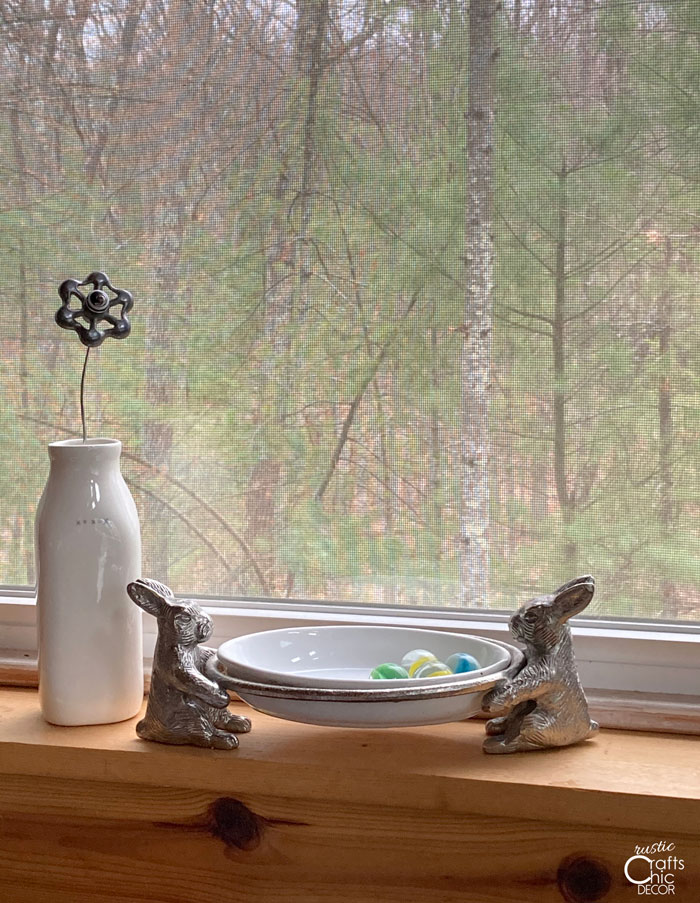 Fresh cut flowers are always a perfect go to for adding color and cheer. But what if you want something, along those lines, that is more long lasting? Outdoor faucet handles are great for turning into an industrial style flower. They are also probably the easiest craft ever. Plus, you can get really creative by using new or vintage faucet handles in a variety of different colors.
Make A Pine Cone Spring Planter
Some people like to start adding flowering potted plants to their home during the Spring season but not me! Yes I do love the look of them but whatever color is the opposite of green is the color thumb that I have. They just don't last. I found a solution, however, by making my own pine cone stems for planting. You're probably thinking that pinecones aren't colorful at all! Don't worry because I thought of that too. Instead of the stems being colorful, I brought the color in with the planter (which is actually a pail).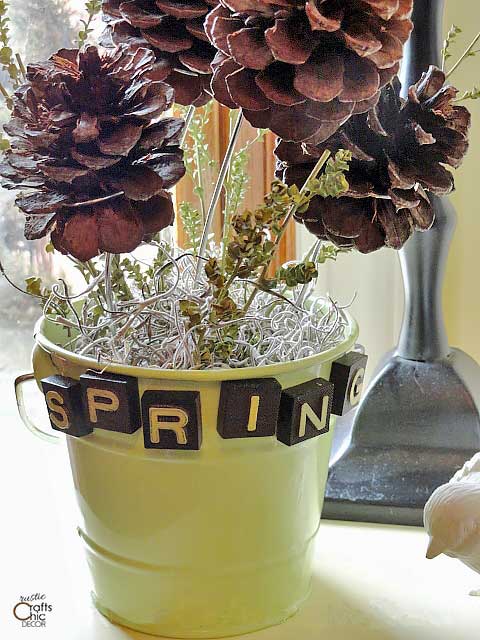 You can see that even rustic items from nature can look bright and cheery when placed in a colorful container. And, in case you had any doubt that this planter was for Spring, I spelled it right out for you! I used vintage game letter tiles to add a touch of whimsy.
To create the pinecone stems, I wrapped thick florist wire around the middle of the pine cone. The leftover length of wire made the stem. I had filled the pail with florist foam to poke the stems into and then placed Spanish moss over the top of it. A few stems of dried greenery completed the look.
Make sure to also check out my post on making an Easter bucket out of an old and used paint bucket!