When the season switches to Spring, it's a good time to bring in some fresh home decor. To do this affordably, try making some of your own decor pieces. These Spring crafts incorporate a lot of rustic materials making them both cheery and warm.
Spring Craft Tutorials And Ideas
Make a Spring Planter Filled With Pine Cone Stems
By filling a colorful planter with pine cone stems, a planter gets a fresh look that is also warm. I made this pine cone Spring planter for my home. The thing I like best is that I cannot kill these "flowers"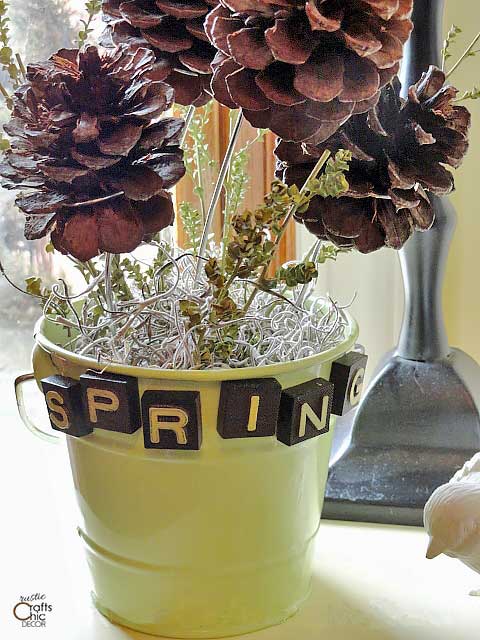 You can see that even rustic items from nature can look bright and cheery when placed in a colorful container.  I used vintage game letter tiles to add a touch of whimsy. To create the pine cone stems, I wrapped thick florist wire around the middle of the pine cone. The leftover length of wire made the stem.
Here are some more Spring crafts to brighten the day.
Craft A Burlap Bunny


These two adorable burlap bunnies by The Little Green Bean are just the right thing for some fun Spring decor.  Burlap, twine and wire are all that is needed to make these.
Group Colorful Vintage Vases Together To Create a Spring Centerpiece

Here is an easy idea that looks so fresh and chic.  Vintage bottles, in a mixture of clear and soft colored glass,make a beautiful centerpiece.  Group them together on your favorite tray and fill with fresh flowers for instant Spring!
Recycle Jars To Display Those Spring Flowers

You can also use mason jars or recycle spaghetti, mayonnaise, salsa or other jars to make a set of Spring vases.  Decorate them with lace, burlap and ribbon and fill with fresh flowers.
Craft Some Colorful Yarn Balls For A Vase Filler

Claiming Our Space shows how to easily create a bowl full of Spring with styro-foam balls and colorful yarn.
Recycle Brown Bags To Make A Spring Nest

I like Spring crafts that incorporate bird's nests but I was especially intrigued by this particular craft.  The actual nest was made from recycled brown paper bags.
Make A Birdhouse From A Birch Log And An Old License Plate

And, as long as we are on the subject of birds, I should bring back my birdhouse craft project.  These are quick and easy to make with birch logs and either old signs, license plates, or rusty tin sheets for the roof.
Create Birds Out Of Crepe Paper

So…the only thing left is the birds!  These crepe paper birds are fairly easy to make with the step by step instructions.  A vase full of branches makes the perfect backdrop to perch these creations on.
Fill A Vase With Branches, Butterflies, And Flowers

And finally, this Spring craft by Rhonna Designs gives reason to celebrate.  The light airy look of the branches filled with butterflies and flowers is a perfect way to bring in the Spring season.  The project is quick and the tutorial is easy to follow.
Are you ready to start decorating for Spring?  What Spring crafts have you started or plan to start?