Since Christmas trees are such a popular Christmas craft to make, I of course had to put my own twist on one.  This whimsical potted tree is one part rustic, with the natural branches, and another part chic, with the glitzy pearls and shiny twisted wire.  The shabby chic tree will make a great addition to your table top or mantel decor this holiday season.
It doesn't take a lot of time to put this tree together.  If you are good with a glue gun and can twist wire, then you are golden!  The hardest part might be stopping at just one.  I might make a whole forest of these Christmas trees for a fun display in various heights.  Instead of using all clear beads, I might want to experiment with some colored beads as well.  Or, a variety of different colored pots might be fun!
First, I will show you how to make one and then you can decide where to go from there.  So, go gather up some birch branches or other decorative branches to get started.  If you can't come by any naturally, you can  buy them from various suppliers.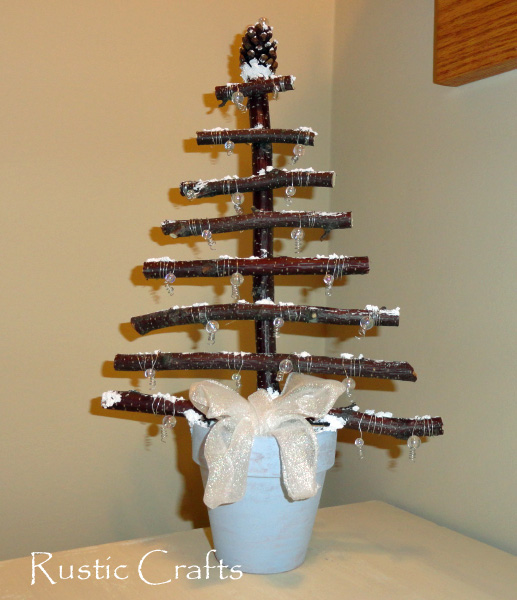 Christmas Craft:  Birch Branch Christmas Tree ~
Materials Needed:
birch branches
small flower pot
Styrofoam ball
tacky glue
artificial evergreen clippings
hot glue
pruning shears
pine cone
snow tex
paint brush or putty knife
blissful blue acrylic paint
glamour dust
white sparkly bow
various sizes of clear glass beads
26 gauge silver wire
needle nose pliers
1.  With a pruning shears, cut one branch to be your center stem.  Cut it to the height you want your tree plus a couple of inches for inserting into the Styrofoam in your pot.  Cut more branches to lay across your center stem at gradually shorter lengths to form your tree.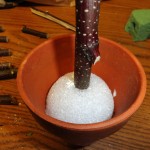 2.  Drizzle tacky glue over the bottom of your Styrofoam ball and insert it into the bottom of your flower pot.  Next, insert your center branch into the center of the ball.  Remove the branch and squeeze some tacky glue into the hole.  Re-insert the branch back into the hole.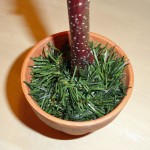 2.  Cover the top of the Styro-foam with tacky glue and press artificial evergreen clippings onto the glue to fill the pot.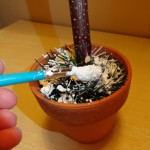 3.  Cover the top of the evergreens with snow tex.  This is not only decorative but also works to hold everything in place nicely.
4.  With your glue gun, start gluing on your branches  starting from the bottom up.  Try to keep the branches evenly spaced.  Add a small pine cone to the very top.  Now the fun begins!  I love to decorate 🙂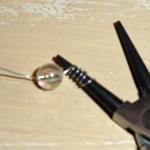 5.  Using a needle nose pliers, wrap one end of a six to seven inch section of wire around the nose about five times.  Add a bead.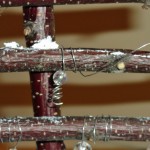 6.  Wrap the other end of the wire around the tree branch a few times.  Clip off any access wire with a wire snip.  Continue adding beads throughout the whole tree.  When you are finished, apply some snow-tex to your branches making sure to cover the tops of your wire to secure them in place.  Also, cover any areas where hot glue may be showing.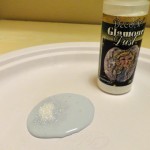 7.  Add some glamour dust to your paint to apply to your flower pot.  I like to do this to add just a slight texture and subtle glisten in certain light.  If you want more sparkle, first paint your pot with just the acrylic paint.  Then, mix your glamour dust with a glossy varnish and apply that over the paint.  You will have a much more intense sparkle and shine.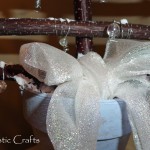 8.  Finally, make a bow out of some sparkly white ribbon and glue it in to the bottom of your flower pot.  I used E6000 craft glue for this but tacky glue would work too.
And that is how you make a Christmas tree with birch branches!  Now, how many are you going to make?
Here are a few close ups: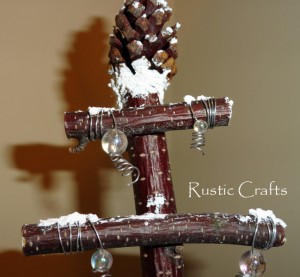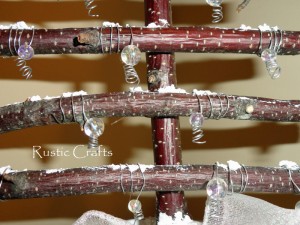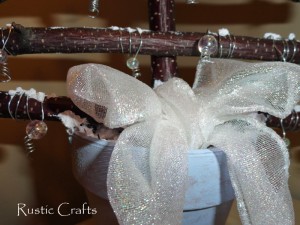 Happy Crafting!