With the holiday season underway, most people like to put a stamp on it by hanging a wreath on their door. It's a sure way to tell people that you are in the holiday spirit! However, before you go out and purchase a brand-new wreath, you may want to consider making one yourself. Like homemade ornaments or DIY garlands, it's also really easy to make your own Christmas wreath. These DIY Christmas wreath ideas will have you getting your creativity on and tackling one for yourself in no time.
Not only is it so satisfying to make some of your own decorations, but it is also very budget-friendly. With the rising costs of pretty much everything, it helps to save a little bit of money with some do-it-yourself projects. Whether you decide to use a wreath base of foam, grapevines or wires, there are plenty of unique ways to decorate a wreath without breaking the bank. Just gather up some old Christmas ornaments, fabric scraps or even wine corks to create a one-of-a-kind Christmas wreath that your guests will love.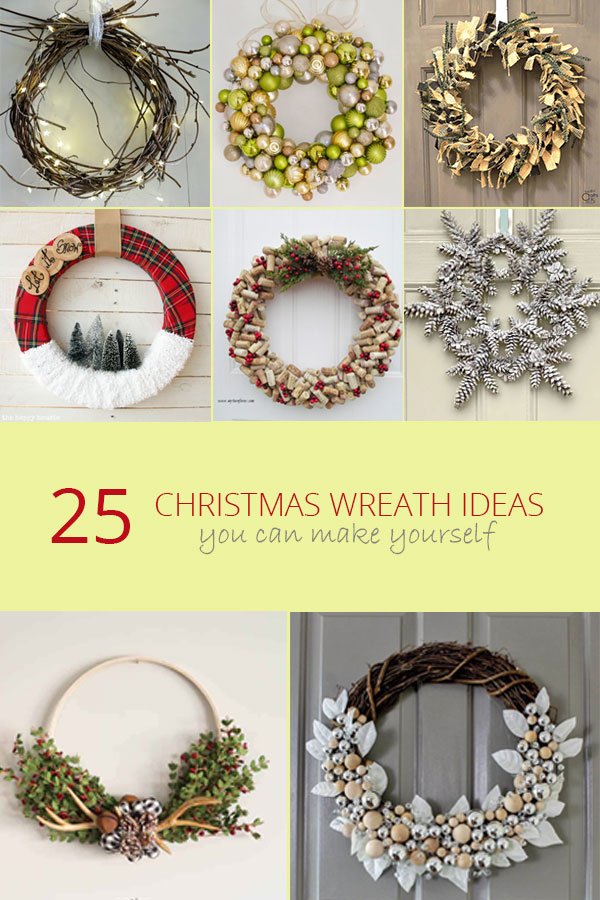 DIY Christmas Wreaths That Will Dress Up Your Front Door In A Unique Way
This post contains recommended product links. If you make a purchase through one of the links, I will earn a small commission.
For the 25 days of Christmas, I've come up with 25 different Christmas wreath ideas. One of these may be the style for you!
1. Festive Buffalo Check Wreath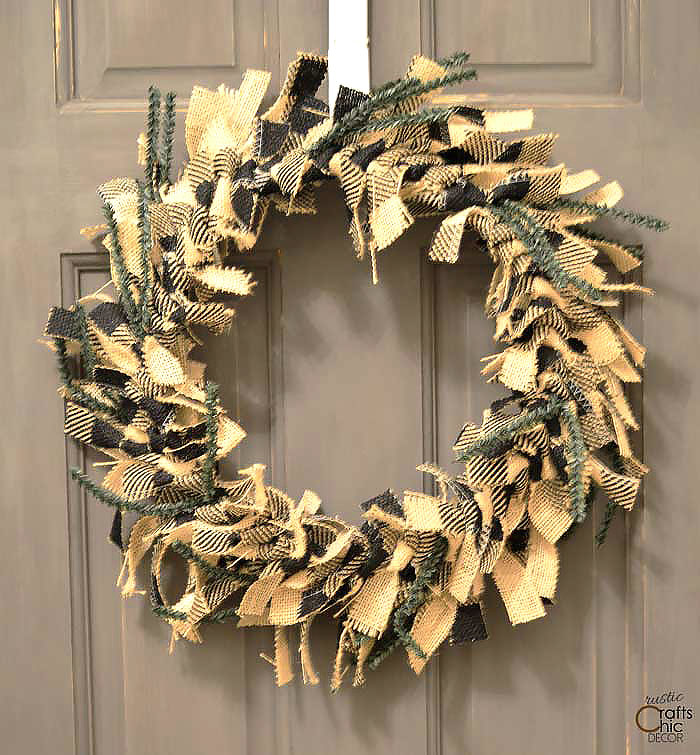 For a true farmhouse-style Christmas, combine buffalo checks, burlap, and evergreens. A simple design to warm up your entrance. The best part is that it's super easy to make! All you need is a wire wreath form and some fabric scraps.
SHOP: Wire Wreath Form
2. Rustic Jingle Bells Christmas Wreath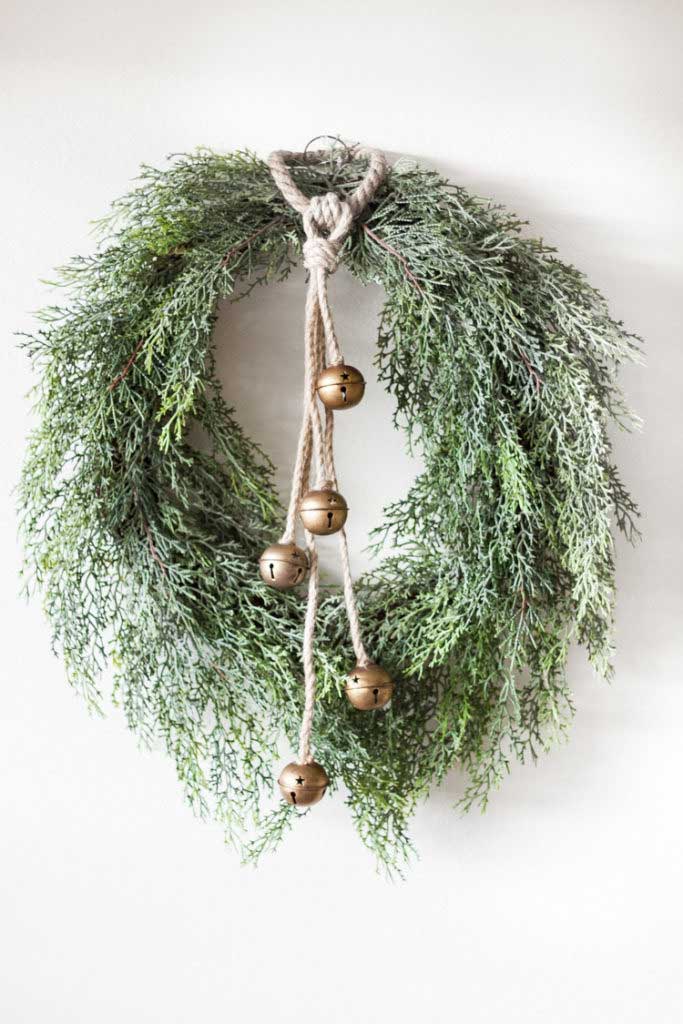 Can you hear those jingle bells jinglin? The rustic bells are simply tied with jute rope to a pretty evergreen wreath.
3. Antler Christmas Hoop Wreath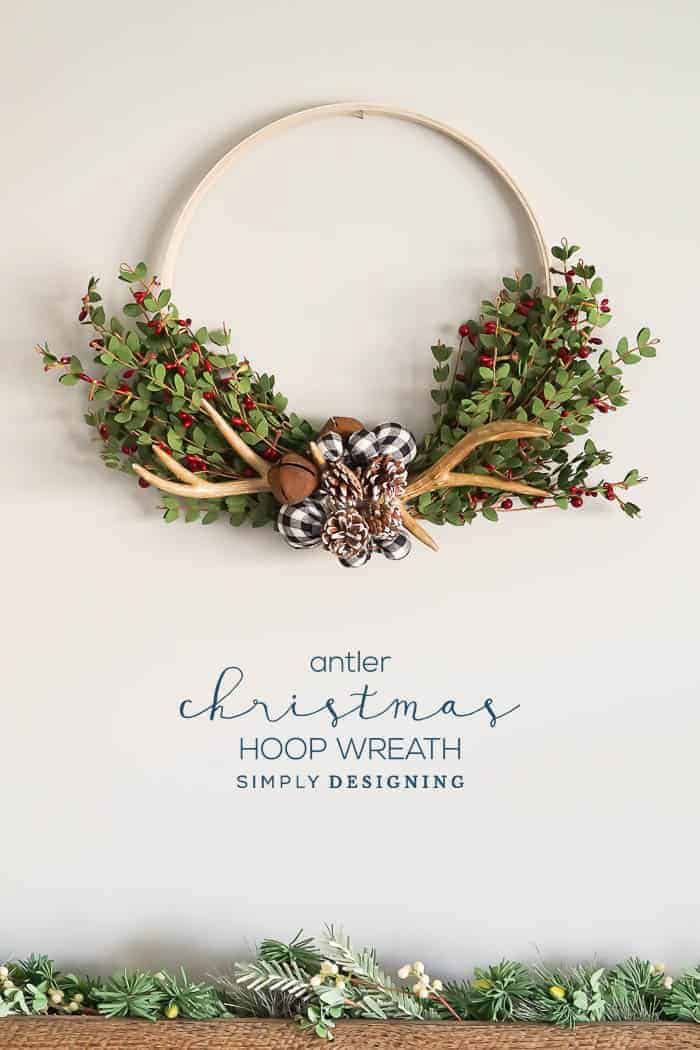 Hopefully, no reindeer are missing their antlers for this wreath project! A simple wreath design with a whole lot of merry and bright.
4. Rustic Scrap Wood Wreath Craft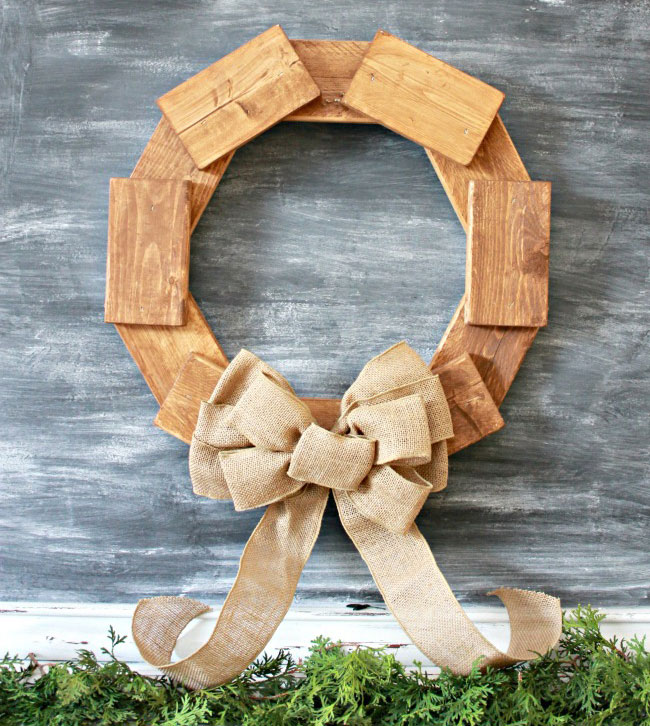 Straight from Santa's workshop is a wreath made from scrap wood. Nothing says rustic Christmas more than salvaged wood and burlap!
5. Pinecone Snowflake Wreath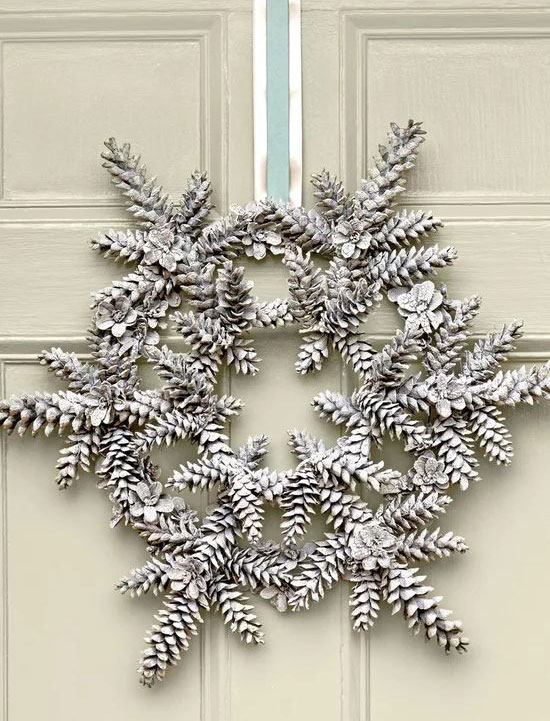 Pinecones are super popular to use in a variety of Christmas crafts. However, this snowflake pinecone wreath has to be one of the most unique Christmas wreath ideas I've seen.
6. Rustic Grapevine Christmas Wreath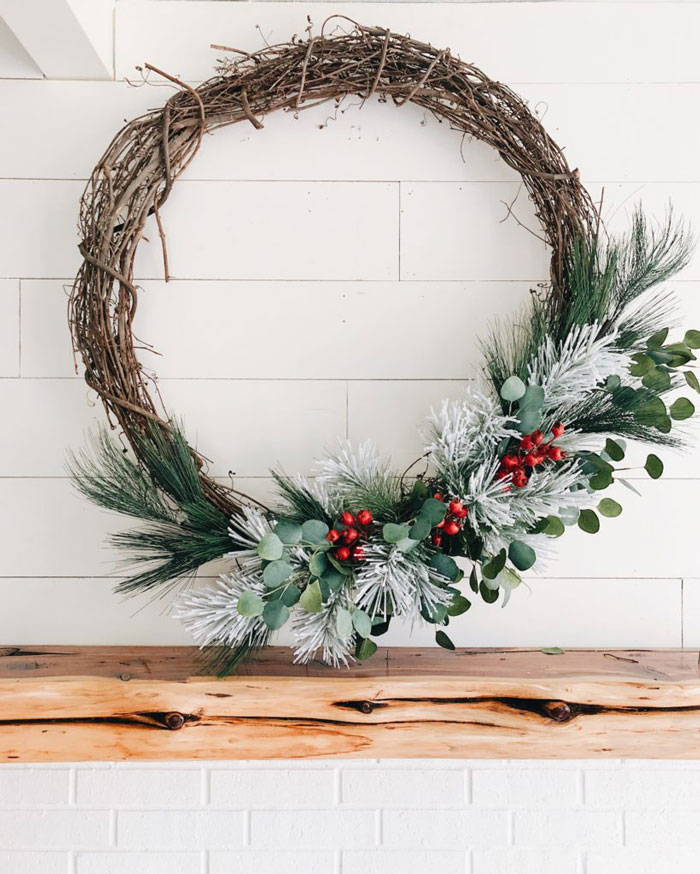 Decorate a rustic grapevine wreath with your favorite sprigs and stems. This wreath can be made in a matter of minutes leaving you plenty of time to do your Christmas shopping!
7. Twinkling Light Twig Wreath

Similar to the look of a grapevine wreath, is a twig wreath that you can form yourself. To give it a festive flair, wrap the twigs in starry lights. It's easy to do with a small strand of battery operated lights.
SHOP BATTERY OPERATED STRING LIGHTS
8. Vintage Wheel Christmas Wreath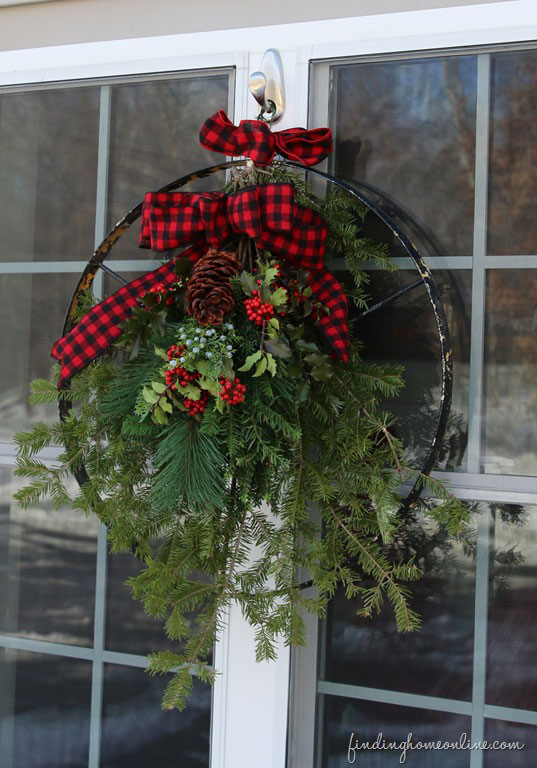 Vintage metal wheels are the perfect base for creating a pretty wreath. The look will bring about a warm and nostalgic look that is perfect for the Christmas season.
9. All Wrapped Up In Burlap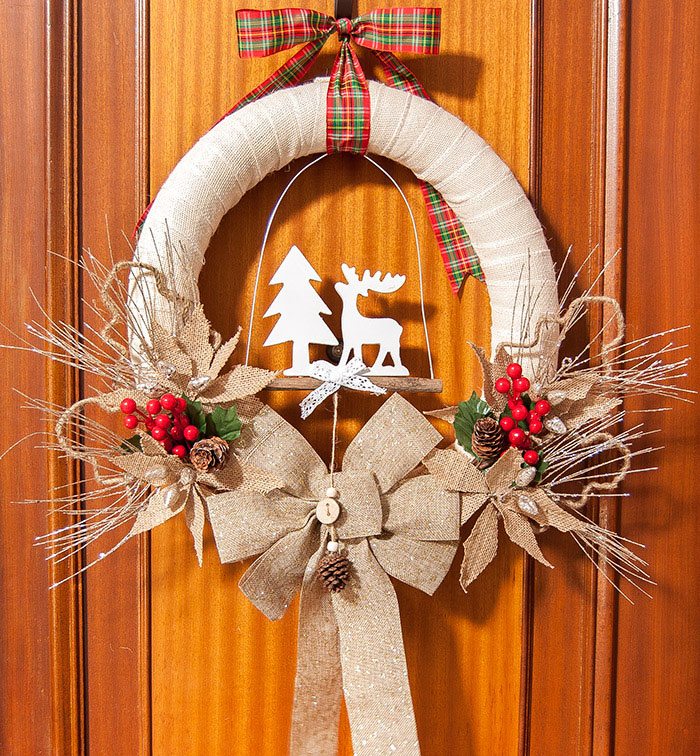 This pretty scene gives a heartwarming welcome. All of the neutral colors sets a soothing tone. The little pops of red and green add some festiveness without being overwhelming.
10. Let It Snow Wreath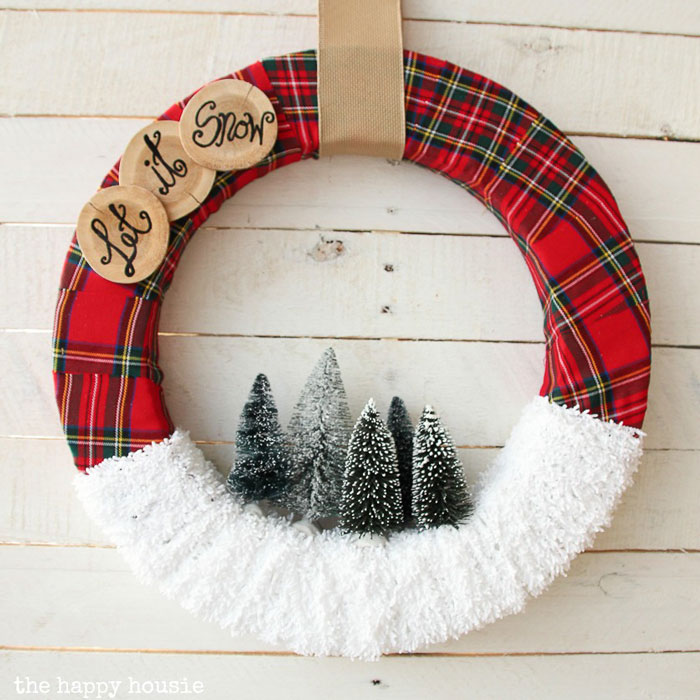 Perfect for Christmas and all Winter long, this is one of those Christmas wreath ideas that will get plenty of use.
11. A Wreath Full Of Ornaments

Gather up your favorite ornaments for a wreath idea that is full of sparkle and shine. Choose a few different colors that complement each other and work with your own color scheme.
12. Rustic Glam Christmas Wreath Idea

Another take on a wreath with ornaments is this beautiful rustic chic version. The white poinsettia leaves enhance the look in such a creative and festive way.
13. Gift Bow Wreath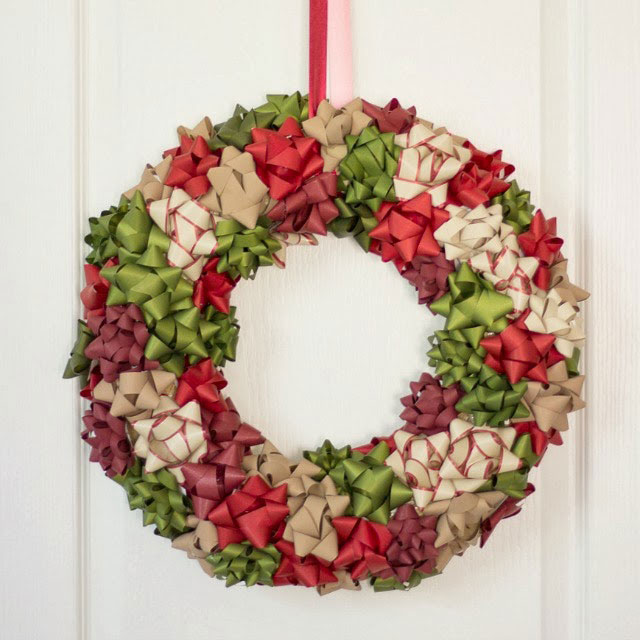 You won't believe how easy this wreath actually is to make! A straw wreath form doesn't even need to be taken out of it's plastic wrap packaging before the gift bows get applied.
14. Winter Boot Christmas Wreath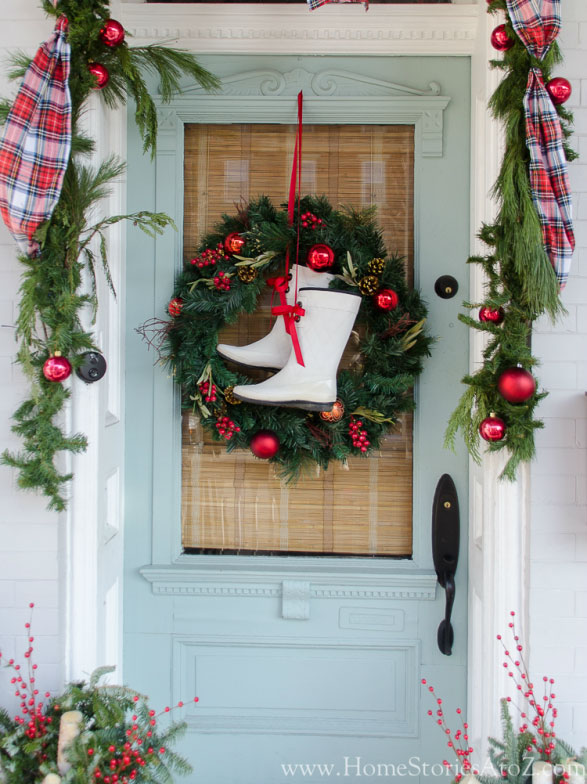 Stuck for a way to make your wreath unique? Just hang a pair of winter boots in the middle to create a wreath that stands out.
15. Wine Cork Christmas Wreath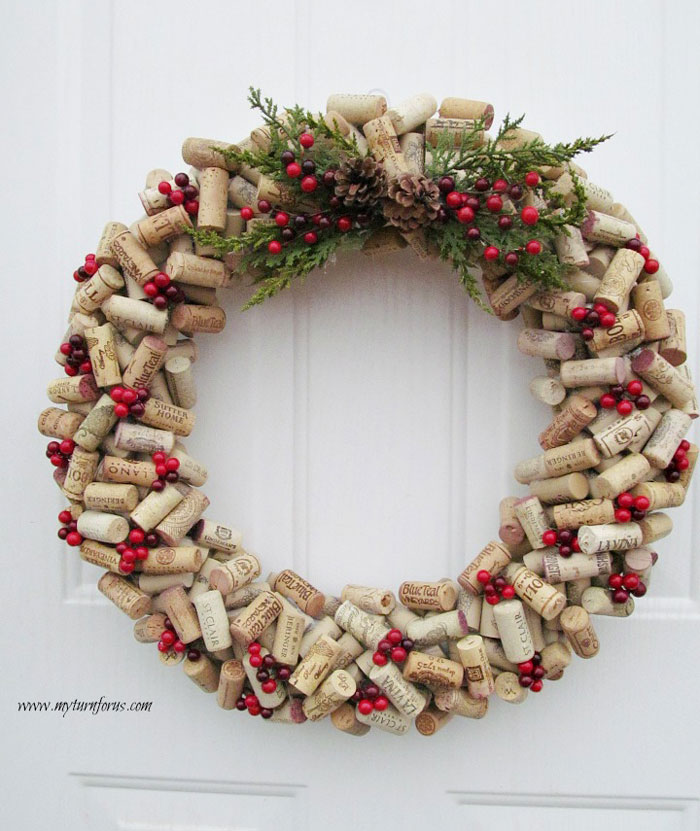 After a few holiday cheers, you may have enough wine corks to make a festive Christmas wreath.
16. Wrap Around Garland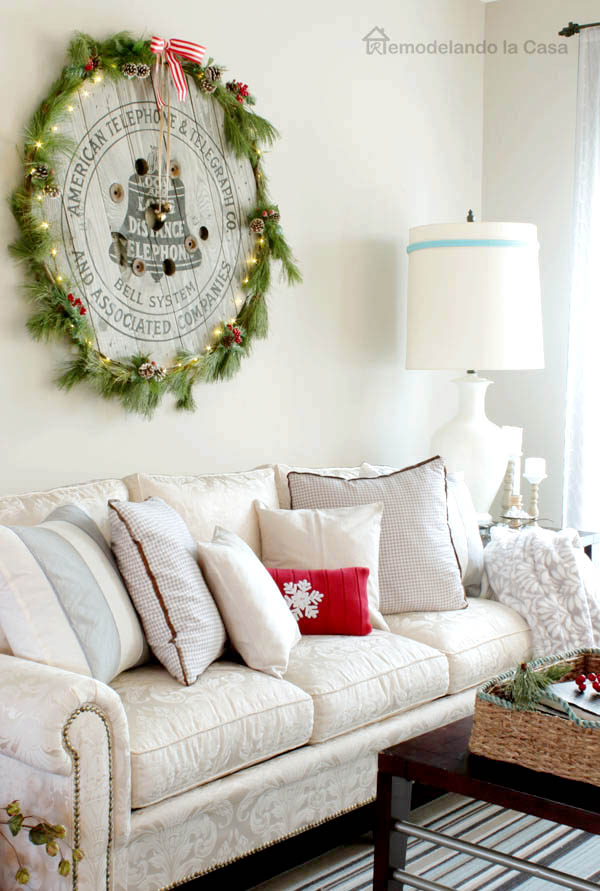 When I found this image, I was immediately inspired. How cool would it be to wrap garland around a round rustic sign for a wreath on a door? The added lights lend some sparkle to the entire design.
17. Fresh Clippings Swag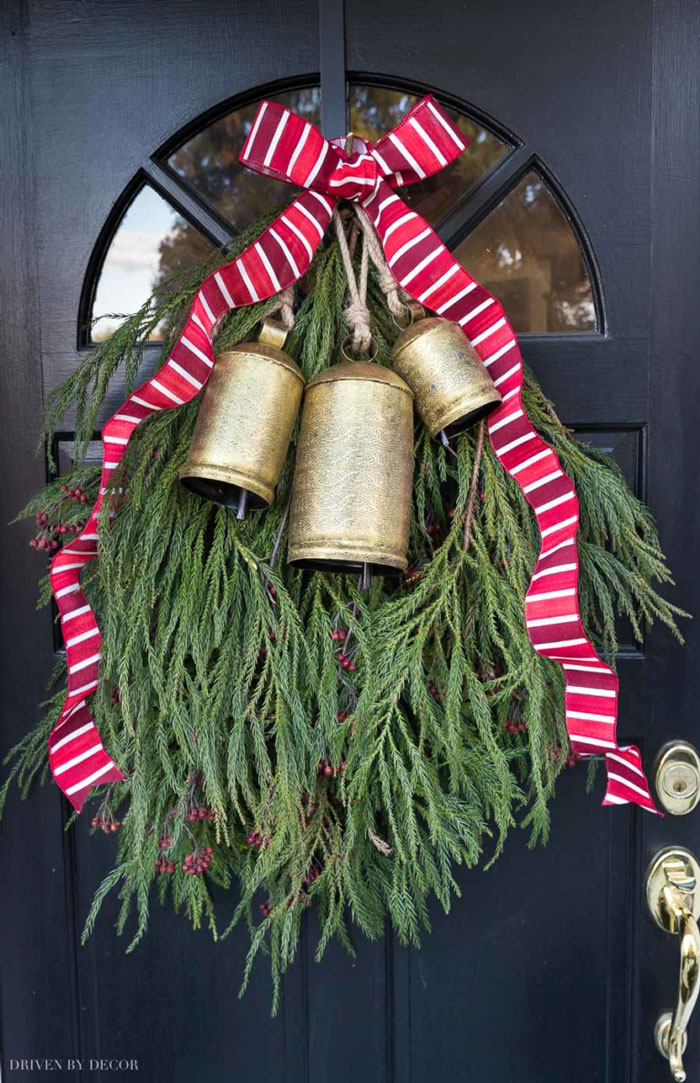 A fresh loose swag is carefree and fun. The bells will be ringing for a cheerful and inviting entrance.
18. Snowman Wreath DIY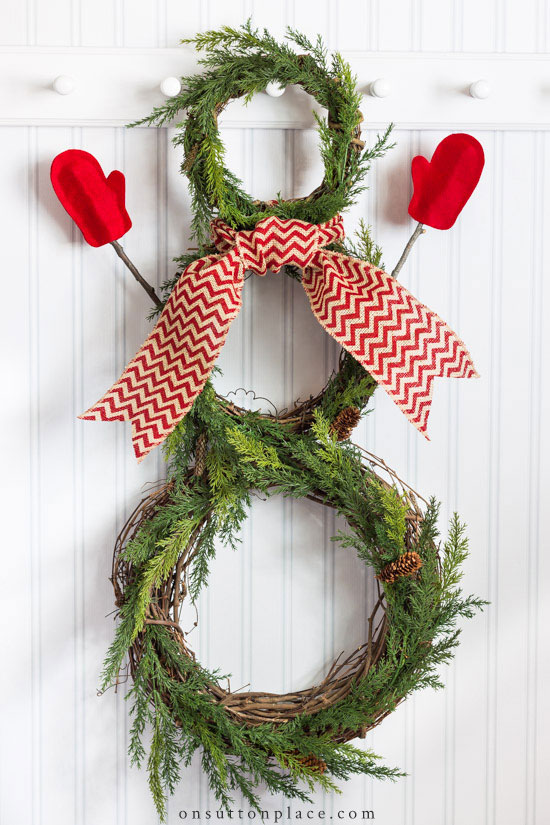 A trio of simple wreaths is easy to form into a cheery snowman! Tie it off with a bow/scarf to add fun color and pattern.
19. Dreaming Of A White Christmas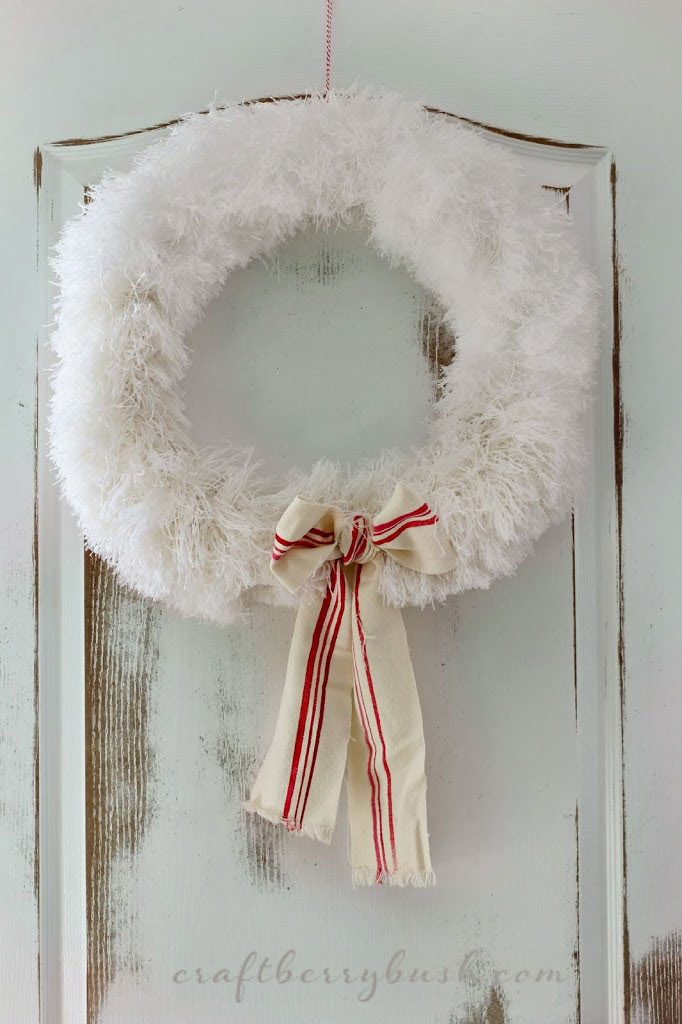 WInter white is so pretty and chic. With just a touch of color, this simple design makes a huge statement.
20. Comfy And Chic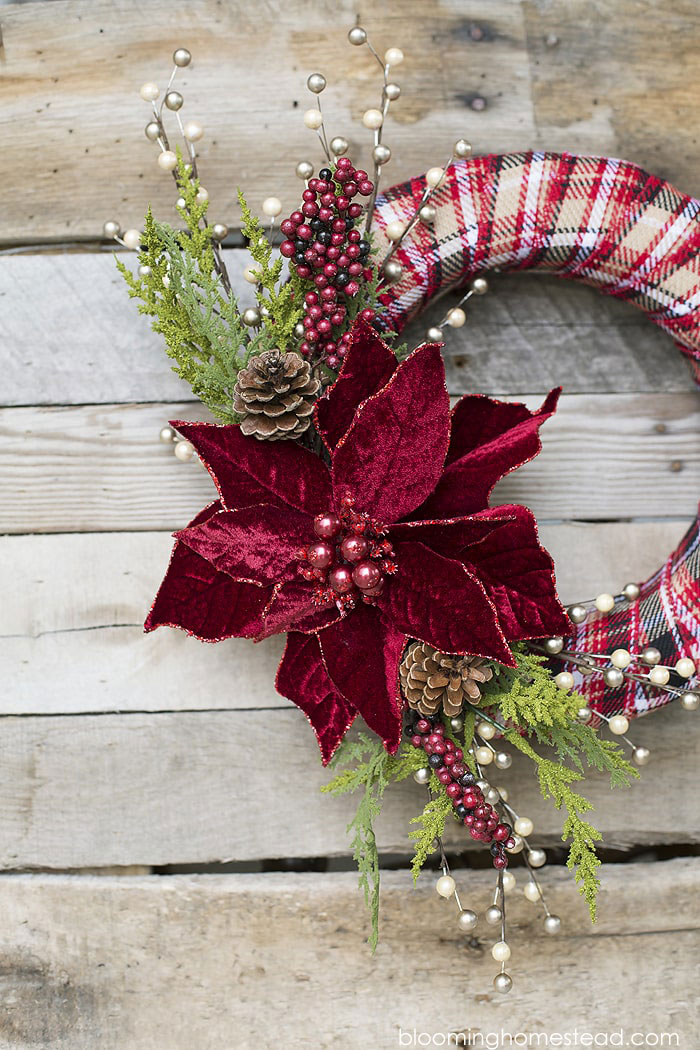 A little plaid goes a long way to adding rustic comfort to an elegant poinsettia wreath.
21. Yarn Pom Pom Winter Wreath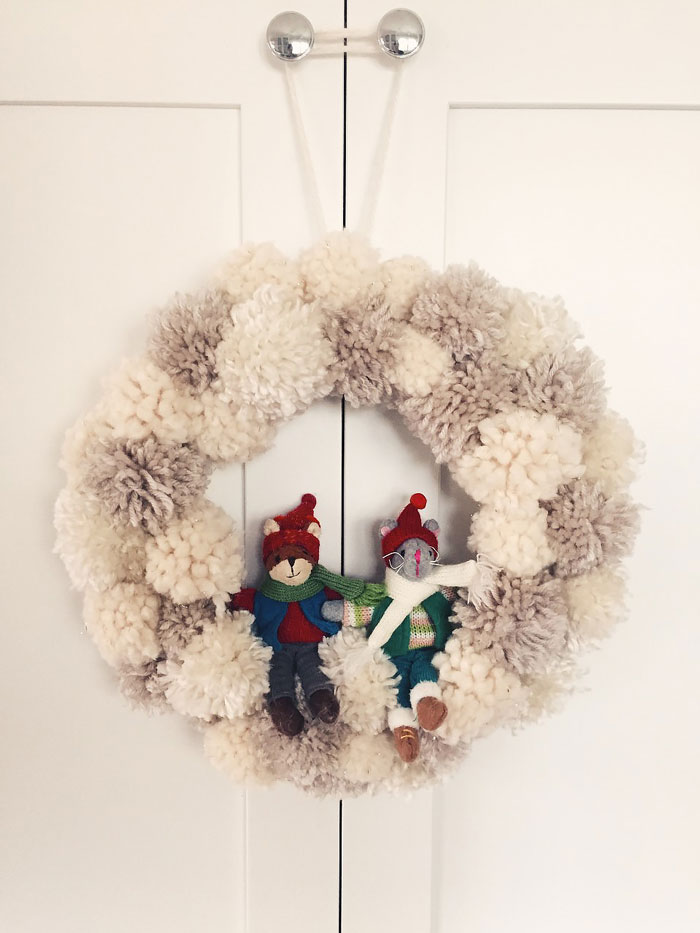 You only have to know how to make a yarn pom pom to create this warm and cozy wreath.
22. Moss Covered Christmas Wreath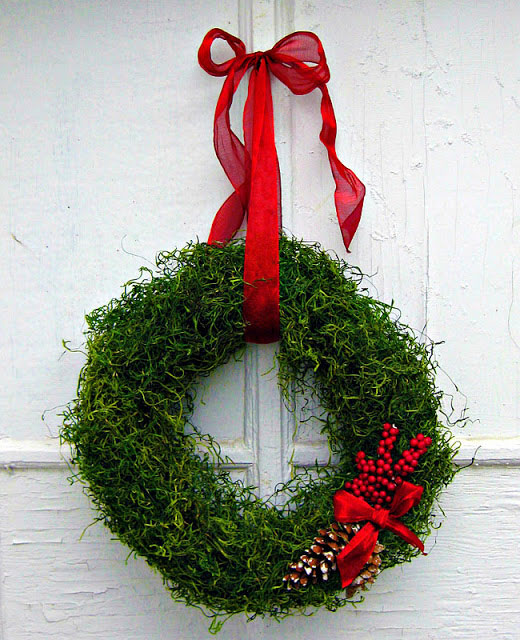 Instead of using traditional greenery for your Christmas wreath, use moss instead. Just cover a wreath form with the lush moss and add some pops of red!
23. Upcycled Sock Wreath Idea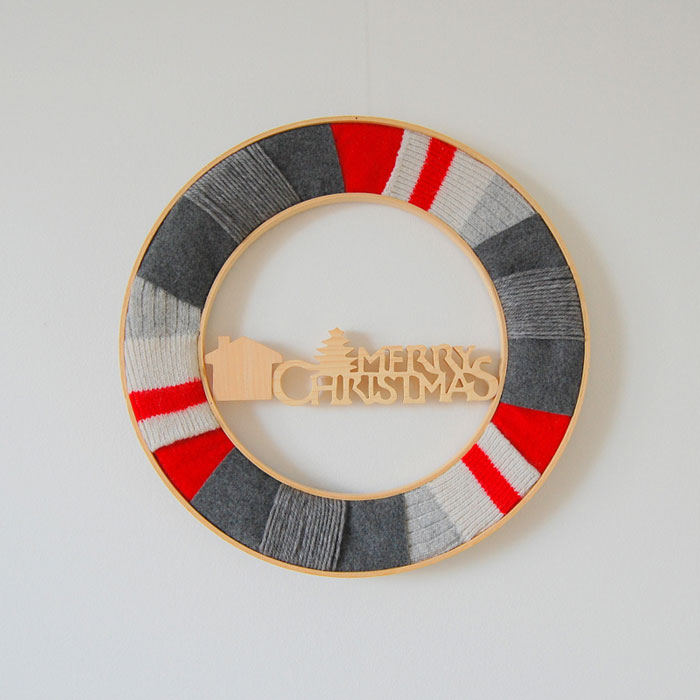 These socks won't be hanging from the fireplace mantel! Instead, socks are used to create a fun and festive wreath. Tucked between a couple of embroidery hoops, these socks look right at home.
24. Rustic Birch Christmas Wreath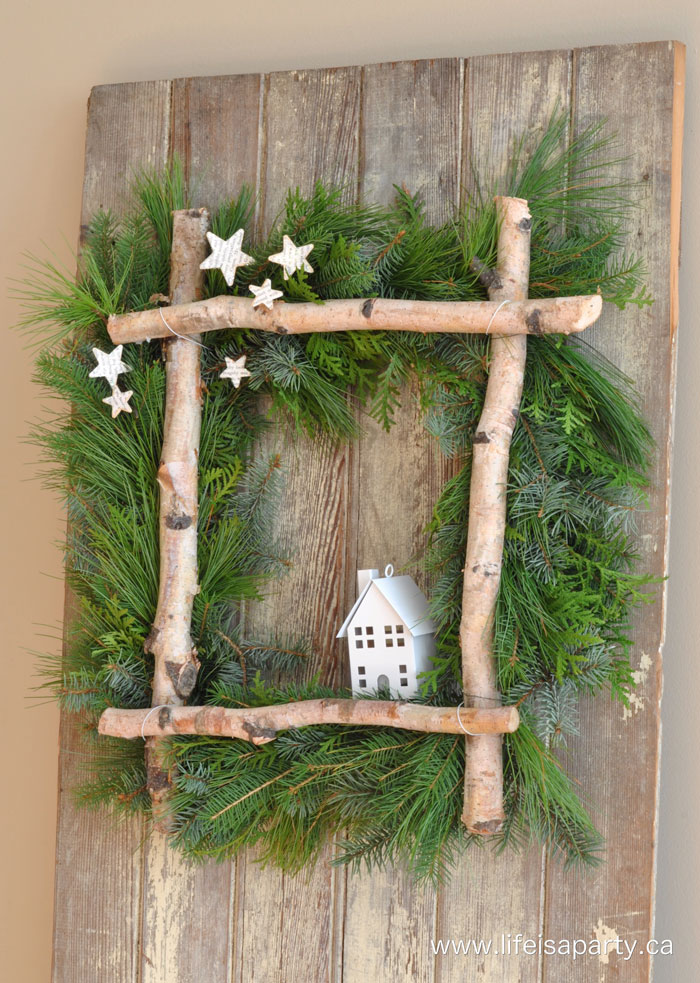 Fresh greens, birch logs, book page stars, and a cozy house! What's not to love?
25. Wood Slice Wreath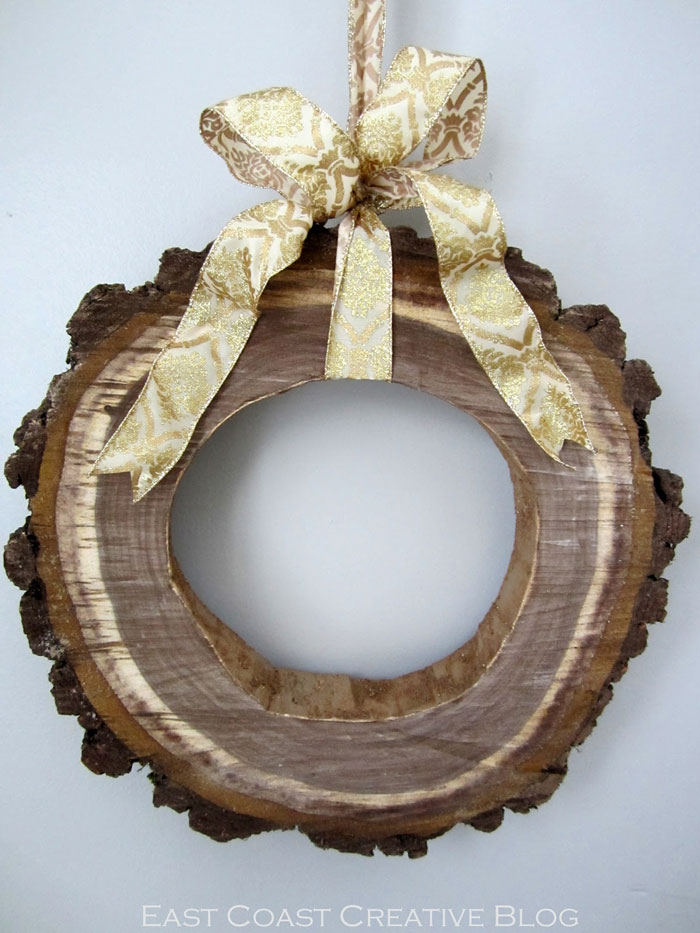 How clever is this? A wood slice cut hollow. It's the perfect rustic Christmas wreath. The gold bows works to chic it up for the holiday.
Still looking for more? Check out the wreath that I made using fresh clippings of evergreens and berries.