The best part of winter is being able to look outside and see the beautiful big snowflakes lazily coming down to rest on the ground. It's so cozy to be able to just watch the winter show from the comfort of a warm home. Since it doesn't snow every day, at least for most winters, it might be fun to bring that look right inside. You can easily do that by making your own snowflakes. There is a big variety of DIY snowflake ornament crafts that you can choose from. And if you don't have a lot of time on your hands, no worries! All of these crafts can be done in less than an hour or even as short as five minutes.
Homemade snowflake ornaments are such a fun thing to make in the winter. At Christmas time, they are fun to hang on the tree. But even after Christmas, you can hang them from windows, door knobs, or peg hooks for the whole winter season. There are a variety of different snowflake ornament crafts that use things like twigs, buttons, popsicle sticks, and even toilet paper rolls. This collection of DIY snowflake ornament crafts includes all of those plus more. With all of the choices, you should have something already on hand to give one of these a try. It's a great way to recycle as well!
When I was a kid, I loved to make snowflakes out of paper. These snowflake ornaments crafts are just as fun but have a little more lasting power. They also are nice enough to use for home decor. Making snowflakes is definitely not just for kids! The nice part is that there aren't any strict rules to follow for making a snowflake. Each individual snowflake should have its own character – much like the snowflakes you find in nature.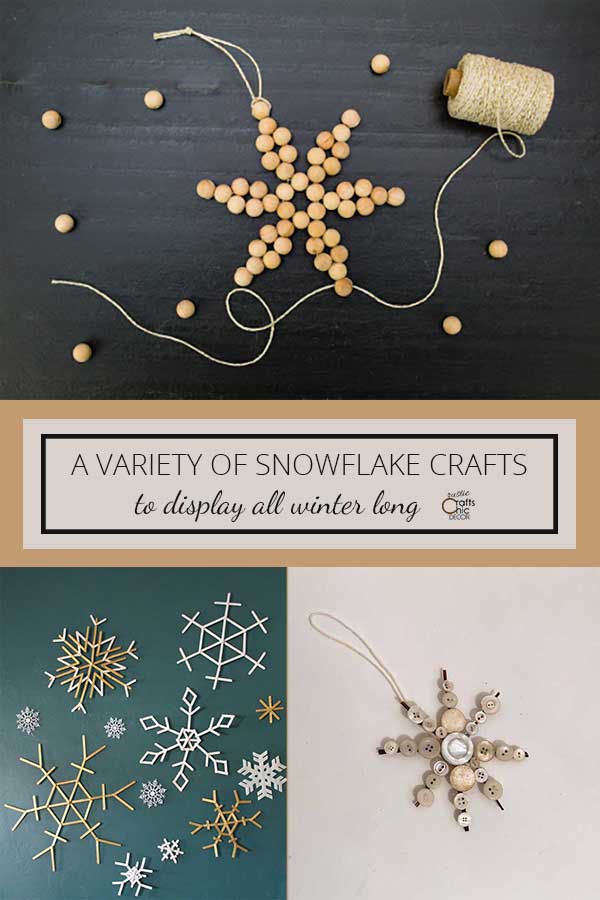 This post contains recommended product links. If you make a purchase through one of the links, I will earn a small commission at no extra cost to you.
How To Make A Paper Snowflake
Before getting into all of the snowflake ornaments that are made from materials other than paper, I wanted to show you one tutorial for paper snowflakes or medallions that goes beyond the average snowflakes you may have remembered as kids. These paper snowflakes are a combination of intricate cuts and folds to create a thicker accordion-like texture.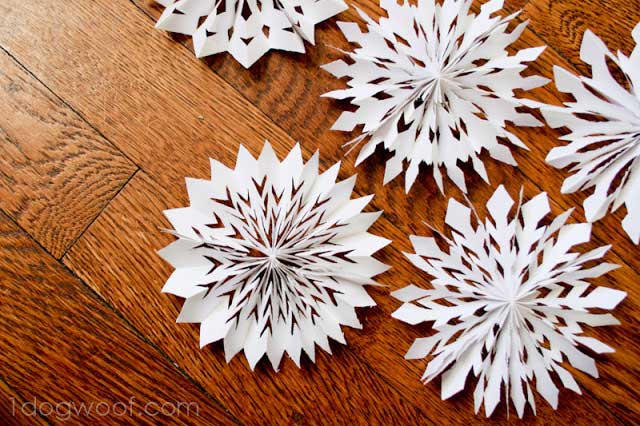 Hang these beautiful snowflakes from your Christmas tree, mantel or windows. Just attach a section of fishline or beading line to hang them.
Twig Snowflake Ornaments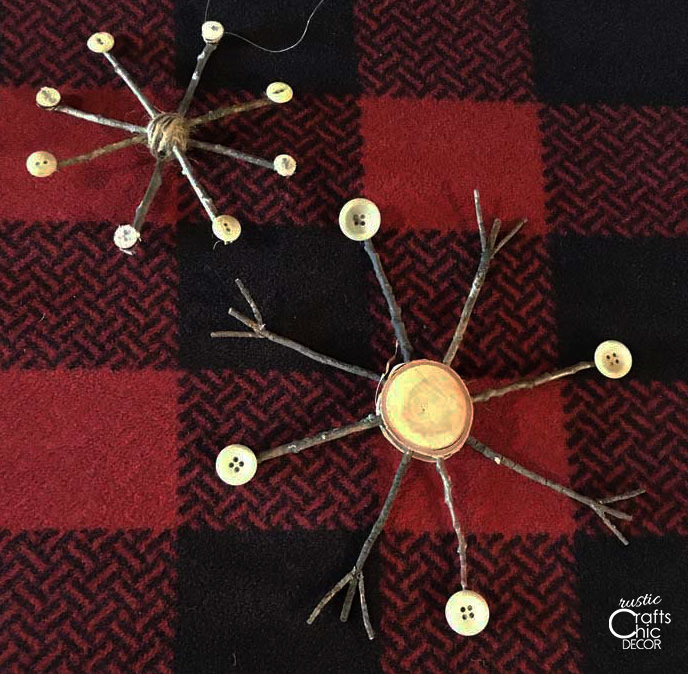 A great way to make a rustic snowflake is by using twigs. You can make all sorts of styles in a lot of different sizes. Just cut some twigs to size and assemble them together in a pattern that makes sense to you. Use hot glue or twine to hold all of the twigs together. Then, you can add embellishments like buttons, beads, or jewels to really make them shine.
The thin twigs will create a more delicate snowflake but if you want something a little larger or more substantial, small branches would work too. If you don't have access to twigs or branches, you could easily purchase a small bundle.
Snowflake Out Of Buttons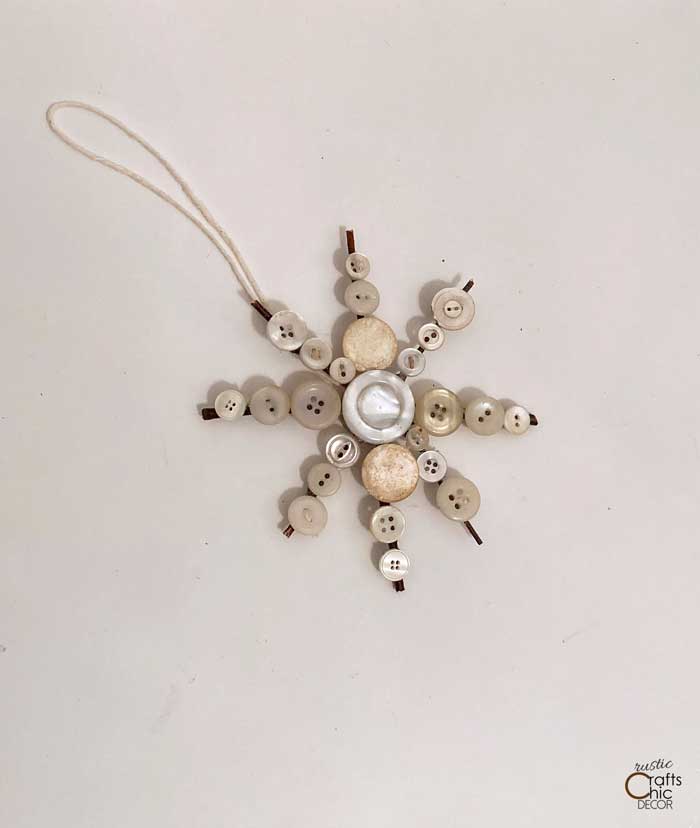 Speaking of buttons, you can also create a great snowflake design almost entirely out of buttons. All you need to do first is create a base to glue the buttons to. I used twigs, once again, but you can use popsicle sticks or pipe cleaners as a base as well. Vary the size of your buttons to create a more interesting design. You could also play around with different colored buttons to coordinate with the rest of your ornaments.
Related: Winter Decorating Ideas After Christmas
Clothespin Snowflake Ornament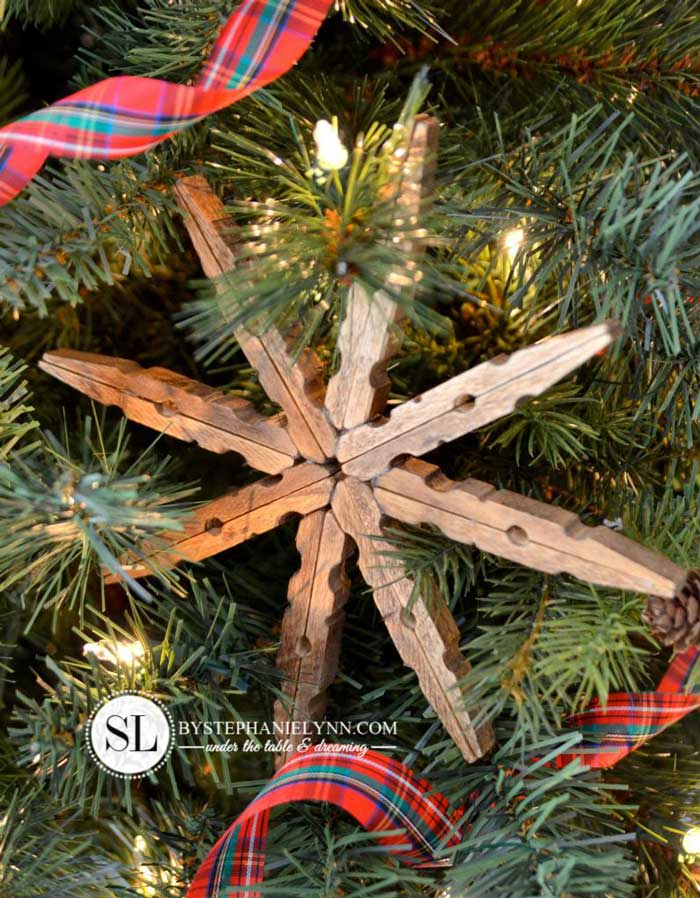 This snowflake ornament uses clothespins that are taken apart. They are then reassembled and used to create a fun winter design. These clothespins were stained for a more finished and rustic look. You could also paint them white and add glamour dust to make them sparkly white like real snow.
Snowflakes With Popsicle Sticks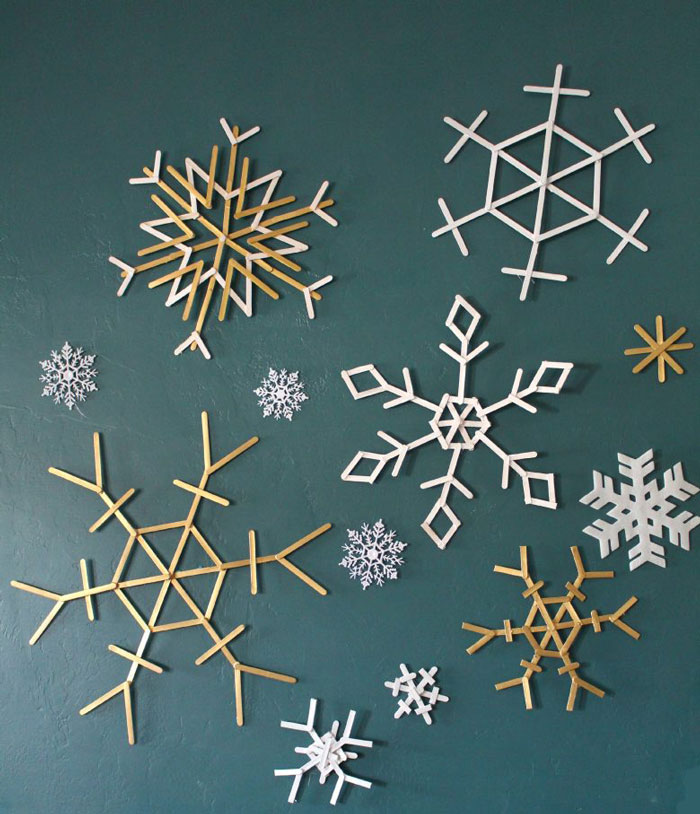 I think I also make popsicle stick snowflakes as a kid. However, they looked nothing like these! It's amazing what designs you can come up with just using basic popsicle sticks. I also really like the combination of the natural stick with the ones painted white.
Book Page Snowflake Ornament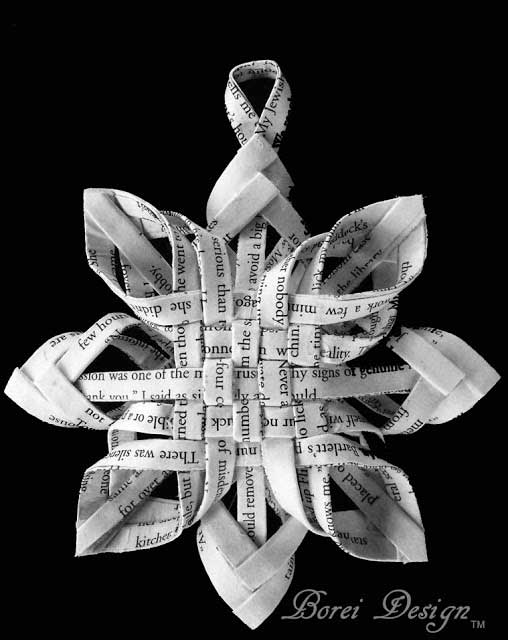 Okay so book pages are technically paper but this is not your basic paper snowflake! The weaving of the thick layers of pages creates a snowflake that you can display again and again. This design is very intricate and looks like it would take a bit of time and patience to complete.
DIY Wooden Snowflakes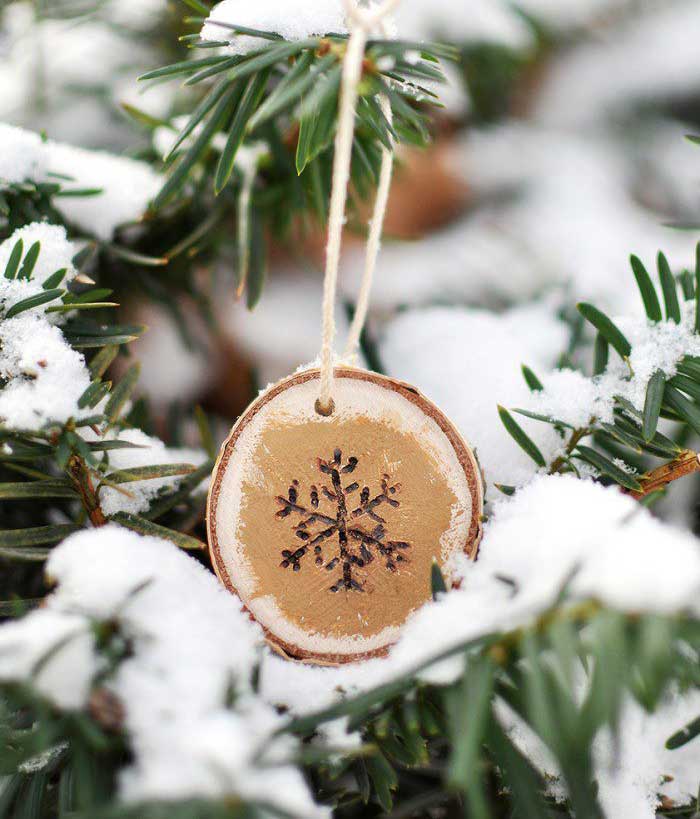 If you have a wood-burning tool, this snowflake ornament craft would be a breeze to complete. I love the look of wood-burned designs on small, or big, wood slices. It's a unique and rustic way to make a DIY snowflake ornament.
SHOP WOODEN SLICES and WOOD BURNING TOOL
Related: A Collection Of Winter Mantels
Pipe Cleaner Snowflakes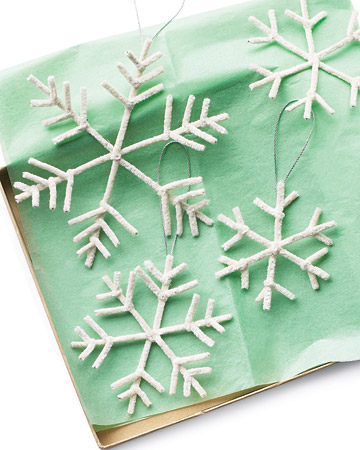 Hang these snowflakes from a garland draped across a mantel or on your Christmas tree. They are simple to make so you can make a lot of them. They also would be great for gift toppers instead of buying bows.
Toilet Paper Roll Snowflakes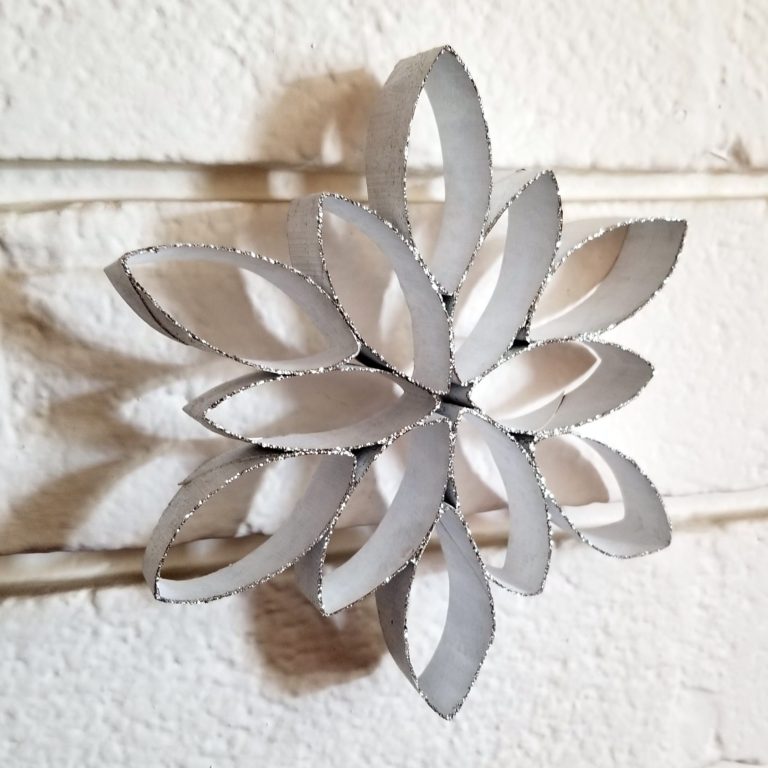 If you save toilet paper rolls for crafts, here is another great project for them. It's another simple craft that can provide you with some quick winter decor. These would look great hanging from a fireplace mantel as well.
Wooden Bead Snowflake Ornament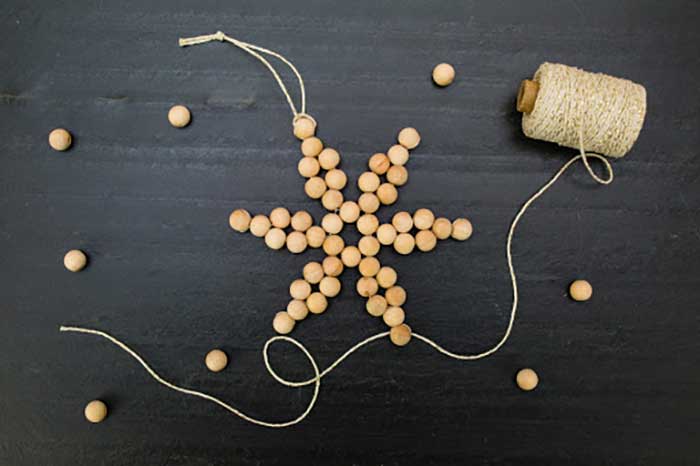 I have seen beaded snowflakes made from colorful beads and pipe cleaners. However, this is my favorite beaded snowflake ornament. Using wooden beads and twine gives a nice neutral, clean and rustic chic look.
Related: Rustic Snowman Crafts
Beaded Snowflake DIY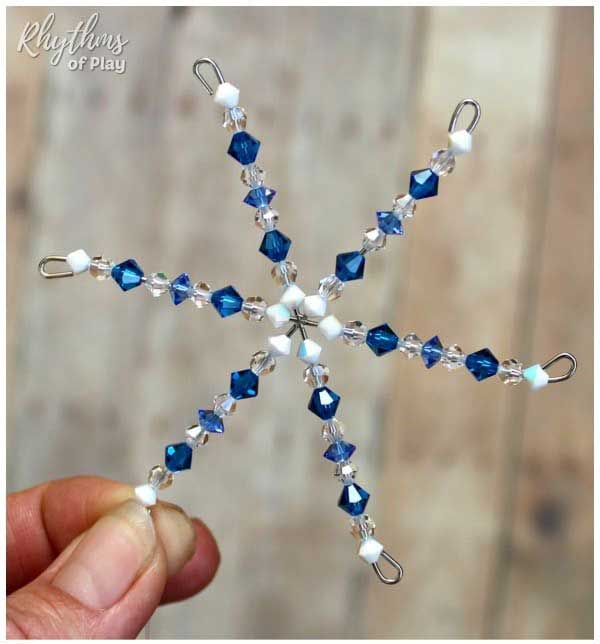 If you like beading and prefer a little more glitz, this snowflake ornament will be right up your alley. All you need is a wire snowflake form and some beautiful crystal beads. These will be beautiful on a tree with the lights reflecting through.
Snowflake Die Cut Ornament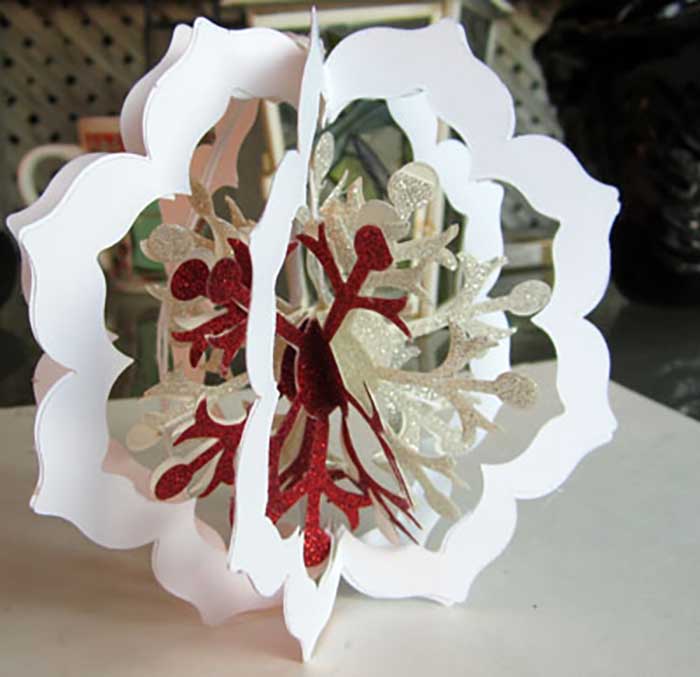 Using a strong card stock, you can make intricate snowflakes that will hold up for years to come. Using a die cut makes cutting the snowflake design a breeze. Play around with glitter and patterned card stock as well. If you don't have a tool for cutting your own die cuts, you could simply purchase pre-cut snowflakes to combine into a 3D snowflake with folds and glue.
How To Crochet A Snowflake Ornament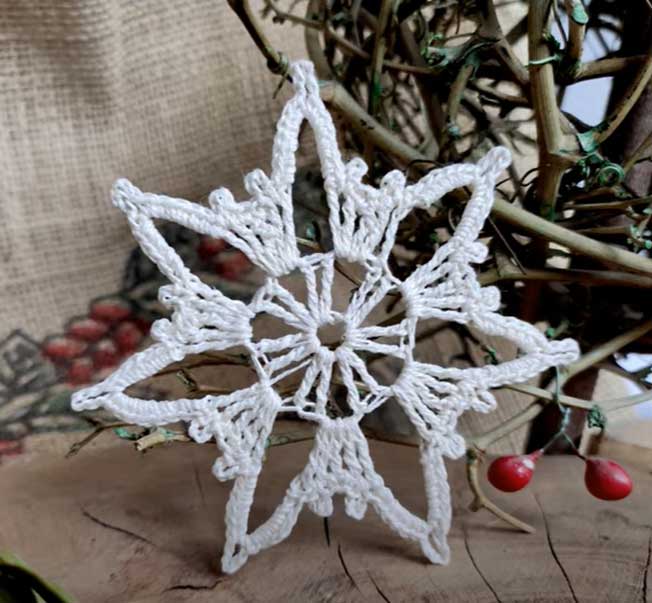 The thought of crocheted snowflakes hanging from a tree gives such a warm and nostalgic feeling. Watch the step-by-step tutorial to see how this is done.