Women, do you have a difficult time coming up with unique valentine gifts for the man in your life?  I mean, if you are looking for something festive, it can be a little hard to find something that doesn't look….well…feminine.
Even most candy boxes are laden with flowers or pink hearts.  When I buy a gift for my husband, I always want something festive to go along with it to celebrate the day and although valentine boxers are festive, a guy can have just so many flashy shorts.
So..I came up with a message in a bottle gift to add a little romantic festivity to the day.  I, of course, had to add just a bit of a rustic touch to it for some added macho!
The best part is that this is so simple to do!  It's inexpensive too, especially when you use recycled materials, and its a fun and unique way to deliver that special, romantic message.
I used a recycled lemonade bottle.  I loved the shape, the clear glass, and the bottle topper.  You could also use a wine bottle and cork for this.
Here is what I did:
1.  I filled the bottom of the bottle with red and gold stone looking beads.  You could also fill a bottle with small candy like M&M's, red hots or chocolate kisses (if the neck of your bottle is wide enough).
2.  You could then write out your message on decorative paper and roll it up tight.  I tied my paper off with twine and then inserted it into the bottle.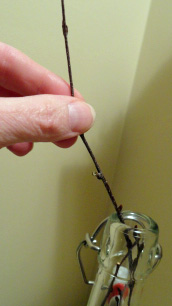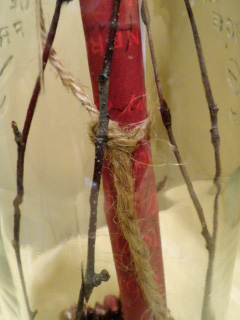 3.  I then added some small twigs inside the bottle so that they surrounded the message……. making it look more secretive!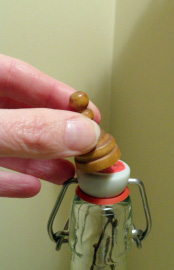 4.  I liked the bottle topper but thought it needed a more sophisticated look so I added this vintage game piece to the top with some tacky glue.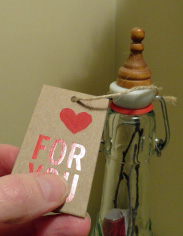 5.  To complete the look, I took one of my leftover tags from Christmas and painted a red heart on it.  Then I simply draped it over the neck!
And here is the finished message in a bottle: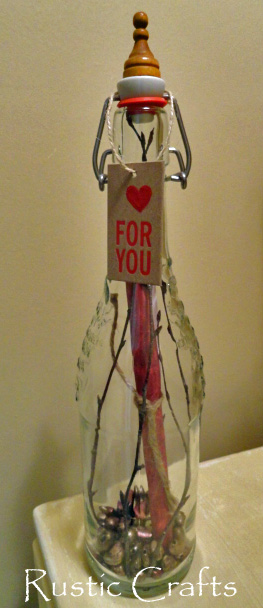 Here are some more ideas: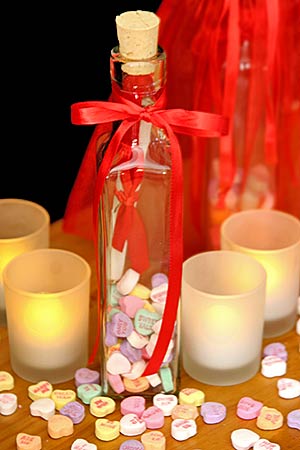 This corked bottle has a base of conversation hearts for the message to rest on.  Very simple and sweet!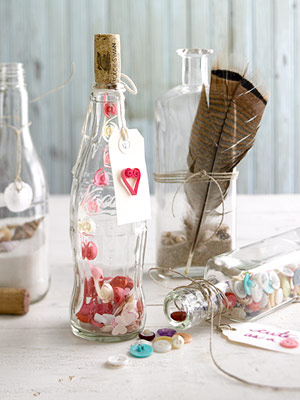 I like the variety of bottles used in this picture.  A coke bottle and maybe a liquor bottle are some fun ideas.  The fact that you can still use a wine cork to fill the tops is cool especially since a lot of wine bottles are colored glass.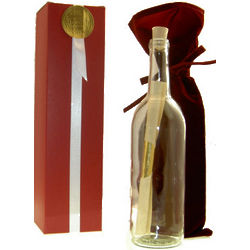 And finally, I had to show you this last picture simply for the red velvet bag.  I think it would be the icing on the cake to wrap your message in a bottle in a red wine bag for giving.
Happy Crafting And Giving!