Grapevines, bound together, make a perfect base for a rustic wreath.  When you make your own, you have the ability to form any shape or size that you wish.  If you can't harvest your own vines, then you can purchase grapevines or even ready made grapevine wreaths  from your local art and crafts supplies store and simply decorate it from there.
If you can make a big circle and do a lot of winding and twisting, then you will have no problem doing this craft.  It would get a little more advanced if you wanted to do a heart shape for a Valentine's holiday wreath, but even that is not too difficult.  Here are the easy instructions for both shapes:
Craft Skill Level: Moderate
Supplies Needed:
grapevines

floral picks

ribbon

bark covered wire
Grapevine Wreath Instructions:
1.  Remove any foliage from the vines.
2.  Make a circle, the size you want your wreath to be, with one of the vines.
3.  With the remaining length of vine, begin wrapping it around your circle to hold the shape in place.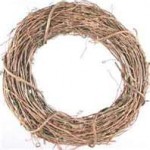 4.  Keep adding more lengths of vine, weaving them in and out of your circle until you have the thickness that you want.  The wreath should now be nice and secure.
5.  Tuck in your floral picks where you want them.  They should hold in place with the tightness of the vines alone but you can secure them with some bark  covered wire.  This wire blends in perfectly with the grapevines and won't be noticed at all.
6.  Add a decorative bow.
Holiday wreaths are great to do this way especially for rustic Christmas decor.   I like grapevine wreaths all year long and there are plenty of ways to decorate them, either seasonal or all year.  Floral picks with rustic tin stars and pip berries are a great addition for a year long wreath in your rustic decor.
To Make A Heart Shaped Wreath: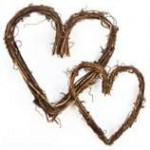 If you want to make a heart shape, start out by making a long straight bundle of grapevine.  Twist several together until you have the desired thickness.  Now bring the two ends together and down a little bit in the center.  Wrap some more grapevine around where the ends meet to hold them together.  You can also use some birch bark covered wire to hold the wreath in it's shape a little better.  You can find this wire at most craft stores.  Another option is to use a heavy gauge wire or coat hanger, in the shape of a heart, as your base and them simply twist the grapevines around the wire until you have the thickness that you want.
Here is a video I found that helps to illustrate the process of making a basic circle wreath for you using grapevines or other types of vines: