I have a junk drawer that is chucked full of all kinds of nuts, bolts, washers, wing nuts, and other little metal hardware.  It seems like there are always leftovers when you have to buy a small bag of a particular item for a project.  The rest just gets thrown in a drawer or box to save for another day or project but it seems that the project never comes or you just end up buying the same things all over again.
I figured that it was time to put that hardware to use in a creative way!  A simple project that I started with was to make some fun industrial thumb tacks out of some wing nuts and bolts.
All I had to do was to glue the nuts and bolts onto some flat top thumb tacks with a good tacky glue.  Now I instantly had some interesting tacks to go along with the industrial bulletin board I was decorating for my son.
Leftover chain can also be fun to decorate with.  I used some as a link to attach old keys to and decorate a trinket box: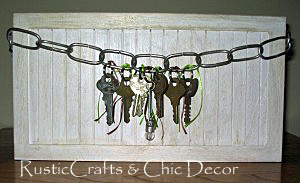 I searched for some other fun projects using leftover nuts and bolts and came up with a few favorites: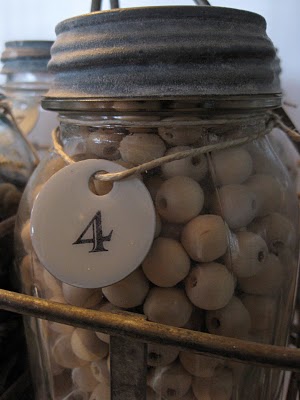 This great looking number tag, that looks like enamel, was actually made from an ordinary metal tag from the hardware store!  Can't Stop Making Things shows you just how to accomplish this with her easy tutorial.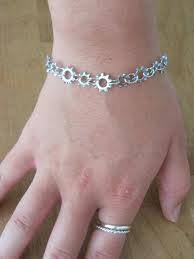 Sew Many Ways made this cute industrial or steam punk looking bracelet using lock washers – a much better use than just lying in a drawer!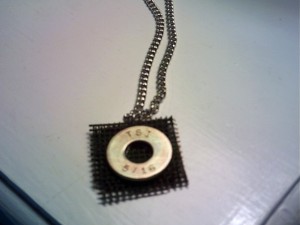 Another fun piece of jewelry!  This pendant made by State Press uses a section of a drywall screen and a washer for a cool rugged design.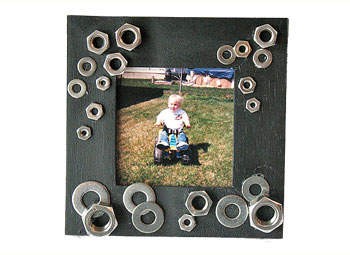 Nuts and bolts make a great accessory to decorate a picture frame with too!  This idea from Crafts Kaboose was used as a Fathers day gift.  The industrial look would be a perfect design for dad!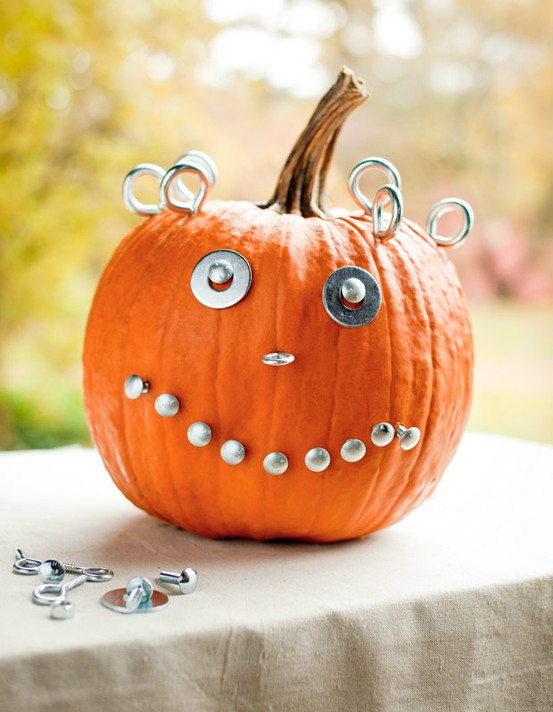 Keep this in mind for Halloween!  I just love this idea from Lowes Creative Ideas for decorating a pumpkin with hardware.  I would much rather do this than tackle carving one any day!
Now!  I just had to end this post with a little extra fun inspiration.  I absolutely love this next work of art using hardware welded together: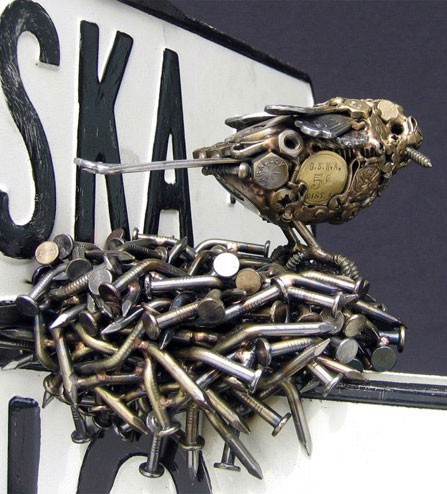 Isn't that creative?!
Happy Crafting!