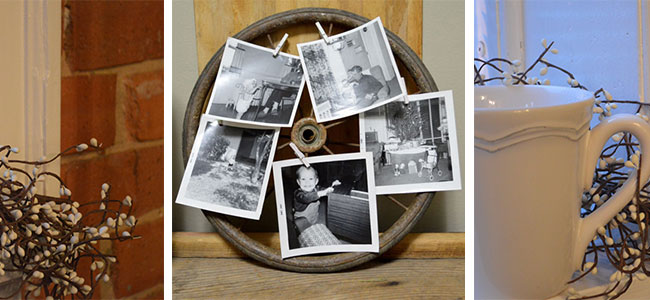 Snowball Craft
Every winter I look forward to the first snow and I really do enjoy how pretty it is. In fact, it's what inspired me to come up with a snowball craft. Because after those first few real snowfalls, I would just as soon play with snow in the comfort of my warm home versus outside in the cold, wet tundra. Plus, with a homemade snowball, there is no chance of it turning brown and dingy. It can stay just as pretty and sparkly as the day it was made for some glimmering Winter décor.
My favorite way to use these snowballs is as a jar, bowl or vase filler. You get a lot of impact and it's super easy to do!
Here are the easy steps to this snowball craft:
Supplies:  All you need are some styro-foam balls, Snow Tex, and a little Glamour Dust……I really wanted to say pixie dust!
You can find both the Snow-Tex and glamour dust and most any craft supply stores. I purchased mine from Joann. First, apply Snow-Tex to the styro-foam ball using a putty knife or stiff paint brush.  The texture will be bumpy.  While it is still wet, sprinkle some of the Glamour Dust onto the Snow-Tex and let it dry.  It will end up looking like icy crystals in snow.
That is it! Then all you have to do is use them in your decorating.  Fill vases or buckets or use them in centerpieces.
I filled this birch bucket for a little table display: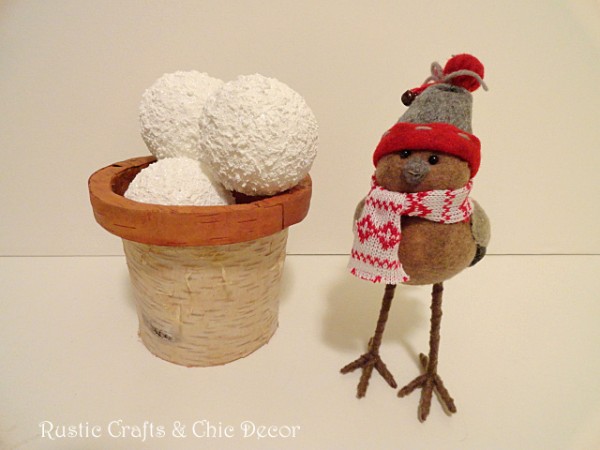 They look like they are all ready for throwing…..and they will never melt!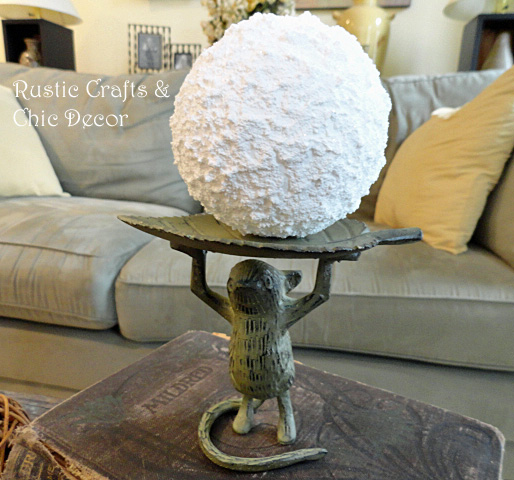 And, I thought a snowball was a perfect thing for this little mouse to serve up on his leaf tray!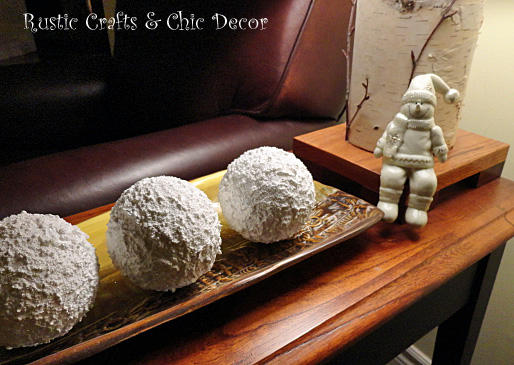 I also laid some out on a narrow tray for a different look.
And, here it is with an addition of a wooden ball for some variety: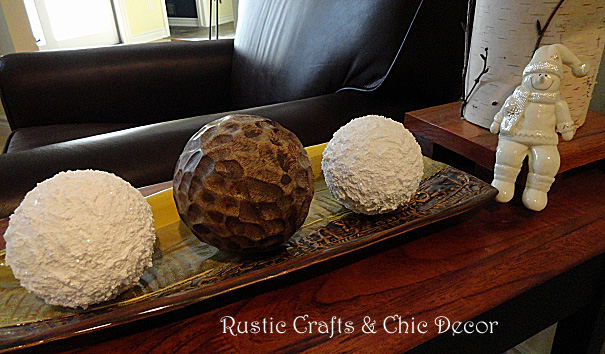 Another idea is to combine the snowball with other types of ball vase fillers.  I have a large glass vase that I plan on filling with some of these snowballs and a variety of balls with different textures and colors.
It may also be fun to use a variety of sizes of Styrofoam balls for a more interesting look in a large bowl or to create snowmen.
The nice thing is that since this craft is so easy, you could fill the house with them!

'He says to the snow, fall on the earth..' Job 37:6