I have a little thing for shoes……okay so maybe it's a big thing!  There are just so many cool styles and…of course…. so very many different needs.
The only problem with all of those shoe purchases, is that collection of shoe boxes that just tends to keep growing.
It's hard to throw a good shoe box away when it is constructed so nice and sturdy…..and they can easily be used to hold other things.
But who wants a mismatched set of shoebox storage containers in any visable area?
I don't!
Luckily, there are so many ways to upcycle these boxes into great looking  storage containers that you would be proud to display on a shelf or your craft room.
Here are ten creative ideas that will have you getting organized in style:
1.  Coordinate a stack of shoes boxes with decorative paper and paint.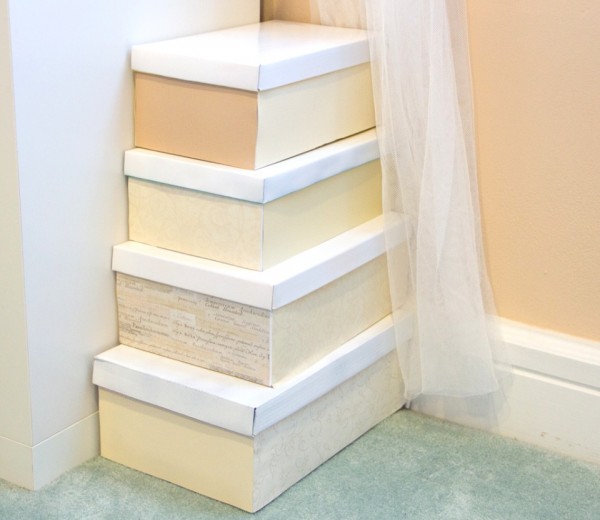 The shoe boxes suddenly take on style when they coordinate and are grouped together in a nice clean stack.
2.  Turn a shoe box into functional ribbon storage.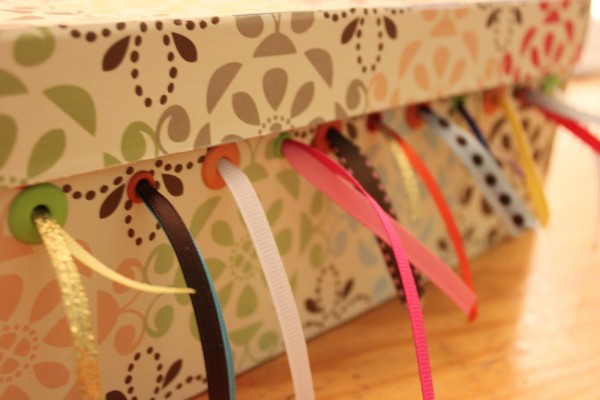 This has to be one of my favorite ideas for creative use of a shoe box!  I love the riveted holes for the ribbon to come through as the spools sit in the box.
3.  Decorated shoe box with a label bracket – great for photo storage.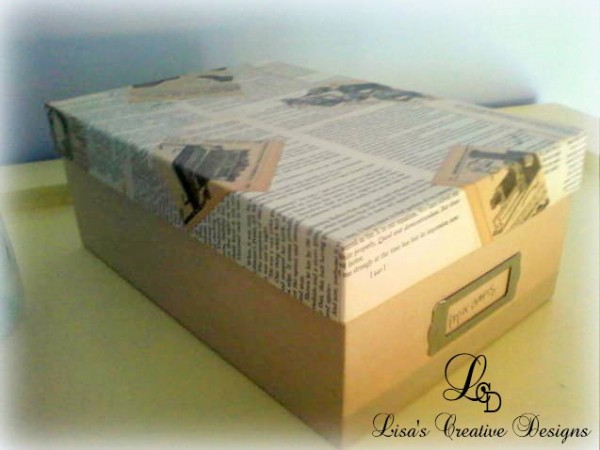 When I see a box with a file bracket like this, it reminds me of storage for photos or other documents that you would want to label.
4.  Cover shoe boxes with inexpensive contact paper for decorative storage.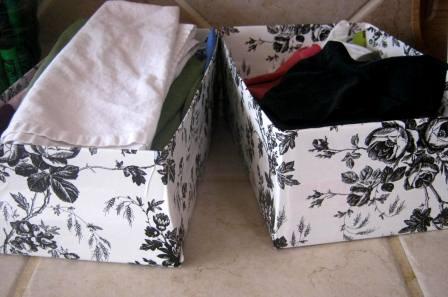 Since you can get a roll of contact paper from a dollar store, you can easily cover several boxes at a time for coordinated storage.
5.  Fabric covered shoe box turned basket.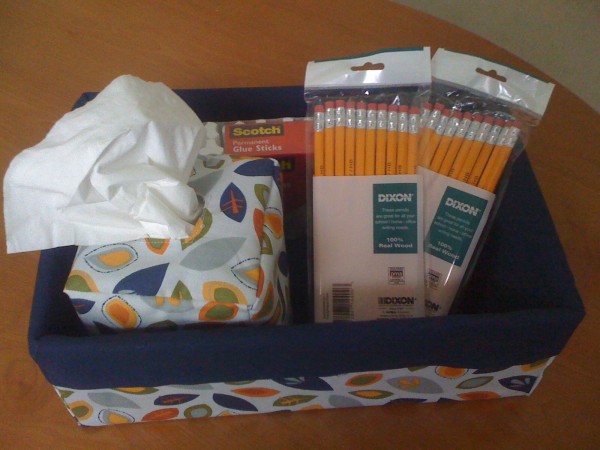 This idea makes a cute little gift basket.
6.  Fill a bookcase with a fun assortment of colored shoe boxes.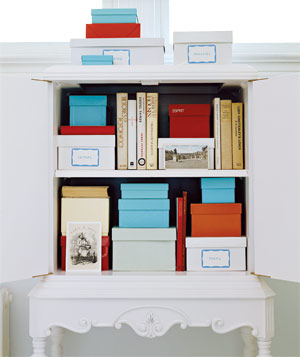 This bookcase looks so bright and cheery….and neat!  Make coordinating colors using paint or paper.
7.  Shoe boxes for storing shoes……interesting idea!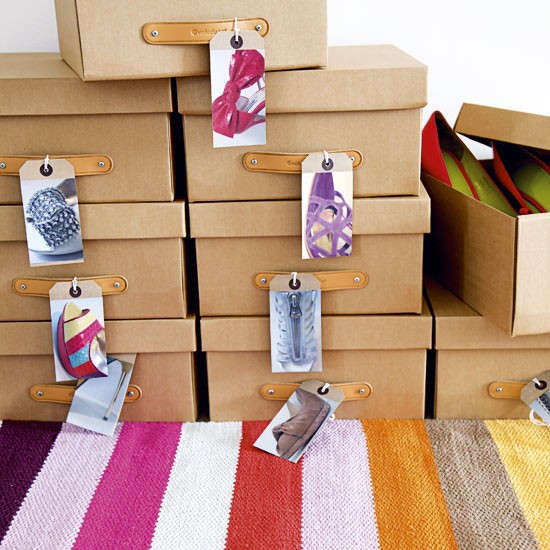 Okay…..so…..this creative idea is about making the tags to identify the shoes that you may be storing in the boxes.
However!  I am loving the look of the boxes as well with that clean tan color and the wonderful leather handles.  Apparently they are available to purchase.
So….I'm thinking….why not recreate the look of the boxes as well.  Maybe an old leather belt or long handle from a purse (that you are no longer using) could be cut into handles….
And..the color can easily be recreated with paint or paper.  I see a project in my future!
8.  Vintage style storage containers.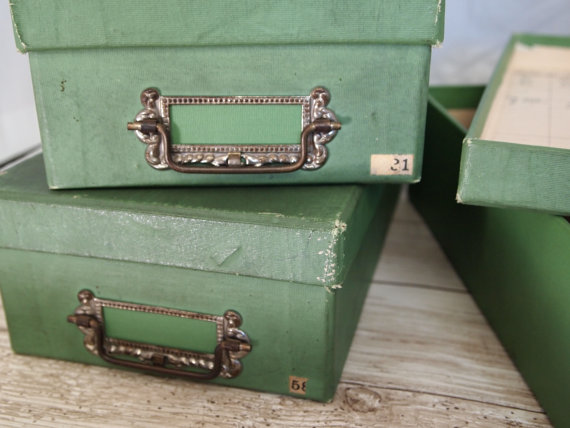 I found these vintage style boxes on Etsy…and they are sold..
However, they make great inspiration for creating your own vintage style containers!
9.  Recycle shoeboxes and newspaper at the same time!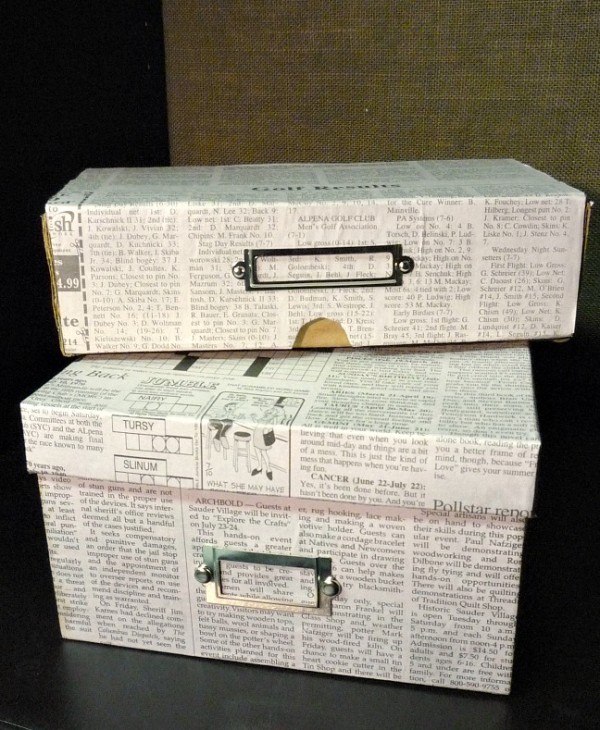 The newspaper covered boxes are a fun look that will fit in almost anywhere.
10.  Cover those boxes with maps!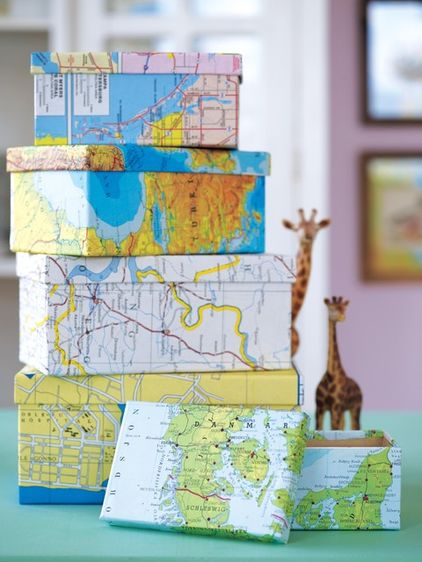 Do you have a creative way that you have reused shoe boxes?  Share your ideas below!
Happy Crafting!