Unique Ideas For DIY Rustic Furniture
If you like decorating rustic, you are going to love some of these ideas for diy rustic furniture pieces that are made up of some ordinary and some… not-so-ordinary materials. One of things I love about a rustic style is that almost anything goes… within reason. You still want to make sure style is a main consideration!
I found several unique ideas that are full of style and inspiration.
This first coffee table is a favorite and is made with rustic wood and plumbing parts!
Check out the tutorial for this project at The Locker.
This wine rack has a fun and unique look to it.
It is simply made from reclaimed lumber and dowels. The easy to follow instructions for the build can be found at HGTV.
There have been plenty of ideas for making tables, headboards or benches using shipping pallets.  However, this unique chair design, by 101 Pallets, really caught my eye.
The chair would be a great addition to a front porch or as a fun accent inside.
I had just seen a stack of wooden cable drums, outside of a home supply store, and said to my husband that I might want one to do something fun with. Well here is just one great example of a fun repurpose idea.
This cable drum bench by 99 Pallets has a fantastic new life with the new upholstered seat and sleek coat of paint.  It still maintains a somewhat rustic look with the nature of the wood base.
For more ideas check out my post DIY Rustic Furniture From Salvaged Finds.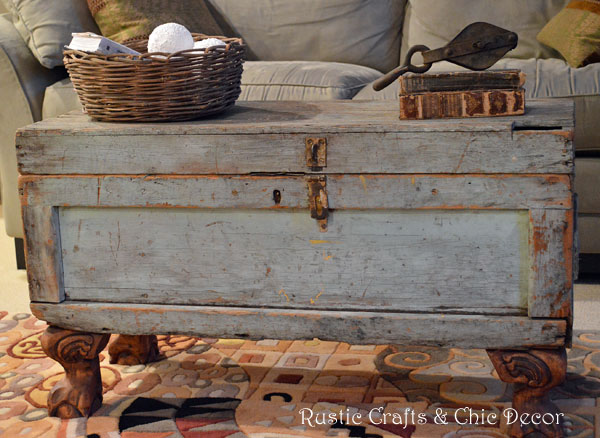 My trunk table was made from an old army foot locker!  It was styled up by just adding clawfoot legs and a little paint.
I hope you have been inspired!
Happy Decorating!