It all started from a walk down a two track. What I saw made me think twice about my walking habits. In fact, I was downright fearful. I needed something to carry, to keep me from certain danger. A big stick would probably do the trick. And that was the beginning of my DIY walking stick project.
The walk down the two track was with my husband. It was a trail real close to our cabin where we normally like to walk. To our surprise, we noticed bear tracks in the dirt. These weren't questionable tracks. They were totally obvious in the somewhat damp dirt. And, they were fresh. It wasn't such a big deal, while walking with my husband.
The next morning, I went out for a walk by myself. There was a pretty good breeze making it hard to hear anything but the wind. It didn't take me long to start imagining a bear behind every tree. The only thing that I could think of, besides heading straight back to the cabin, was grabbing a big stick. I was certain this would keep me safe from a bear attack. With a weapon in hand, I felt empowered to continue my walk.
Because the stick was dirty and ended up having a spider on it, I decided that I would need a nicer stick for future walks. The thought then hit me to make my own walking stick. I wouldn't need it necessarily to assist with walking. However, it could act as a spear against a bear or a flipper of snakes if needed.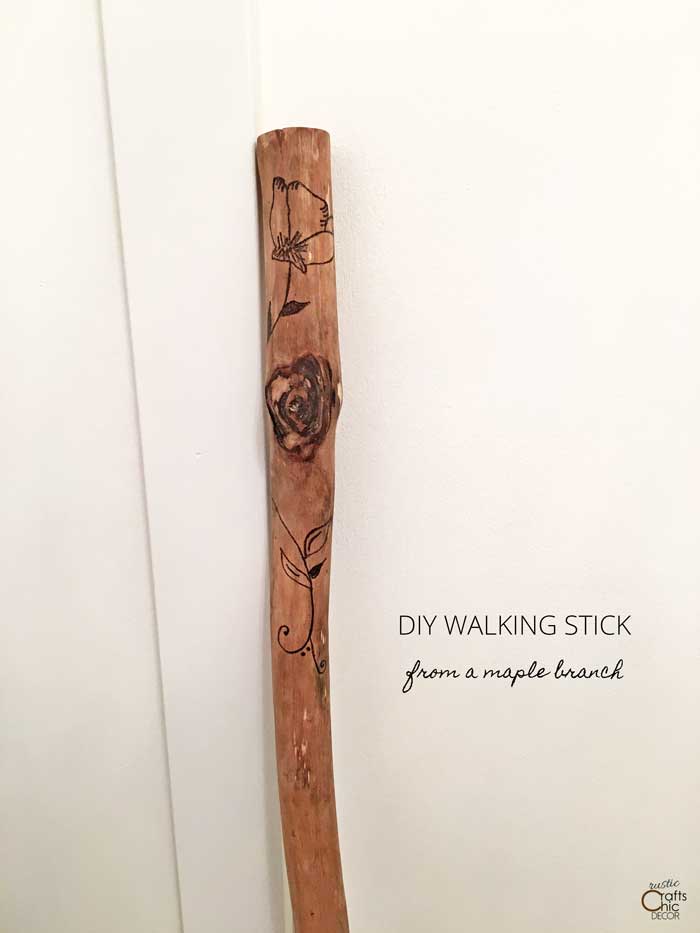 How I Made A Walking Stick From A Branch
Since a storm had just recently come through, knocking down a bunch of trees, I thought it was a good time to find a fresh branch. After looking for just a couple of minutes, I found a long, somewhat straight maple branch. This is what I used to make my DIY walking stick.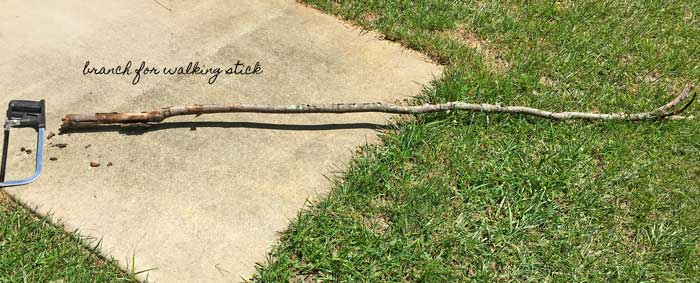 Peeling Bark Off A Branch
To start, I peeled off most of the bark. The bark came off pretty easy by just using my fingers. I felt like I was pretty lucky. In fact, once that thick layer was off, I thought I was almost done. Some of the dark that was left could probably just be sanded off. But….not so much!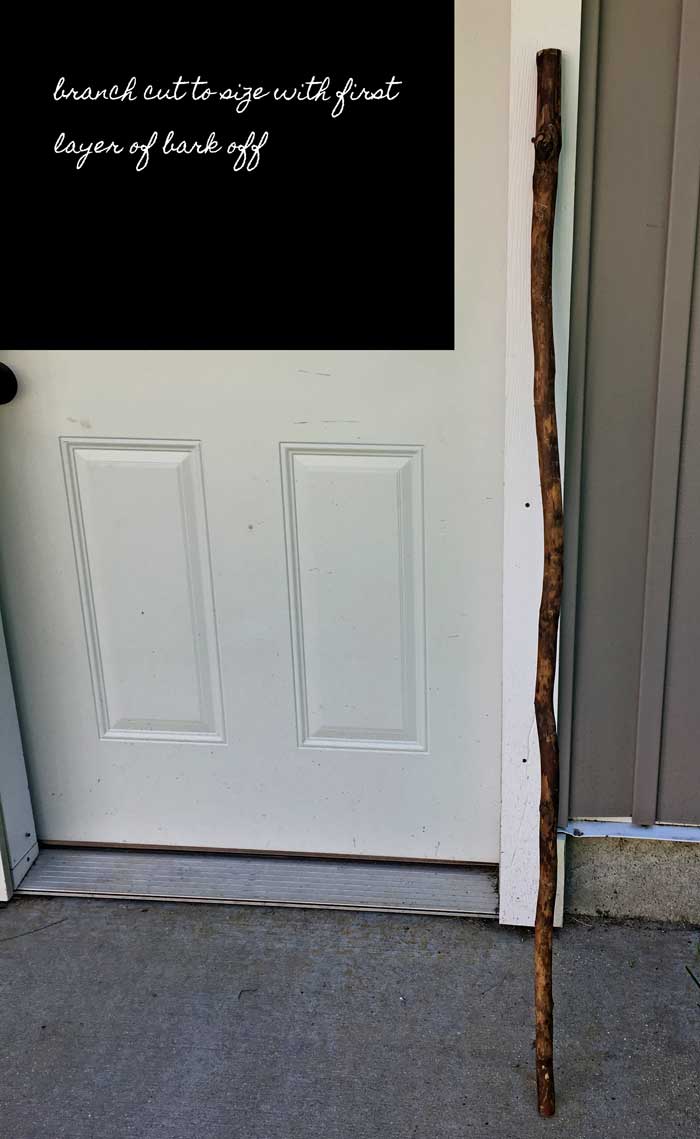 Here is the branch after I cut it to the length I wanted with a chop saw. It also has the first layer of bark off. At first, I thought that all of that dark was just a thin dirty residue from the bark I took off.
After starting to sand, I realized that there was actually another thin layer of bark. And it was pretty much stuck on for life. This would take a little more than sand paper. So, I brought out an old utility knife. I'm pretty sure that the blade wasn't sharp at all because every time I accidentally hit my hand with it, there was no blood. Some of the whacks were pretty hard too. This is probably not the recommended tool to use. However, it did work good for getting off the rest of the bark. I just don't know if a sharp blade would have worked better or if I would have cut my hand off.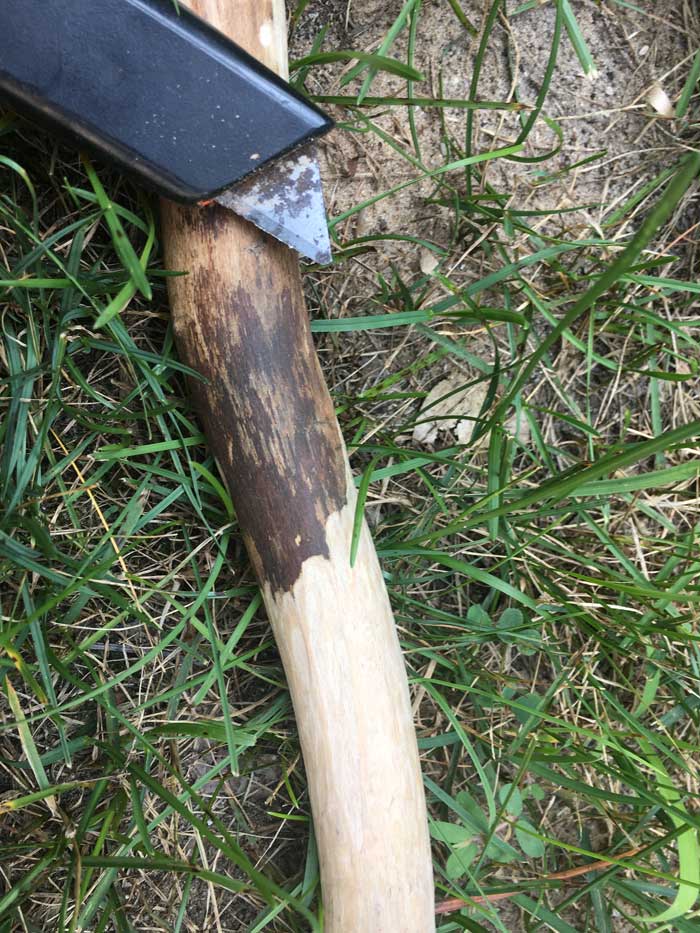 As you can see, the wood under that second layer of bark is nice and clean. Who would have thought that whittling wood could be so relaxing! I think I want to see what else I can whittle.
Sand And Prepare For Wood Burning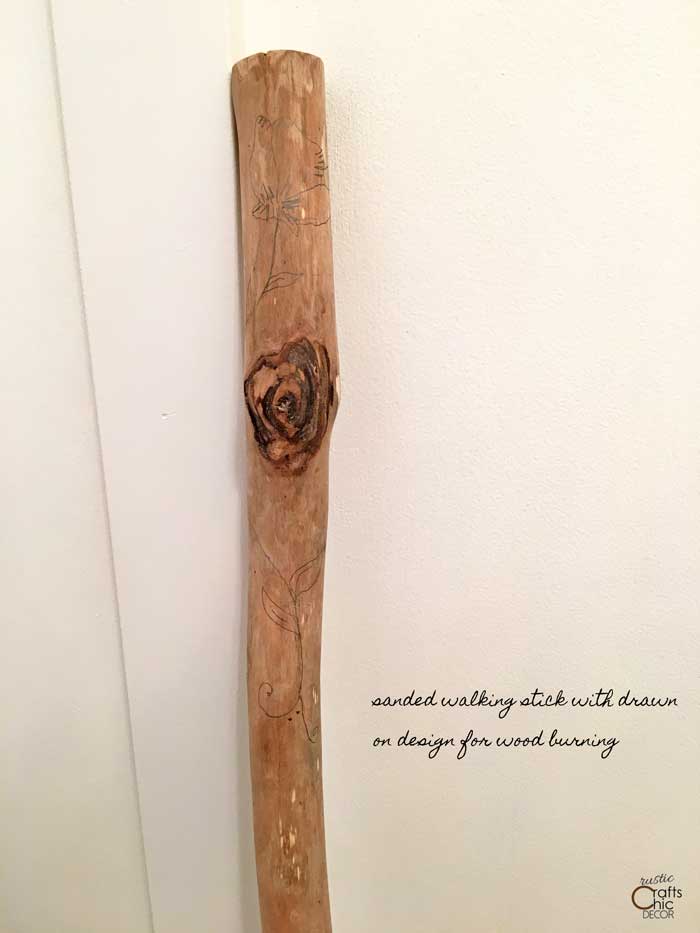 After I sanded my stick smooth and let it dry, the coloration got a little darker again. I'm not sure why but I figured if I kept whittling it down, I would end up with a toothpick. So, it is what it is. The reason I wanted the wood as light as possible was because I was going to use it to practice some wood burning on. Luckily, it's just a walking stick for me so it doesn't have to be perfect.
Before actually using the wood burner, I first drew out my design with pencil. Then, I just went over my pencil marks with my wood burning tool.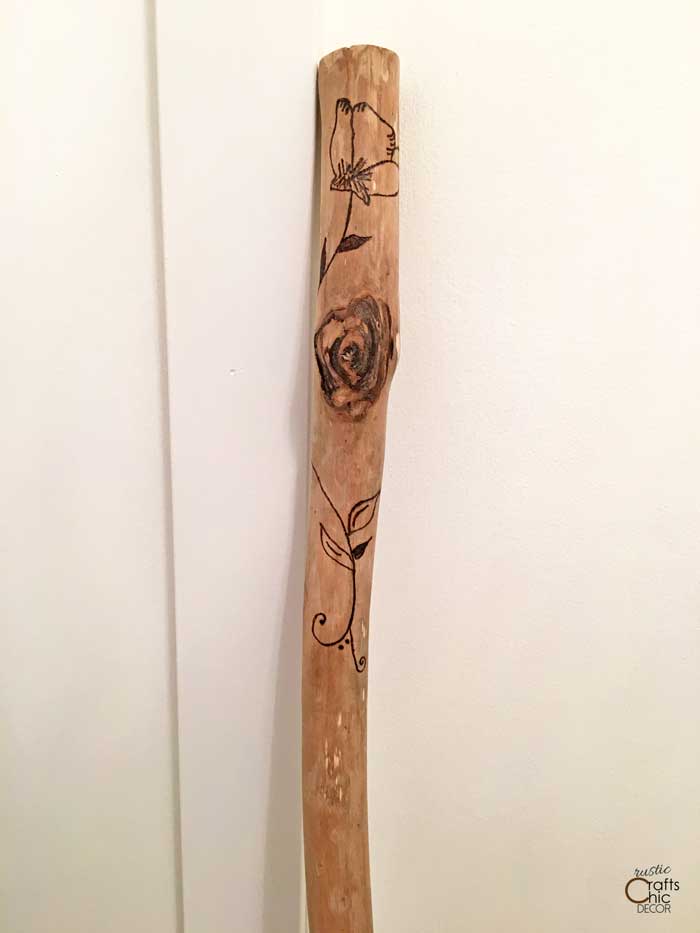 I just did the top part of the stick to keep it simple.
Finish DIY Walking Stick With Polyurethane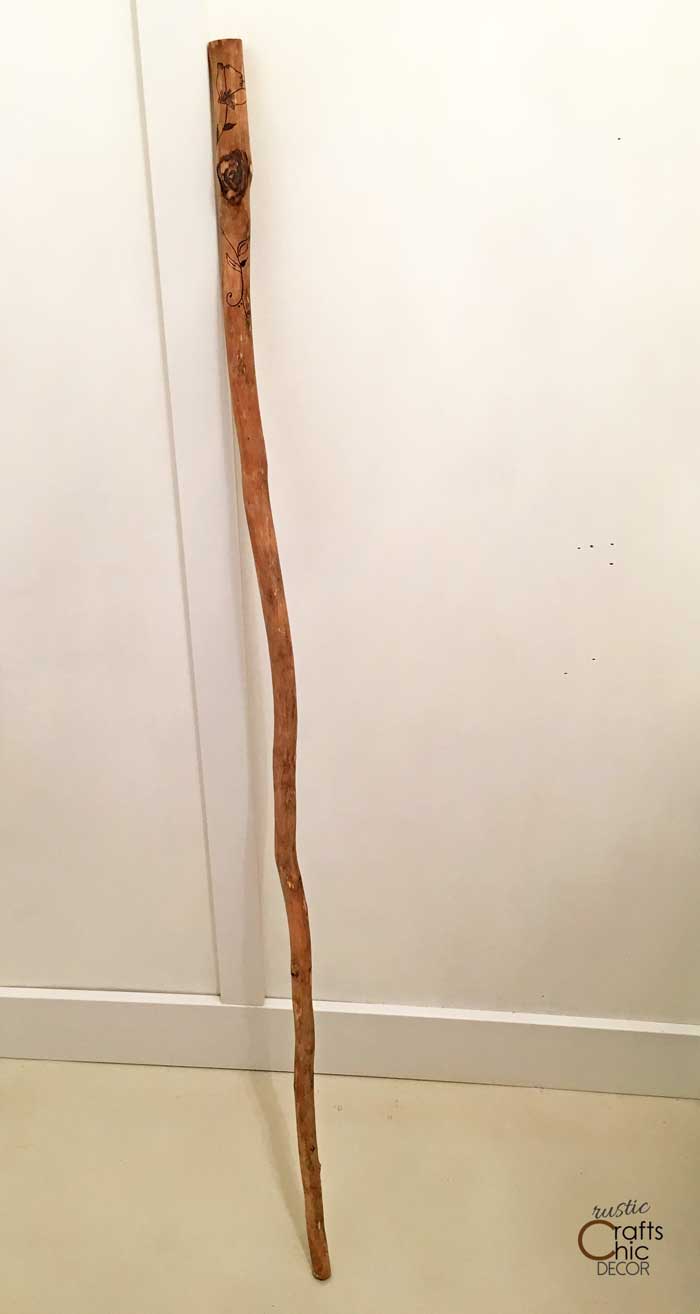 To give the stick a little protective seal, I used a rub on polyurethane. It made the wood a little darker, which I wasn't nuts about, but I like the idea that it is sealed.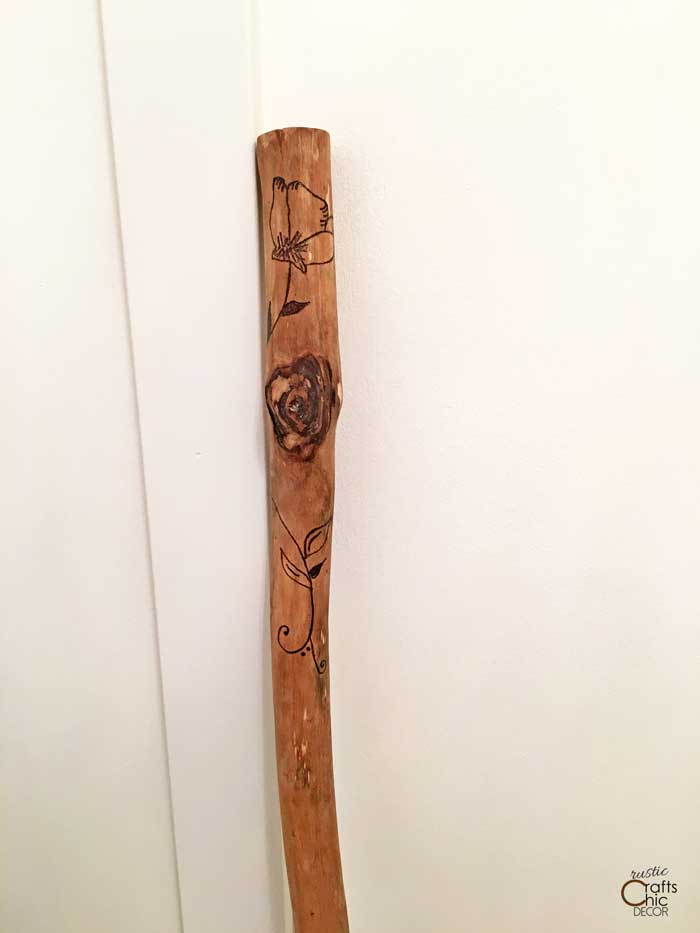 Now I think I'm ready to take some walks in the woods! For more ideas of things to do with branches, check out these things to make with branches.