I think it is safe to say that most of us have an empty bottle or two laying around.  Maybe you have a pile of them in a recycle bin or you just finished off a bottle of wine but whatever the case you should have the resources for a recycled bottle craft!
The wonderful thing about bottles is that they come in so many cool shapes and sizes that they can be easily incorporated into a decorative accent for your home.  All you need to do is embellish a little.
I have come up with a collection of some of my favorite recycled bottle crafts. These will hopefully inspire you to clean out that recycle bin or….go drink a bottle of wine!
Recycled Bottle Crafts
I had taken one of my favorite wine bottles and covered most of the glass with birch bark to make a rustic vase.

I had left the part of the wine bottle that had an embossed deer on it open.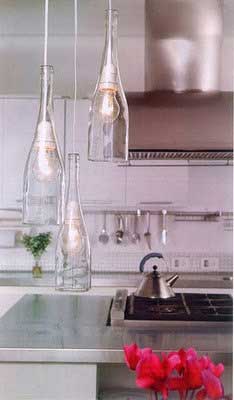 Recyclart shows an easy way to cut glass so that you can make things like these fun wine bottle pendant lights.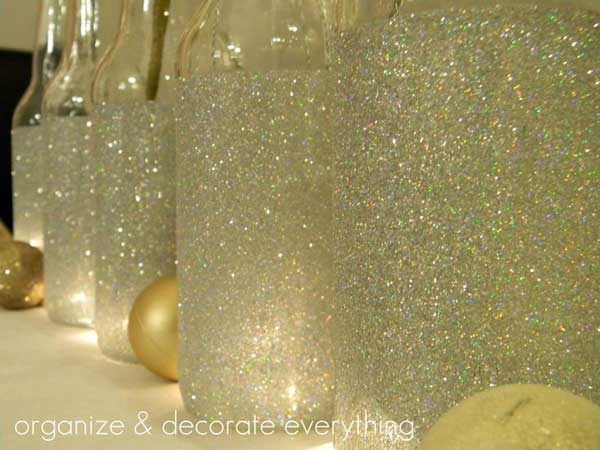 These bottles are gorgeous and are perfect for holiday decorating.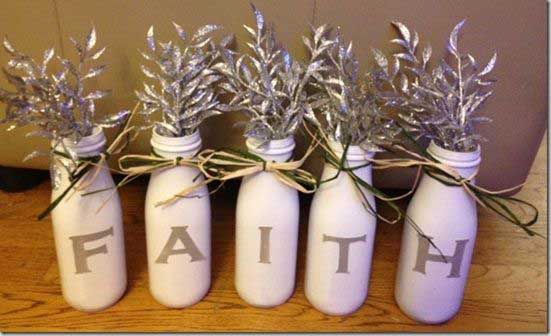 Another type of bottle to recycle are those bottles that Starbuck drinks come in.  Damanda Lynn shows a variety of different things that she does with these bottles.  I love lining them up to spell out a word.

Of course, when you combine chalkboard paint and a bottle with a cool shape you are going to end up with an artsy accent that is super fun to display.
Did you see anything that you might want to try?  What ideas have you come up with?  Share your thoughts below!