Every time that I visit an antique store, I seem to be drawn to old glass bottles – especially the ones with labels. I don't always know what I will do with them at the time but I usually figure something out. Because I like vintage bottles so much, I came up with these ideas for creative things to do with glass bottles. With all of the various sizes, shapes and colors, there are plenty of ways to display them.
Although I like to use vintage bottles, any kind of new bottle would work for these ideas as well. So, whether you collect vintage bottles, recycle soda bottles, or even purchase new, there are lots of fun ways to display them.
Glass Bottle Decoration Ideas
Use A Bottle As A Vase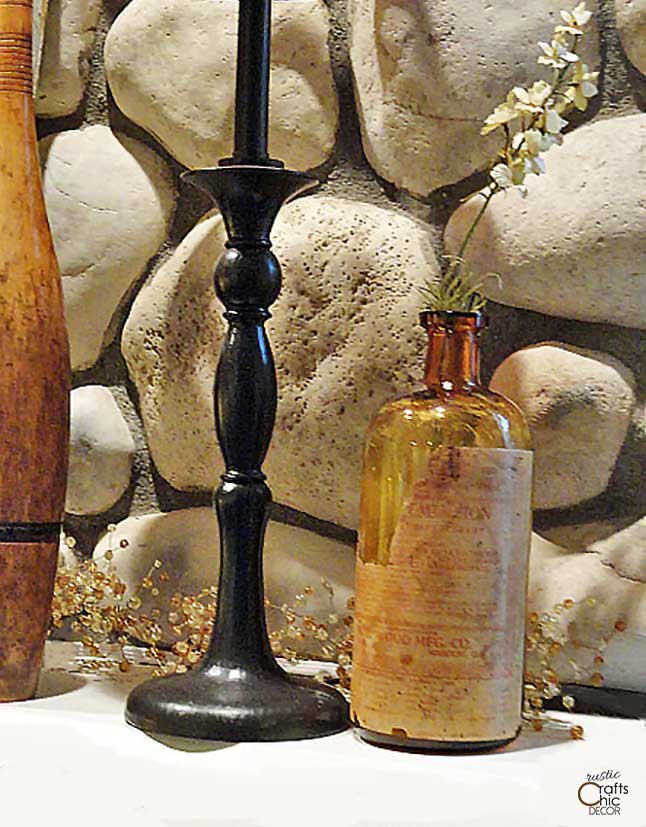 You don't need a crystal vase to display flowers. In fact, a tinted bottle makes a great rustic vase. When I found this amber colored bottle with a label to boot, I knew I had to have it in my home. The only problem that I had was that the label was super dry and peeling. It was so delicate to touch that I was afraid it would end up in a crumbled mess. Luckily, I found a solution to this problem.
Secure A Label To A Bottle With Mod Podge
I simply secured, sealed, and protected the label with Mod Podge. This idea works for applying new labels as well. If you want a new bottle to look more vintage, just print off a label graphic and secure it to the bottle with the decoupage.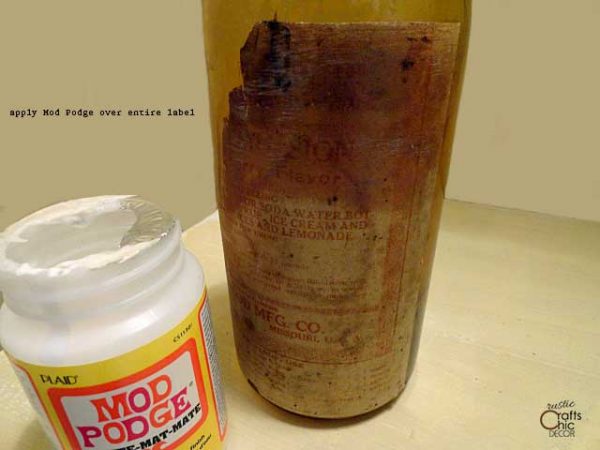 All you have to do is brush Mod Podge, in matte finish, over the entire label. It will make the label darker at first but it lightens back up when it dries. If you are applying a new label, you will need to first apply Mod Podge to the back of the label to attach it. The layer of Mod Podge over the label acts to seal and protect it so it can be handled without any worries.
Labels aren't the only things that you can secure to a bottle with Mod Podge. I attached birch bark to a wine bottle once to make a rustic vase. You could also decorate with newspaper, song sheets, or other fun papers.
Group Bottle Vases Together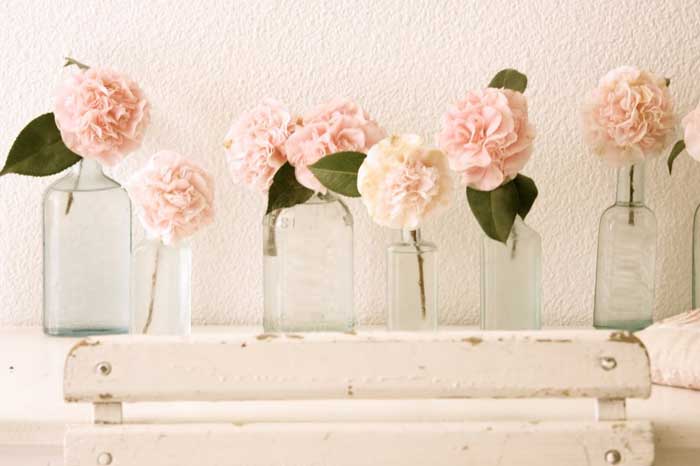 Instead of displaying a bottle as a single vase, display several bottles together. The varying sizes, shapes, and light tints create an interesting grouping. Since each different bottle has the same kind of flower, the display is very cohesive.
A Rustic Bottle Vase Display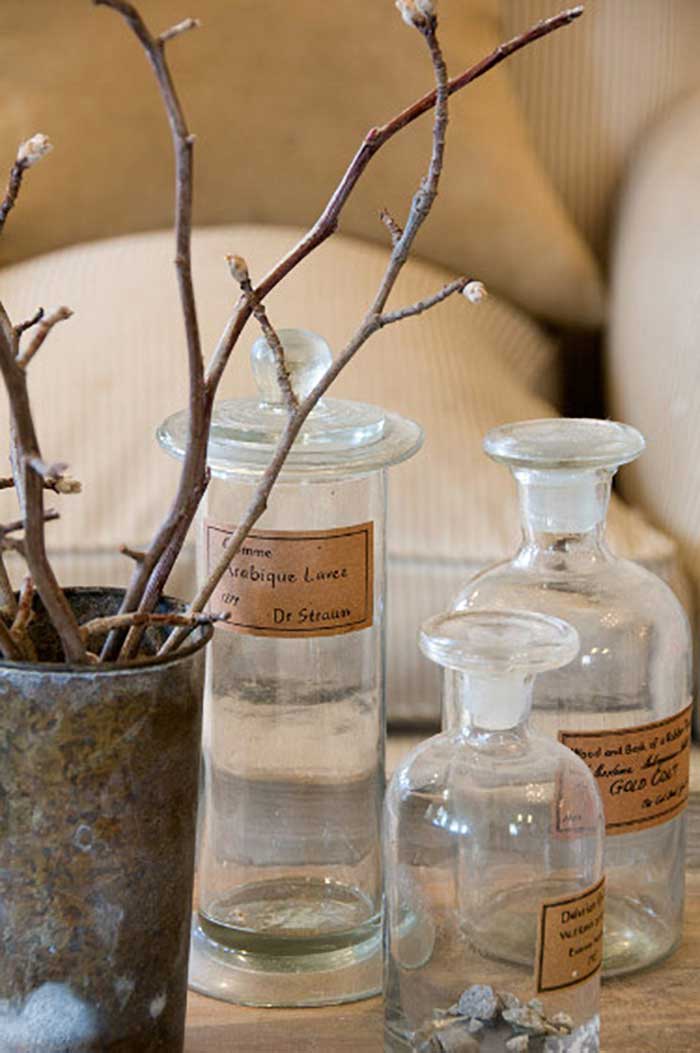 Create similar labels or purchase them to display on a group of bottles. Combine the bottles with a rustic vase of branches for a fun look on a coffee table.
Instead of creating your own labels, you can also purchase label stickers to put on bottles. This is especially fun to do at Halloween for funny apothecary bottles.
More Creative Things To Do With Glass Bottles
Deck Them Out Shabby Chic Style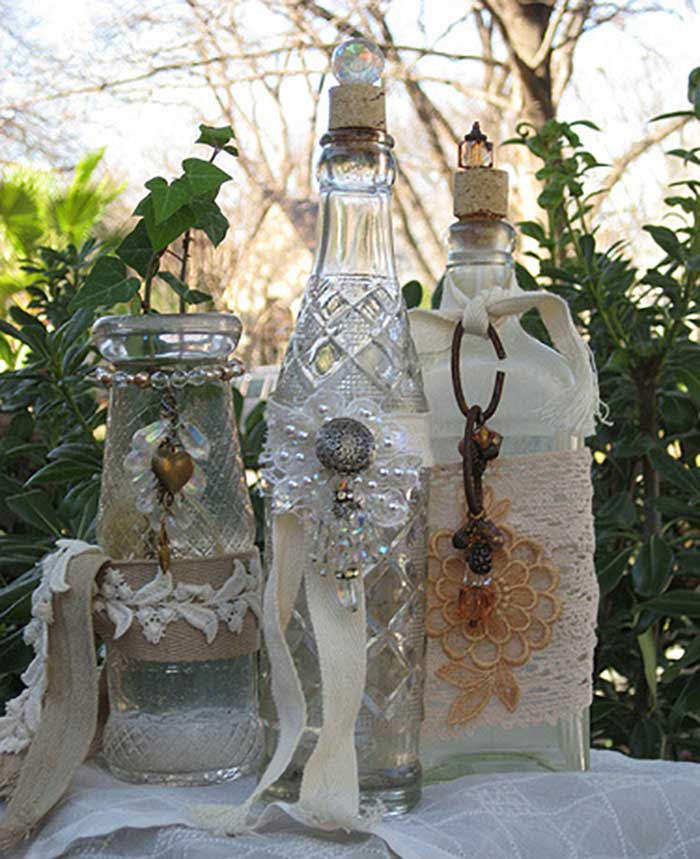 Use old vintage jewelry, lace, ribbon, and even a rusty chain link to decorate bottles in a shabby chic style. This is a fun way to use up old jewelry. For more ideas for old jewelry, see my post on what to make with old jewelry.
Hang A Bottle Upside Down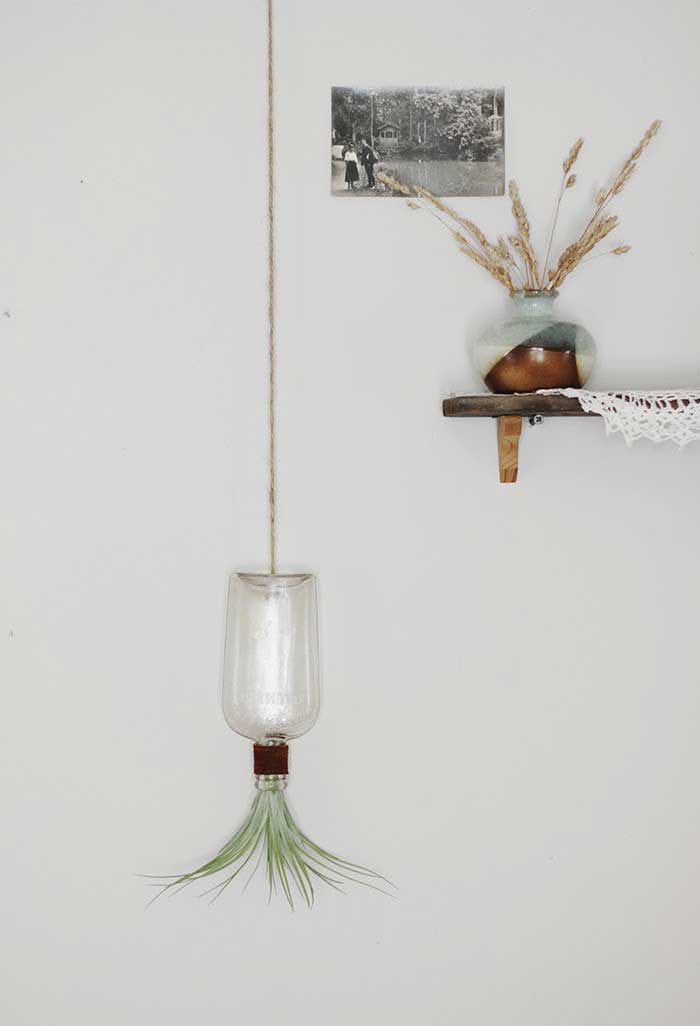 This may be one of the more creative things to do with glass bottles. Hanging a bottle upside down like this looks especially modern rustic. I love how the grass seems to flow out of it.
Make A Glass Bottle Bird Feeder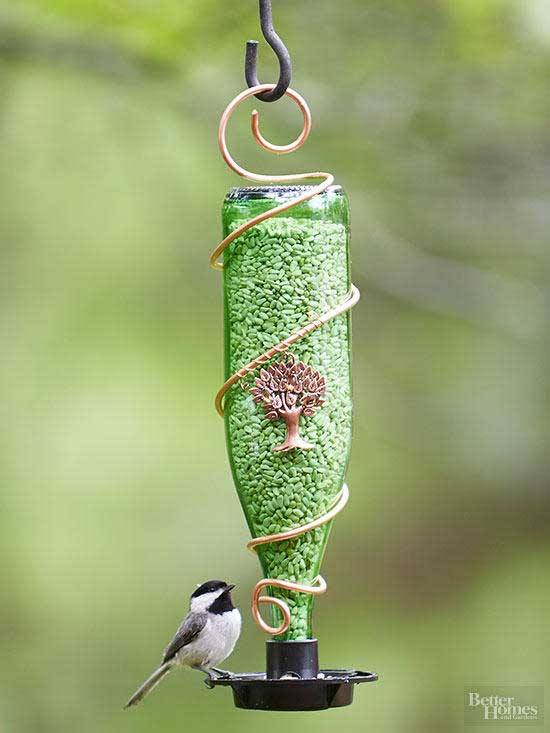 This glass bottle makes an elegant looking bird feeder. I feel like this could maybe even be squirrel proof? Either way, it's a very pretty style to look out at. For more ideas like this, check out DIY bird feeders.
Build A Lamp Out Of A Glass Bottle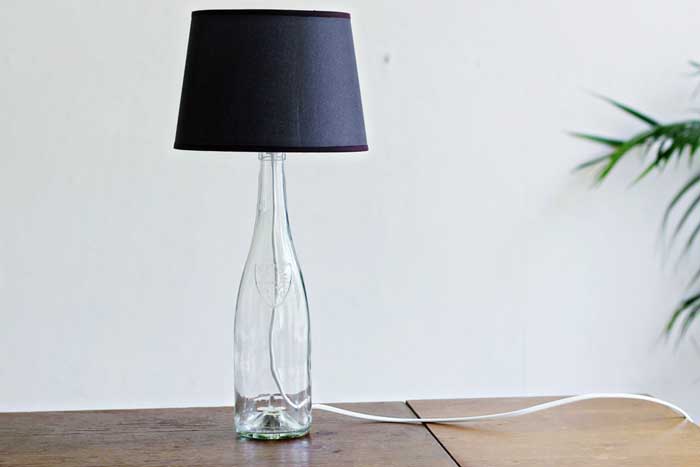 Wine bottles are great to use in projects. And, if you drink a lot of wine, you have an ongoing supply. This lamp is such a creative way to use glass bottle. If you like the idea of using wine bottles, you must see these ten amazing wine bottle crafts.
A few more creative things to do with glass bottles can be found at this roundup of recycled bottle crafts.