Have you ever thought of painting a book cover for a clean decorative look? I have so many old books and generally love all of the different styles of covers. As an avid reader, I not only enjoy the stories but I love the look, feel, and smell of books. However, there are times when I just want to throw a book out the window! Especially when I have stuck through the reading of a poorly written book all the way to the end. What's worse is if I put it back on my bookshelf only to read it a few years later with the same discouraging result.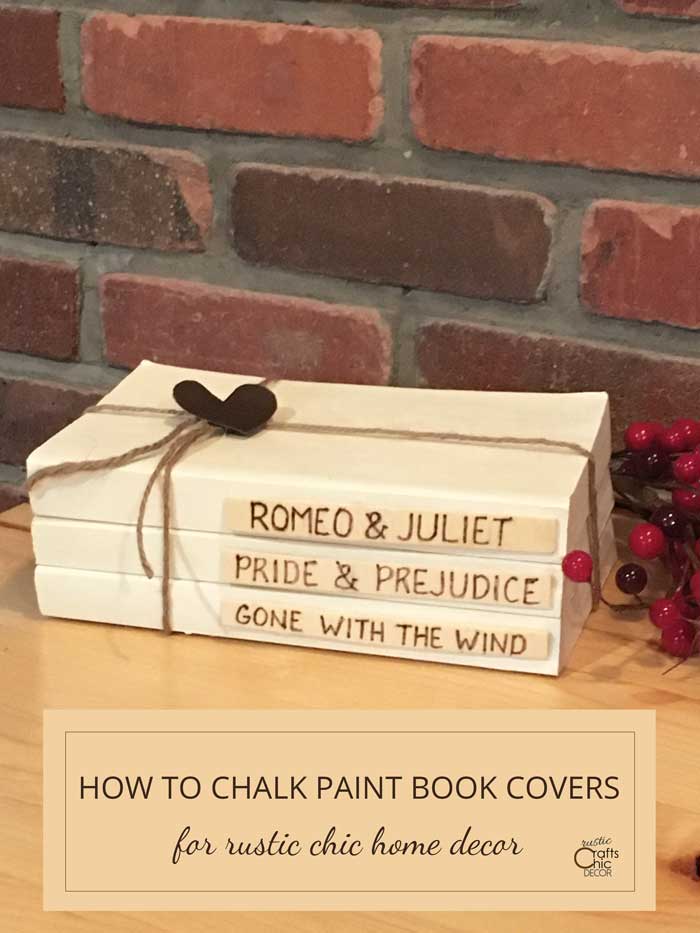 At times like these, I would much rather turn a bad book into a craft or decorating project. In fact, stacked books of similar color are extremely popular in home decor. Since it can be hard to find books with covers that are similar to each other, a little chalk paint can work wonders in creating a clean neutral look.
Although you can use any type of paint for book cover painting, I like chalk paint for the smooth subtle finish. This is different than chalkboard paint in that chalk paint has a matte chalk like finish and chalkboard paint is used to create a surface for writing with chalk. I'll show you how I painted a stack of old books with chalk paint and then finished them off with wax.
How To Paint A Book Cover
This post contains recommended product links. If you make a purchase through one of the links, I will earn a small commission at no cost to you.
MATERIALS NEEDED:
Folk Art Home Decor Chalk Paint – I used the color sheepskin
angled paint brush
soft lint free rag
old books – either hard cover or paper back will work although for longevity use hard cover
It's really not hard to paint a book cover. The consistency of chalk paint makes it easy to apply thin smooth coats. Even a glossy paper back book gets good coverage with the paint. Because my paper back books had a glossy finish with lots of bright color, I needed to paint on about five thin coats. You just have to be patient with the process. Luckily, the paint dries pretty quickly between coats.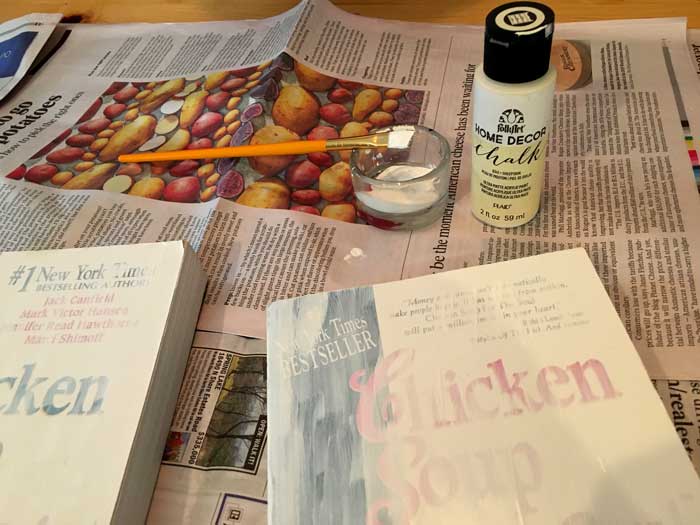 You can see that the first coat just barely conceals the cover. It's okay though. With thin coats you get a better finish in the end. I kept my brush strokes going in the same direction. It will look uniform and smooth when all of the coats are on. You could also roll the paint on or spray paint the covers.
To start, just work on painting the book front and binding. Once you have good coverage and all the paint is dry, you can flip the books over. It probably would work better to hang a book over a wire hanger attached to a rod. That way you could paint the entire book cover at once. For hard cover books, you could fold the book like a tent to paint the entire cover. Then, just touch up the edges that were resting on your table afterwards.
Once your painting is complete, you will want to seal it to protect the finish. I like to use Folk Art home decor white wax for this. You just brush it on, let it dry, and then buff it out for a super smooth finish. Not only does this protect your paint but it gives the finish a nice subtle sheen.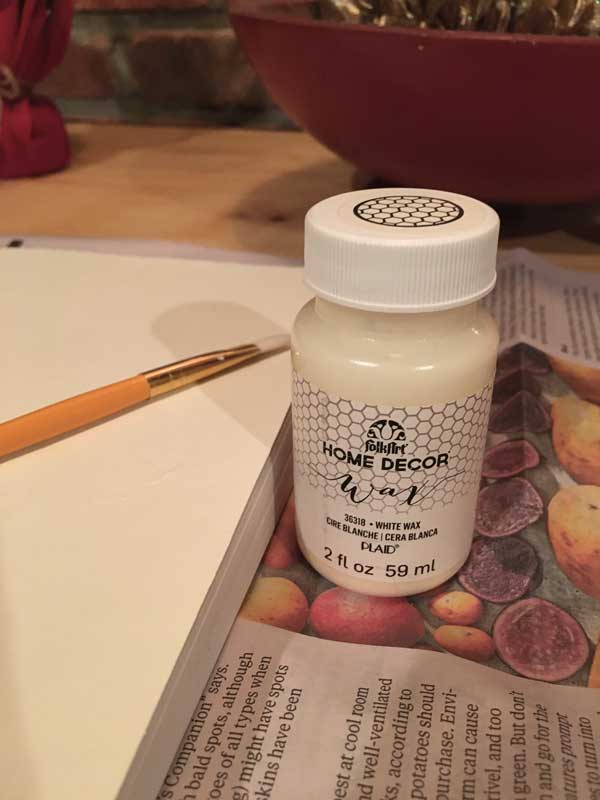 Use the stack of painted books in your home wherever you need some chic decor. I love to stack books on a coffee table or shelf. They also work great for adding height to other items. Just place your small object on top of the stacked books. Leave them as is or tie them off with a section of twine or ribbon. Add words or graphics to the binders for additional decor.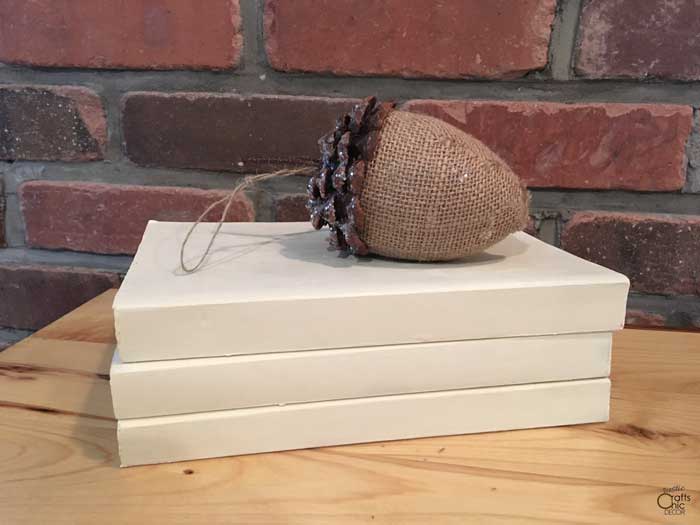 Chalk Paint Old Books For Holidays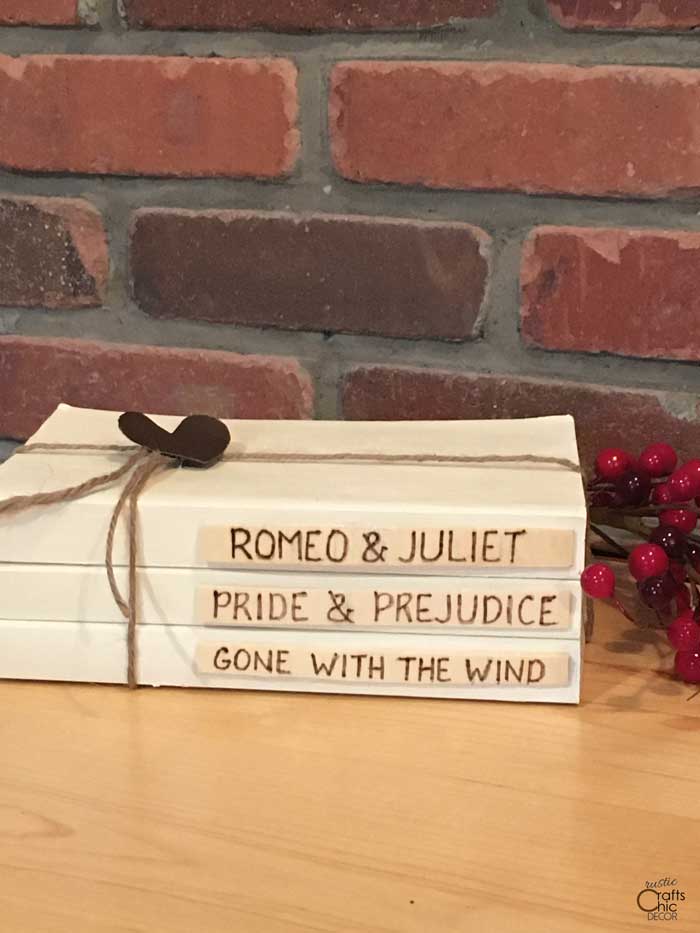 I'm always looking for clever ways to decorate for the various holidays. Christmas is easy but some of the other ones can be challenging for me. I prefer decor that is subtle and still fits in with my general decorating scheme. So bright orange for Halloween, green for St. Patricks day, and pink for Valentines Day are out. Luckily, a stack of books can be customized for the different holidays in a neutral, subtle way.
The way to get a custom look is by the words that you put on the binding. For Valentines Day this year, I made a stack of books to reflect the holiday. I chose romantic classic book titles that make you think of love. Then, I penciled in those titles on a thin piece of wood which I later wood burned. I like the rustic look the wood burning gives to the book binders.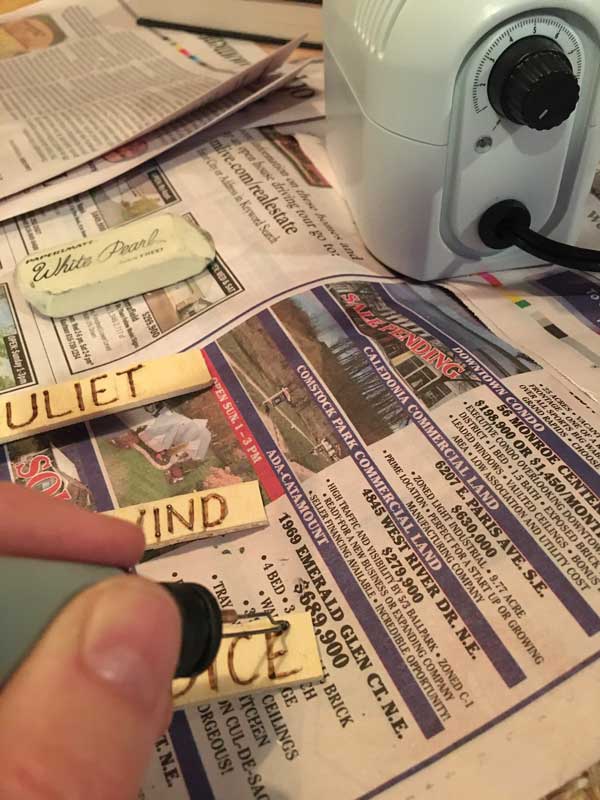 To add just a little more rustic embellishment for Valentines Day, I attached a small heart, that I cut from a sheet of rusty metal, to the top of the stack at the center of the twine. The twine holds the books together kind of like a gift wrapped package.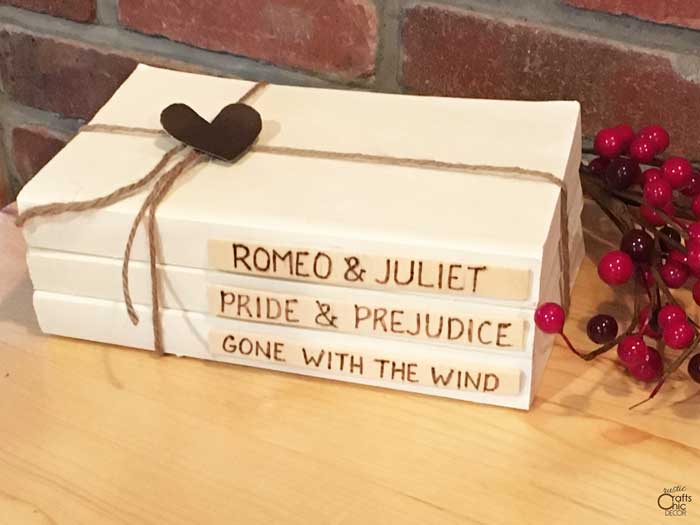 I'm happy because I can add a little romantic touch to our space for Valentines Day and still have it blend in with the rest of our decor. It's also nice because I can really leave this stack out all year since it doesn't scream Valentines.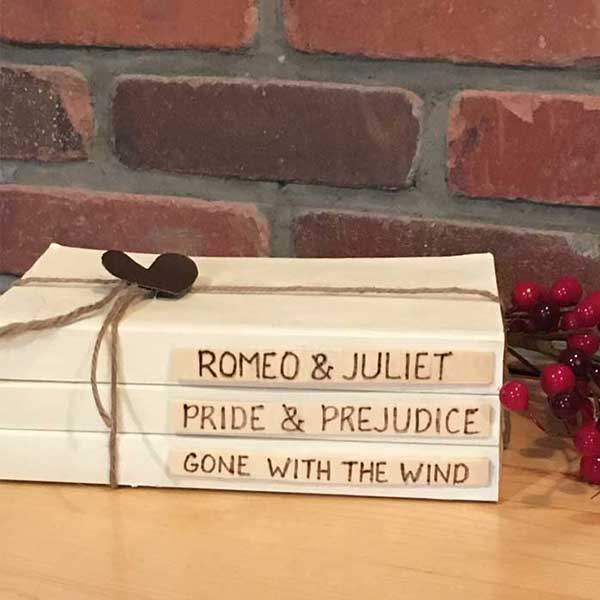 I'm already thinking about book titles that I can potentially use for St. Patricks Day. Any thoughts? Maybe I'll also cut out little rusty metal shamrocks for the top.