One of my favorite things to collect are old wooden chairs. The more character that they possess the better! Most of the time, though, these distinguished looking chairs require just a little bit of a makeover. Like anything that has been around for a long time, the charm and warmth that exudes from age can be enhanced to fit right in with the hip younger crowd! Usually all it takes is some updating of the colors and fabric choices. I found several chic chair makeovers to inspire you.
When I first acquired this now black chair, it was attired in a dated shade of green and flaky paint and it's seat was covered with a busy floral. It looked like it was straight from grandma's garden so it needed a pretty good makeover.

Changing it's color to a chic black with a little distressing, to maintain it's character, allowed it to fit seamlessly with the more modern rustic decor in the rest of the house. Dressing the seat in a new updated fabric also lended to a more sophisticated style.
A Quirky Chair Repurpose
I had another chair that was better off serving a whole new purpose. The original cane seat was missing so instead or repairing it, I transformed it into a very whimsical and fun holder for magazines in my office.

I added all kinds of unusual embellishments to make this new "magazine holder" artsy and interesting. It was definitely one of those projects where I just threw everything at it and kept what stuck.
I searched for some more examples of chair makeovers, that I thought were inspiring, focusing on dining chair makeovers. It's definitely a popular way to update the whole look of your dining set.
More Dining Chair Makeovers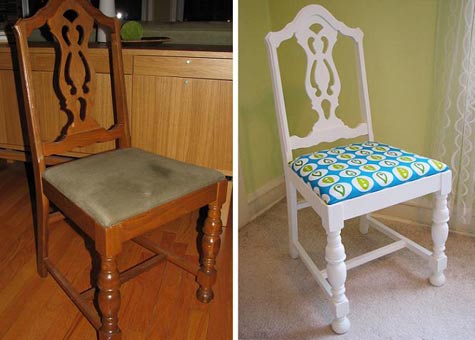 Chair makeover by Jessica Jones Designs.
This chair went from dull and dungy to bright and cheery! I love the fabric choice with the white paint. It's wonderful what a little paint and fabric can do!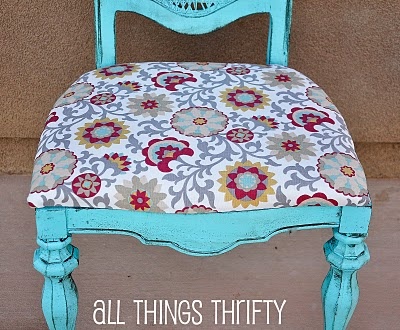 It pays to pick up old chairs from yard sales when you can turn them into something wonderful like this!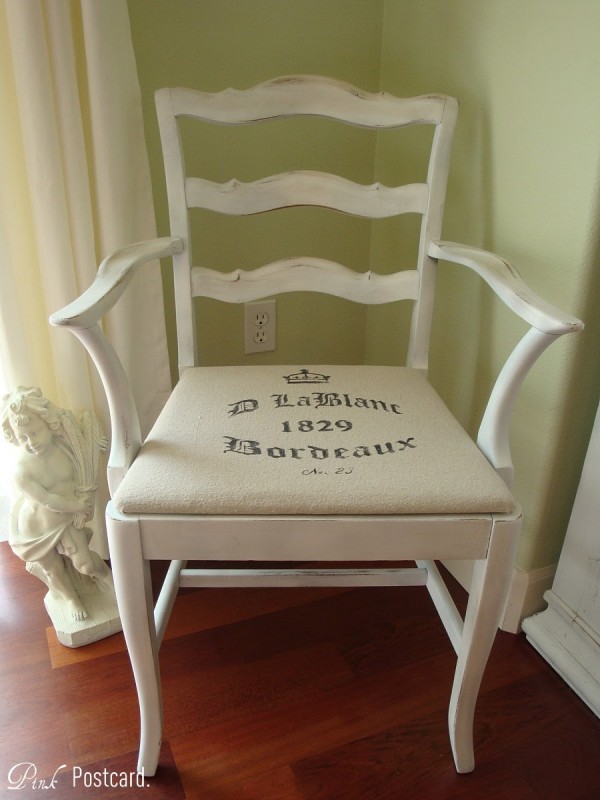 I love French inspired furniture and this transformed chair is especially chic. Because of the arms, a chair like this would be great at the head of the table.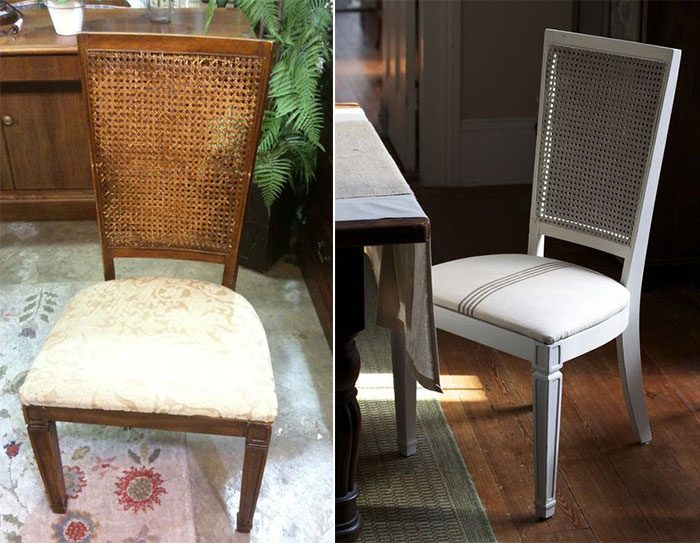 Once again the style of a dining chair is drastically changed with paint and new fabric. You almost can't even tell that this is the same chair. Grain sack fabric is perfect for a farmhouse style dining area.