As an empty nester, and now living in a much smaller space, I found myself really missing my craft room. I love working on craft projects but hate the idea of pulling out all of the supplies from various locations. My dining room table would end up looking like a small explosion took place.
Small Space Craft Room Ideas
Since we spend a good majority of our time now at our cabin, I figured I could make something work there for crafting. We had a small unfinished laundry room in the basement so I began to think of craft room ideas for that space. I could easily combine the room into a space for laundry and crafts. Maybe I could even put a compact washer and dryer unit in there to give me more space! The ideas started flowing and I began my design. Before doing anything, I had to deal with the floor.
Painted Concrete Floor
When we built our cabin, we had stained all of the basement concrete floors. The stain color is a shade of dark rust. Since I wanted a white craft room, to make if feel more spacious, I needed to paint over that rust! I used a Behr epoxy floor paint in a color called campfire ash. This shade is like a cream or linen in color. I had already thought about giving the floor a grain sack look so the epoxy color was perfect. Then, for a little bit of a fun design, I painted on a grain sack pattern using masking tape and a stencil. To protect the newly painted design, I went over the entire floor with floor polyurethane – three times.

Craft Room Ideas
Now that my floor was done, I could begin to organize and set up my new craft room. I started by buying a small craft desk to fit the space. Most of what I like to do is sewing so I really just needed something large enough to fit my sewing machine and maybe a storage container.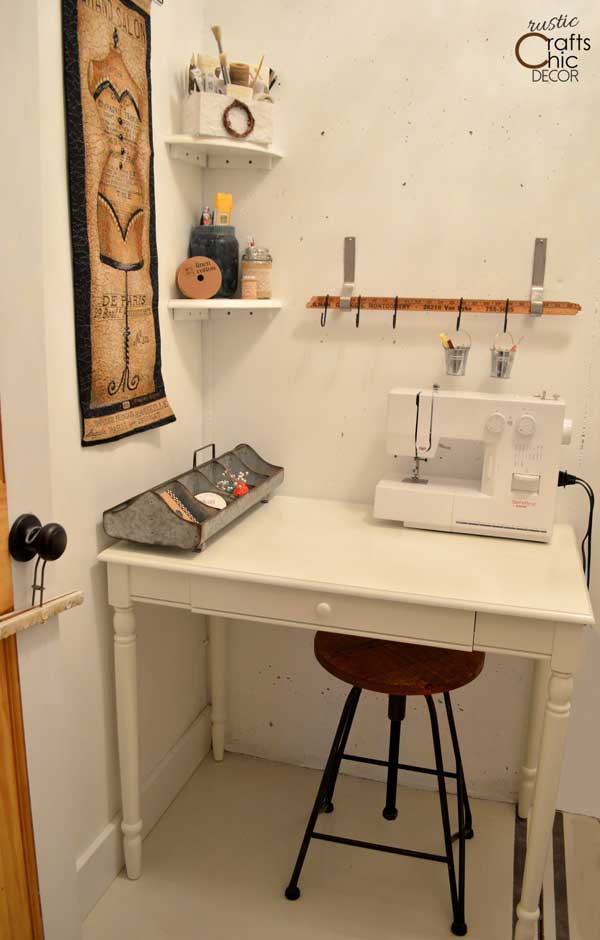 Craft Storage Ideas
The tray on the table works great for holding all of my small craft supplies like beads and ribbon. I also like to use pottery or mason jars for holding necessary items. The more drawers you can have, the better as well. There are so many sizes and styles of bins that you can buy for your particular needs.


DIY Craft Storage
Whenever I can turn ordinary items or even trash items into useful storage, I am a happy camper!
YARDSTICK HANGER
One of the easiest things that I did was to take an old broken yardstick that I had and turn it into basically a hook rod for hanging craft supplies. I'm really not sure why I had saved that broken yardstick but I was glad I had it now. Since this was going on a concrete wall, I just secured the brackets with E6000 craft glue. I did have to hold them in place for quite awhile but I am somewhat patient. If I would of had Loctite Power Grab adhesive, I would definitely have used that. When I used the Loctite adhesive for installing my brick wall, it worked amazingly well.
At first I was going to cut the ends straight but then decided it looked kind of cool with broken ends. I do like old and distressed pieces!

six pack storage bin
The cardboard beverage carriers that hold a six pack make perfect craft storage. I just decorated the box with lace and paint and now have a stylish and inexpensive way to store paint brushes and other craft items.