If you are wanting to paint on fabric, you may be wondering if it is possible to use acrylic paint. The answer is that you definitely can! In fact, using acrylic paint on fabric requires just one or two extra easy steps. This is great news for those of us that have a nice collection of acrylic paints already stashed in our craft rooms. There is no need to go out and purchase special fabric paint when you can use what you already have. Plus, there are so many more color options with acrylic paint that you might not have with the limited fabric paints.
Technically, you could paint fabric with acrylic paint right out of the bottle. However, the texture will be a little thick and it will dry stiff. It also stands the chance of flaking so it's not good to use on fabrics that will be handled often. If you want to paint on fabric for a throw pillow or curtains, you may want a smoother finish. Plus, most likely you want the ability to wash the fabric occasionally. I'll show you how this can easily be done with thinning the paint and heat setting the finished product.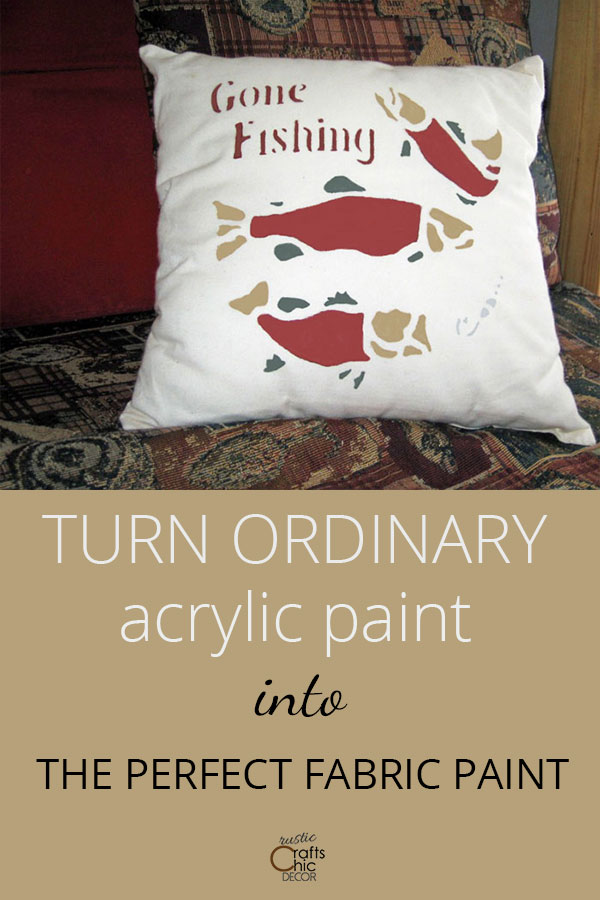 This post contains recommended product links. If you make a purchase through one of the links, I will earn a small commission at no extra cost to you.
What You Will Need
Steps For Using Acrylic Paint On Fabric
Prepare The Paint
To make your acrylic paint soft and more thin for easy application, mix equal parts of acrylic paint and fabric medium. I like to use Delta Fabric Medium but any brand will work. Stir these together until they are well blended.
Check the instructions on the fabric medium bottle for the best ratio for the mix. Usually, equal parts of paint and medium will give you the desired consistency. From there, you can thin down the paint some more with water. How thin you want the paint depends on if you want a watercolor look or something more solid. For my stenciled pillows, I just used the paint mixed with an equal part of the medium and no water. If you do thin the paint with water, the fabric medium works to control the bleeding between the colors.
Prepare The Fabric
If you are creating something brand new, choose a fabric that will make a good canvas like a muslin or white cotton. Wash, dry, and press the fabric to have a nice and clean canvas to work from. This will also remove and sizing and allow for shrinkage before a sewing project if creating something new.
Before painting, place your fabric on cardboard or other protected surface. This will protect your work surface from any paint going through the fabric. Then, lightly spray a mist of water over the fabric. This helps to make the paint application easier.
Of course, you can also paint on objects such as lampshades which should just be wiped off good and free of dust.
Heat Set The Paint On Fabric
Adding fabric medium to acrylic paint already ensures that your painted project will hold up to washings. However, if you feel you will need to do frequent washings, like with clothing, you will want to go the extra step and heat set the paint onto the fabric.
To do this, you first need to wait until the paint is totally dry. I would wait at least 24 hours or even more. Next, turn the painted piece upside down and iron it on a hot setting without steam. Keep the iron moving so that you don't end up scorching the fabric.
Fabric Painted Throw Pillows
Here are a couple of the throw pillows I made using acrylic paint mixed with fabric medium. First I drew on my design, with a stencil, onto a square of muslin fabric that had been prepared. Then, I just painted inside the lines. The paint went on super easy so it really was a quick project.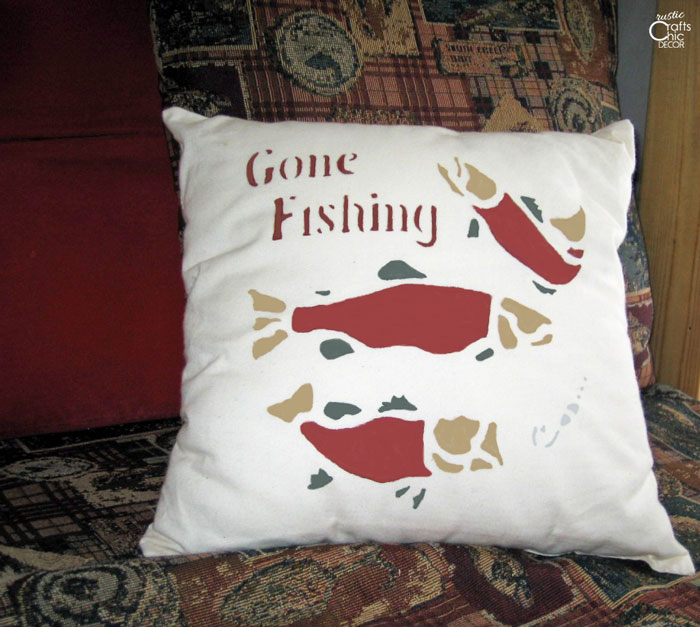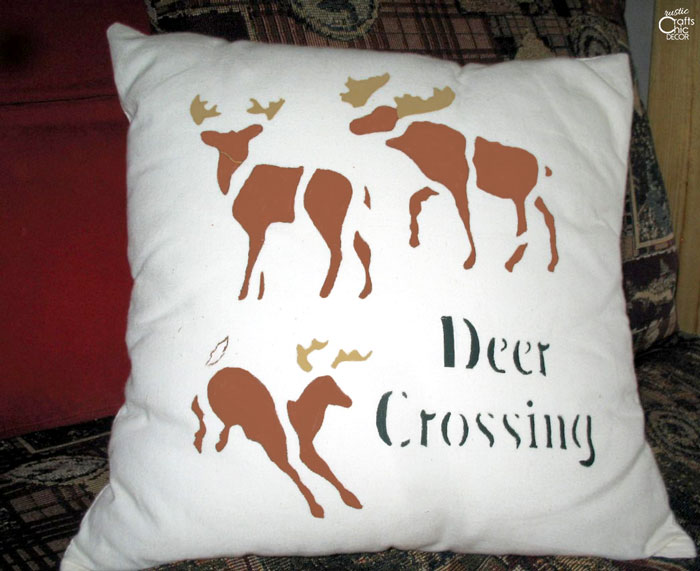 Using Acrylic Paint On Fabric Without Medium
I really like the soft and supple feeling of the homemade fabric paint. However, this doesn't mean that it's not possible to paint on fabric with just acrylic paint. It's especially okay for projects that don't get handled much. I painted a lampshade with plain acrylic paint with just a little water mixed in. This made the paint softer and easy to apply. The texture is a little rougher but since it won't be handled much it really doesn't matter.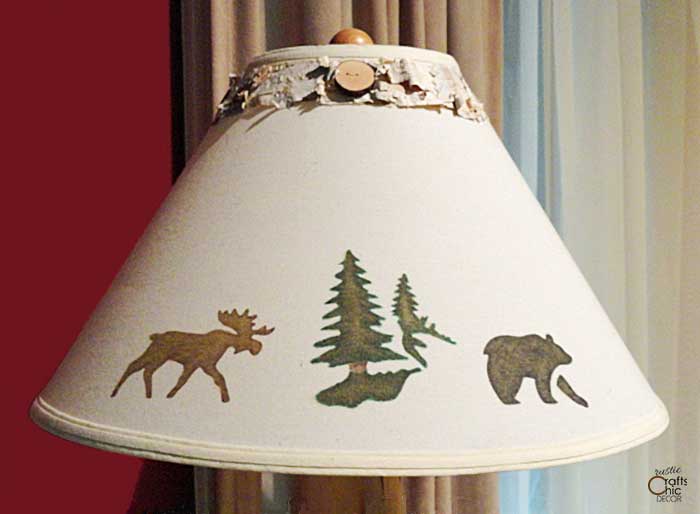 You Can Even Paint Furniture With Acrylic Paint
This was by far my most satisfying fabric painting project. I figured I had nothing to lose because I was planning on donating the chair anyway. It was going to be an experiment that I was somewhat skeptical about. However, I was so pleasantly surprised with the outcome that I held onto the chair and enjoyed, what seemed to me, a brand new piece of furniture.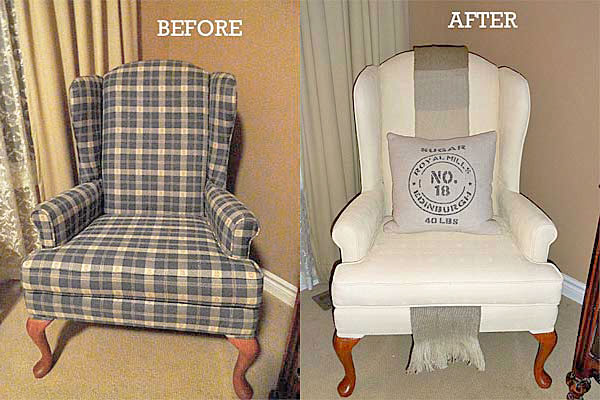 No need to change the upholstery on an old chair when you can simply paint it! This project follows the same technique as any fabric painting with acrylic paints. Check out my post on How To Paint An Upholstered Chair for more details.