Did you ever notice that some things in your house seem to multiply like bunnies?  In my house its pennies, pens, pencils and ….hangers! Whenever I get an overabundance of something, I like to think of what I can possibly re-purpose them for.  In the case of hangers, I especially like the wooden coat and pants hangers and set them aside for possible use in wooden hanger crafts.
Wooden Hanger Craft Ideas
Wooden Photo Hangers
I have been able to use most all of my old wooden pants hangers as fun photo hangers throughout my house.  I simply add a few embellishments or paint to them for a little more interest.

For this one I just added a little light paint, to give it a distressed look, along with an epoxy button sticker to the top.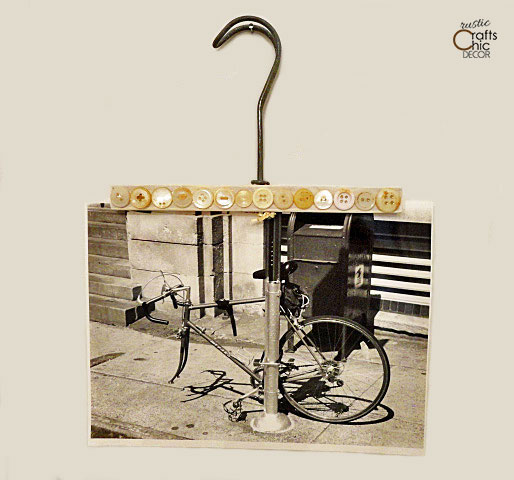 Since I also have a lot of buttons, it was fun to embellish one of the hangers with a row of shiny mother of pearl vintage buttons.  I first painted the wood with a light cream acrylic paint and then glued on the buttons with tacky glue.
Wooden Jewelry Hangers
Another way that I have used my pants hangers was as much needed jewelry hangers.  I can hang these on any available wall space in a room or closet.

All I do is attach wooden cabinet knobs to the hanger with E6000 craft glue.  I then glued a vintage button to the end of the knob for fun.  This one I painted lightly with a dark umber paint.

Here is a lighter version with the addition of some vintage typewriter keys to the ends of the buttons.
Hanger Hook

I also can always use wall hooks.  With a little twisting and prying, I fashioned one pants hanger into a funky little wall hook to hang light items on.
More Wooden Hanger Crafts
Wooden Hanger Dish Drying Rack

A collection of wooden hangers are put together to form a cool and functional dish drying rack.
Wooden Hanger Table

Make an easy side table using wooden hangers as table legs.
Personalized Dress Hanger

This idea is great for weddings. Personalized hangers for dresses would be such a nice touch.
Hanger Coat Rack

I love this creative use of hangers by RePlayGround for making a unique coat rack.  This is most likely a conversation starter.
Do you have any fun ideas for hanger crafts?  Share your thoughts with us!