Just like other forms of nature, snow is one of those items that we like to bring inside. Okay, maybe actual snow is better left outside! However, it's easy to create the look by making indoor snowballs or cute little snowmen. In fact, snowmen are a very popular item used in winter home decor. They provide such a light and friendly mood to a space. If you are interested in making your own, you will definitely want to check out all of these cute snowman ideas. Because they are easy to make, you may want to try several different styles to place around your home.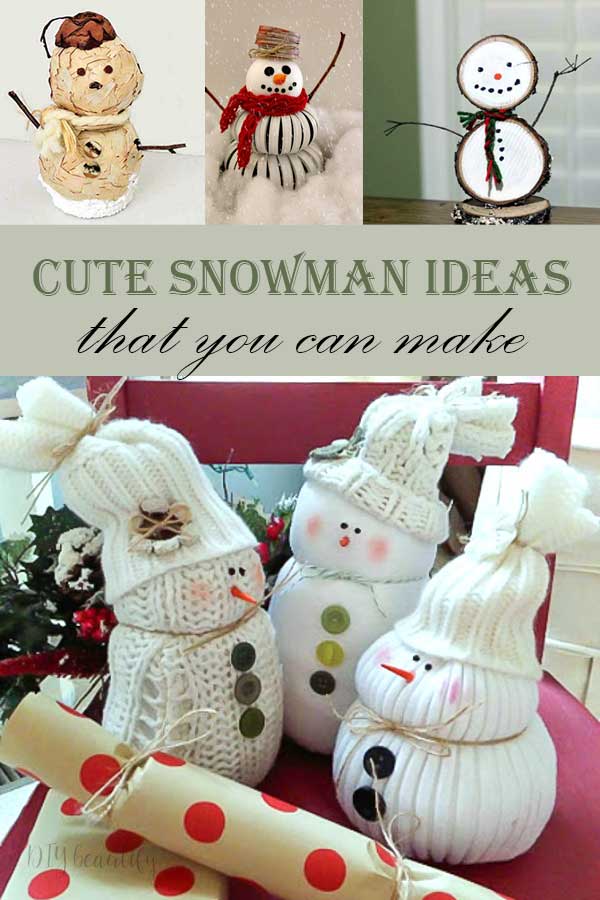 It's hard to resist a cute snowman display. There's just something about a snowman that is just as endearing as a kitten or a puppy. They definitely have a way of putting a smile on your face. Depending on what you use to make your snowman, the style can be rustic, cuddly, vintage, or just plain fun. Here are some cute ideas that I found for snowman crafts. Each one uses a unique material that can be very budget friendly to use. Nature items, old sweaters or socks, and vintage items are all fairly easy to find and will keep your costs low.
Budget Friendly Snowman Crafts
This post contains recommended product links. If you make a purchase through one of the links, I will earn a small commission.
Sweater Snowman DIY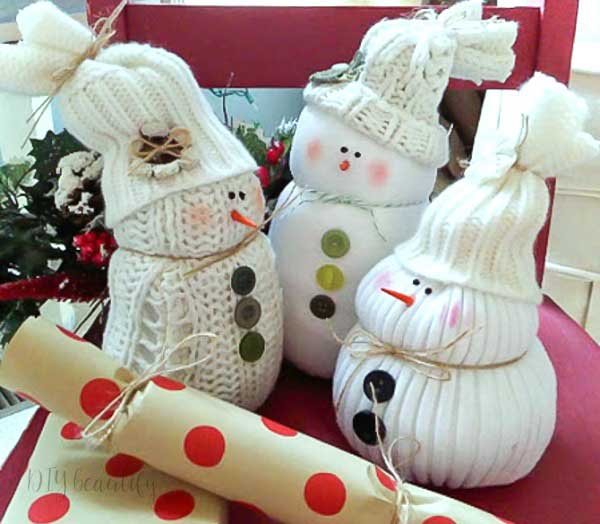 Whenever you can recycle a sweater for a craft item, it is a good day. Not only can you use old sweaters for these snowmen, but you can also put to use some of those old buttons. In case you are wondering how the snowmen get so plump, they are simply filled with rice!
DIY Birch Bark Snowman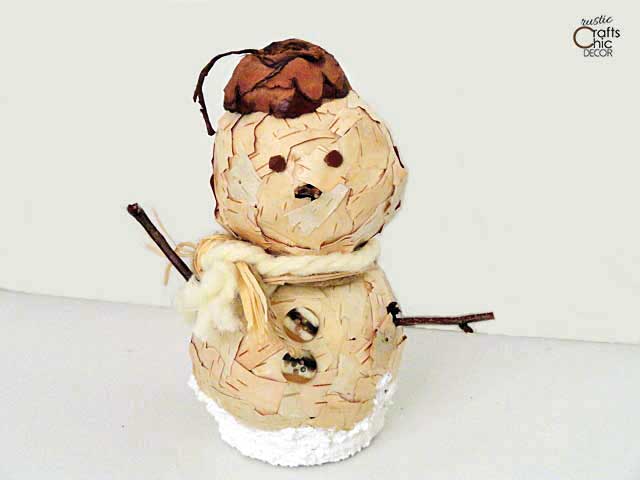 For those of you looking for a rustic design, you can actually make a rustic snowman as well. All you have to do is cover your styrofoam balls with birch bark. Then, use other natural elements to finish the look. Small birch branches work great for arms.
Mason Jar Lid Snowman Idea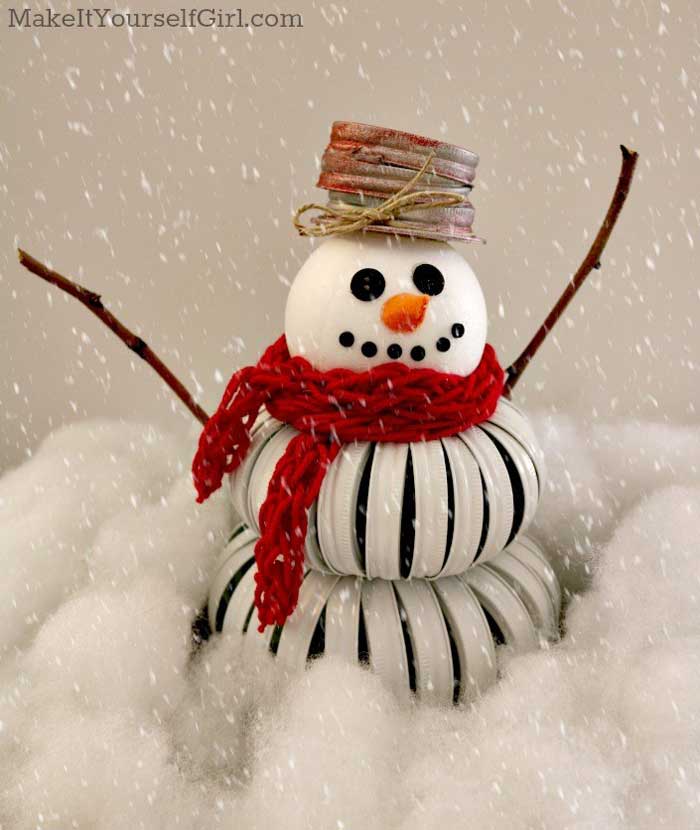 Check you pantry for some old mason jar rings or bands for this craft. The rings are easy to form into a circular shape to make up the snowman's layers. Because of the vintage lids, this cute snowman idea looks especially nostalgic, warm and rustic. If you don't have vintage lids, you can also purchase new ones for a reasonable price.
Wood Slice Snowman Craft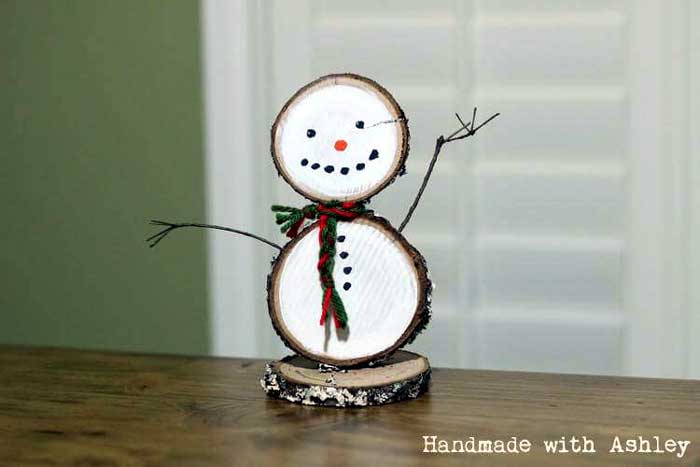 Another rustic idea for making a cute snowman, is to use wood slices. Slice the logs yourself or simply purchase slices. Then paint and embellish them to get the look that you want.
No Sew Sock Snowman Craft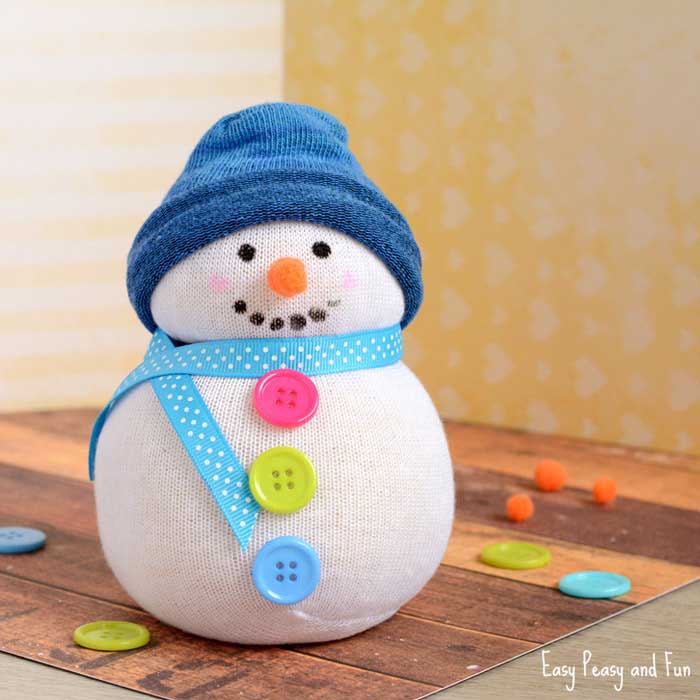 Similar to the look of the sweater snowmen is this soft and lovable snowman made from an old sock. I can think of lots of single socks that have lost their mate in the dryer. This is a fantastic way to put the loners to use.
Snowman Candy Jar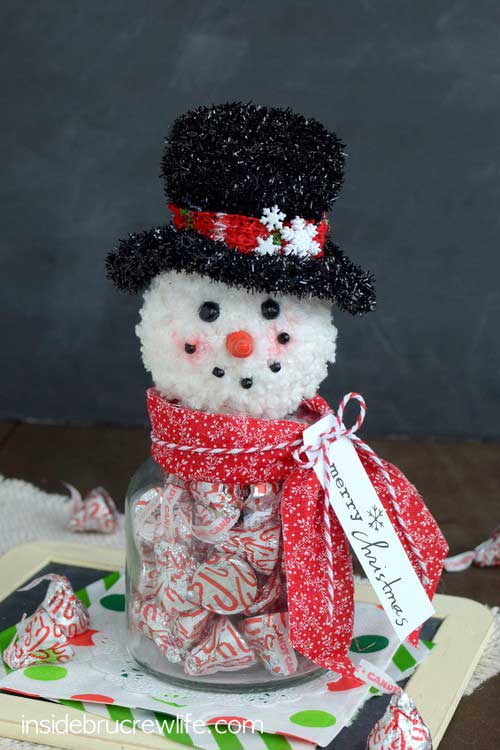 You can also make a snowman that serves a dual use. Not only is this snowman a cute decorative item but it also holds treats for a fun and festive gift.