Decorating in white is the perfect palette for simple shabby chic. The clean fresh color compliments the more rustic elements of a room. Because of this, the rustic decor is highlighted and becomes a focal point.
Inspiration For Decorating In White
Some of the examples are all white but the majority are combined with very light neutrals which adds just the right amount of interest.
Accent The White With Burlap And Wicker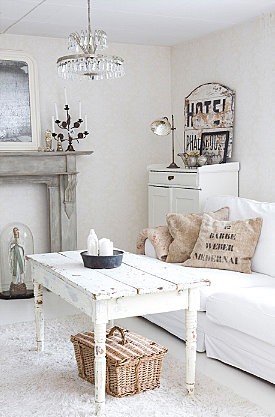 I love the wood, wicker and burlap accents to go along with all of the white. It adds just the right amount of warmth to the white furniture.
Add Texture With Distressed Wood

Even though this room is decorated in all white, all of the different textures add a big wow factor.
Use A Variety Of Fabrics To Create Texture

This white bedroom is completely chic and dreamy. Because the white fabrics all have a different texture, the monochromatic color scheme is not boring.
Add A Little Splash Of Accent Color

A touch of light aqua is so striking when the majority of the room is white.
A Modern Twist With White

Here is a more modern take on some rustic elements mixed with the clean white palette.
A White Kitchen With Warmth

Look how well the shabby accessories stand out against all of that white in this kitchen!  I just love how that Bakery sign pops.
Rustic Accessories Calm A Bright White Room

There is just something so soothing about this display.  The cabinet with the distressed white paint is a great contrast against the smooth bright white wall paint.
Create Just A Small Vignette In White

If you don't want to do a whole room in white, small space or vignettes look great in an all white theme.
Would you consider decorating in white?  Which rooms would you do?  Leave your comments below.