Barnwood is a hot commodity right now. Besides it's popularity as a wall covering, there are so many other home decor projects that use barnwood. I've put together this collection of DIY barnwood crafts to show all of the cool things that you can make for rustic decorating.
Where To Get A Hold Of Barnwood
Obviously, to do these crafts you first need to get a hold of some barnwood. The best case scenario is that you know of someone who is tearing down an old barn. However, if that is not the case, you can still easily find barnwood to purchase. The best place to get started is online at The Barn Pages. You can search by state for people selling their barnwood. Or, just check out Home Depot where they sell kits of real barnwood. Another place that I have seen authentic barnwood for sale are at architectural salvage stores.
Things To Make With Barnwood
With all of the DIY and craft projects that use barnwood, there should be something that you would like to make. Try one of these barnwood crafts to complement your rustic decor.
Construct A Barnwood Storage Bin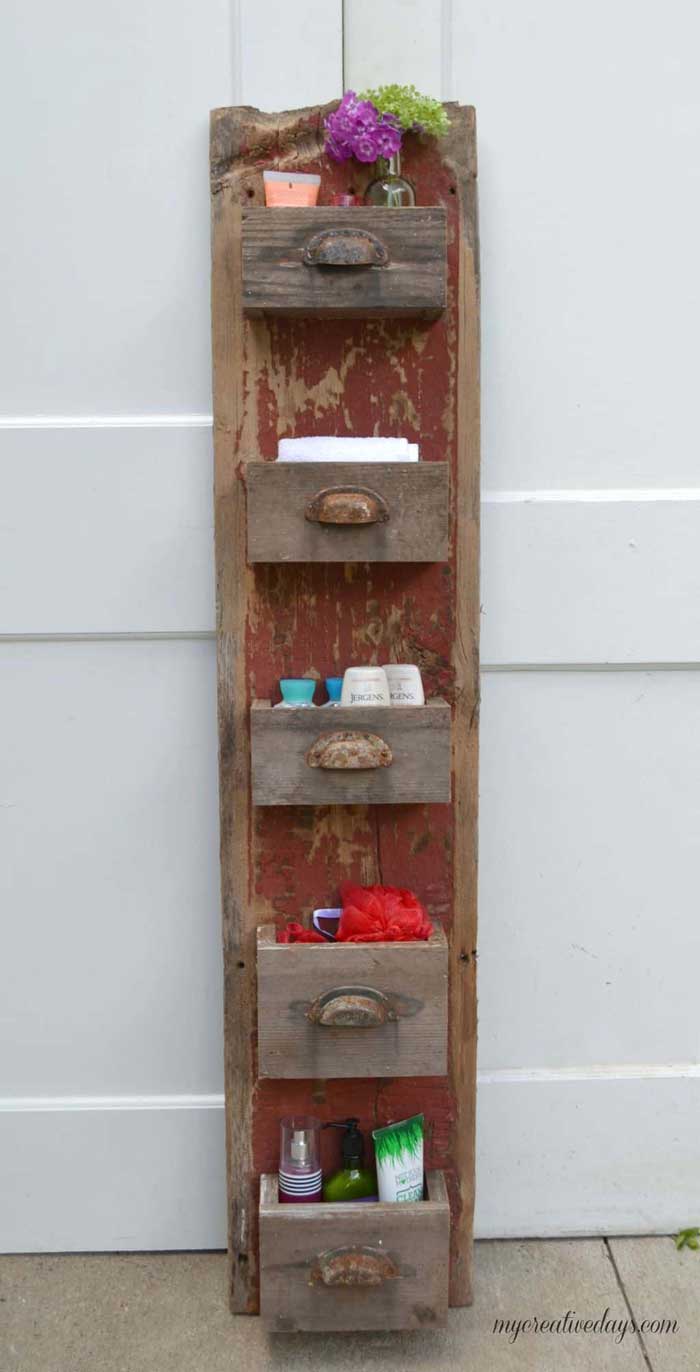 This rustic storage bin, for the bathroom, uses barnwood in such a stylish way. I love the mix of the red barnwood backer and the gray wood bins. The bins were actually made from old drawer fronts. All of that salvaged wood works together perfectly.
Make A Barnwood Shelf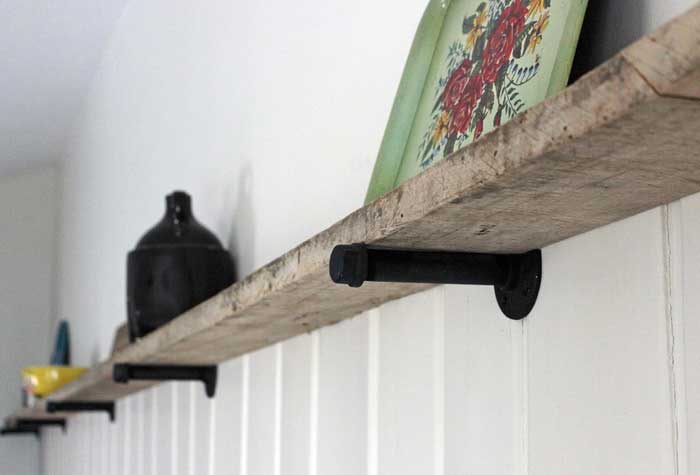 By using barnwood planks and plumbers pipe as brackets, you can easily make your own rustic industrial shelving. Make a wall to wall ledge or a single shelf with this simple technique.
Barnwood Is Great For Headboards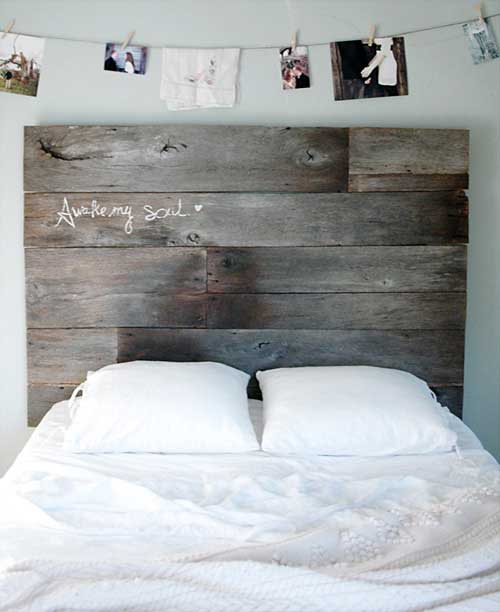 Place some planks of barnwood behind your bed for a great faux headboard. This is a great alternative to covering an entire wall in wood and you still get an amazing focal point.
Frame A Picture With Barnwood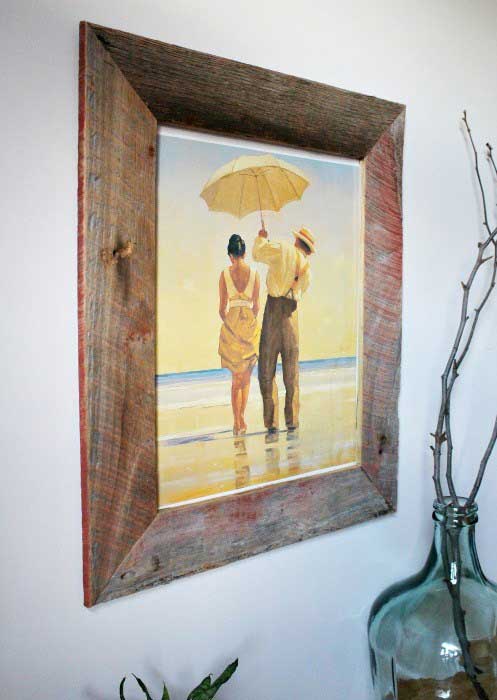 Make any photo or print fit in with your rustic decor. All you have to do is make a frame from the salvaged wood to really set the tone.
Create Some Rustic Lighting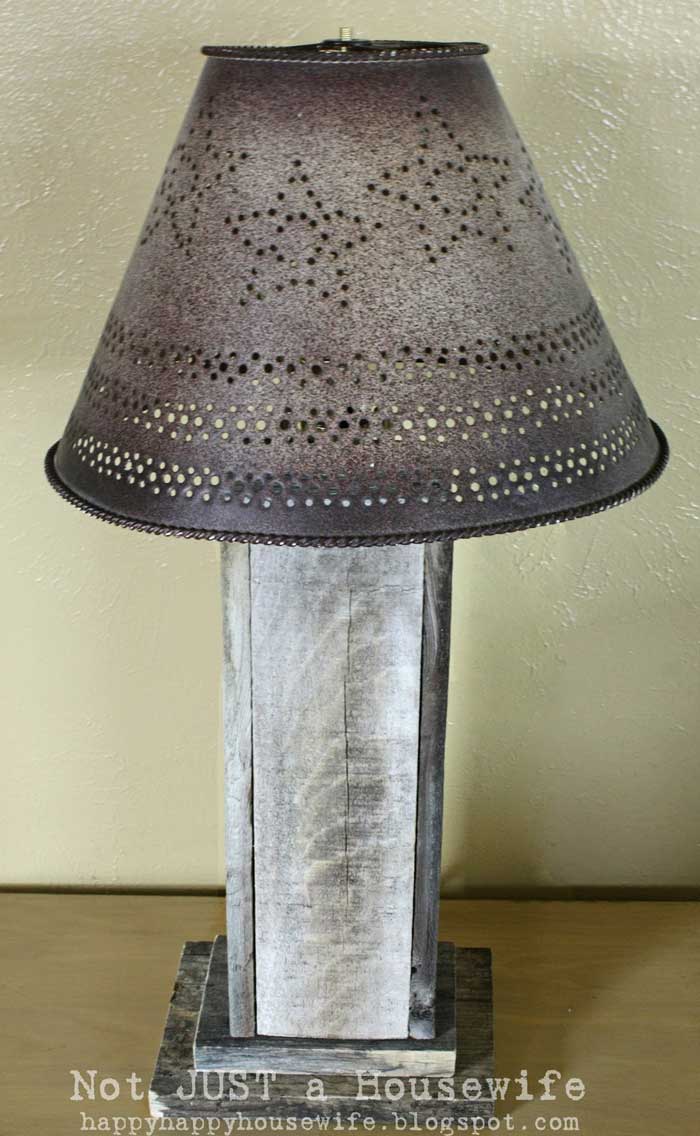 A barn wood lamp is an easy way to add some rustic lighting to your space.
Other Easy DIY Barnwood Crafts
Paint a sign on a section of barnwood.
Attach coat hooks to barn wood.
Frame a mirror.
Use a barnwood beam as a fireplace mantel.