Do you have a favorite recipe that you like to make and others love to eat? Maybe you want to turn it into a recipe keepsake. A handwritten recipe can be a thoughtful gift that brings about lots of nostalgic memories. Or, maybe you want to have a certain recipe displayed for seasonal decor in the kitchen. For instance, during the Fall I love to make warm apple crisp. I figured it would be a cozy touch to display the recipe on a cutting board next to a bowl full of red apples. Other ideas are sugar cookies at Christmas or pumpkin pie during Thanksgiving. Of course, family favorite recipes are always great to give out as gifts to be displayed at any time.
The most perfect way to get a recipe onto a cutting board is with a wood burning tool. The wording won't smudge and the look is warm and rustic. I'll show you how easy it is so you can make some for yourself and give others for gifts this holiday season.
This post contains recommended product links. If you make a purchase through one of the links, I will earn a small commission at no extra cost to you.
Recipe Keepsake DIY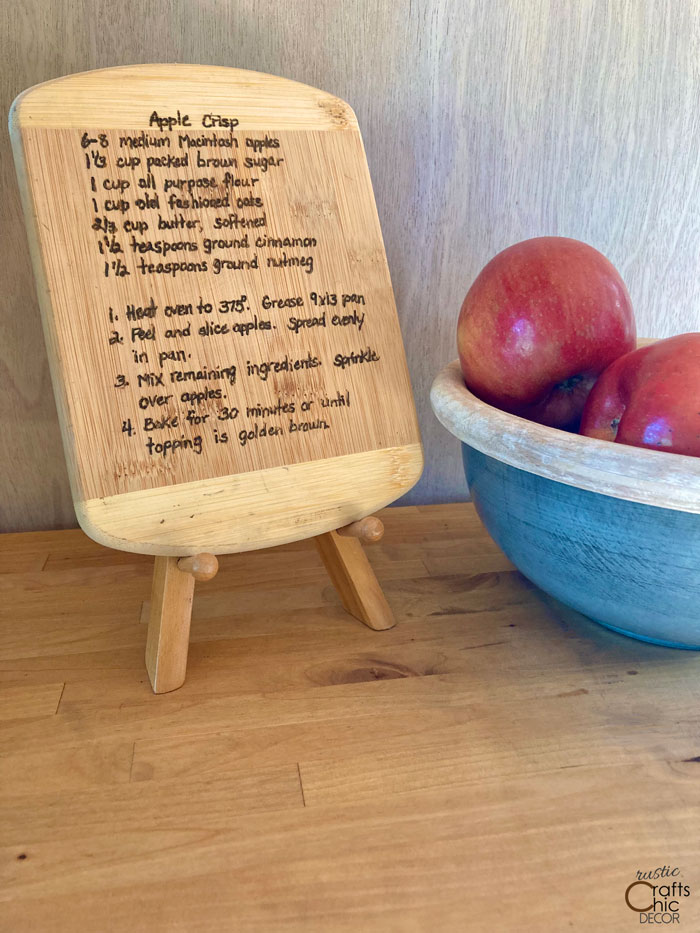 What You'll Need
Instructions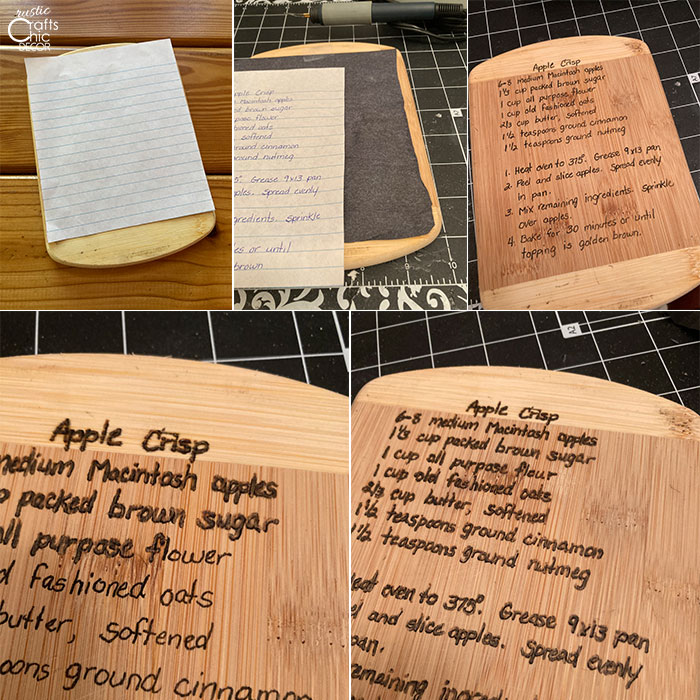 This craft project is pretty straight forward. You basically just need to write out your recipe, using a wood burning tool, onto a cutting board. The most challenging part is making sure that your recipe will fit on your board. Luckily, there is a very easy way to get the placement just right. It's also possible to fix any mistakes before burning the words directly onto the wood. Believe me, mistakes happen!
You could say that I deliberately made a mistake with my wording to show you how easily it could be fixed. But, that's not what happened. I must have been in lala land thinging about flowers and butterflys. As you may have noticed above, I spelled out the ingredient flour as flower. I definitely wouldn't want to be adding actual flowers to my apple crisp!
Here are the easy steps.Cut a piece of lined paper the size of your cutting board.
Cut a piece of lined paper the same size as your cutting board. Using lined paper will keep your recipe lines nice and straight.
Write out your recipe on the paper.
Cut out a piece of carbon transfer paper also the size of the cutting board and tape it to the board so it doesn't slip when you are writing.
Tape the paper with the recipe on top of the carbon paper.
With a pen or stylus, write over your recipe again pressing firm.
Lift off the carbon paper and hand written recipe. You will see the transfer ink on your cutting board.
Trace over the ink with a wood burning tool.
Run an eraser over the wood burned letters to get rid of any visible carbon copy.
How To Fix A Mistake
It's a really good idea to check your work early. If you catch any mistakes after writing out the recipe by hand, it's easiest to just write it over again. I didn't do that. Luckily, however, I did see the mistake after the carbon copy was applied to the wood and before wood burning. This meant, all I had to do was erase the carbon with a large clean eraser. Unfortunately, I pressed quite hard on the carbon when I was transferring the recipe. This caused the carbon copy to be really dark and harder to erase. I ended up using a little fine sandpaper to get it perfectly clean. It's pretty clear that a softer touch would still transfer the words and the lighter copy would be easier to erase.