Have you ever wanted to add a little texture or just a little something different to one of the walls in a room in your house? Why not decorate with wood planks? It's a DIY rustic decor project with a big impact. You could either do a whole wall or just a partial space for a fun accent. I found some examples to inspire you and get you thinking about your own space and how to incorporate a rustic wood wall.
Although shiplap walls are extremely popular right now, there are other ways to use wood planks for a more rustic feel. Decorating with barnwood is always a good way to add some rustic appeal. Barnwood, salvaged wood and even pallets can be secured over drywall to create a rustic wood accent wall.
Inspiration For Wood Walls
Use Barnwood On An Accent Wall

This first example shows what we did with one entire wall in our basement game room. Lucky for us, we knew someone who was tearing down an old barn. All we had to do was tear down the barn wood pieces that we wanted and haul them home. We then cleaned them with a 1:3 mixture of bleach and water and then cut them to size. It was then just a matter of nailing them in place to the drywall. And, I would definitely recommend using a finish air nailer for the job. It makes the process quick and easy.
Make sure to secure the boards through the drywall and into the studs wherever you can. Our boards were twelve inches wide and studs are sixteen inches apart so each board overlapped a stud. We also trimmed out the top and bottom of the wall with long pieces of barn wood for a finished look. These horizontal planks were screwed over the vertical planks and into the bottom and top header pieces of the studs. This helped to secure all of the boards further.
Barn wood is naturally rustic so it complements a rustic decor very nicely. You could even do just part of a wall if you have a smaller supply of wood.
Barnwood Wall With Barnwood Barn Door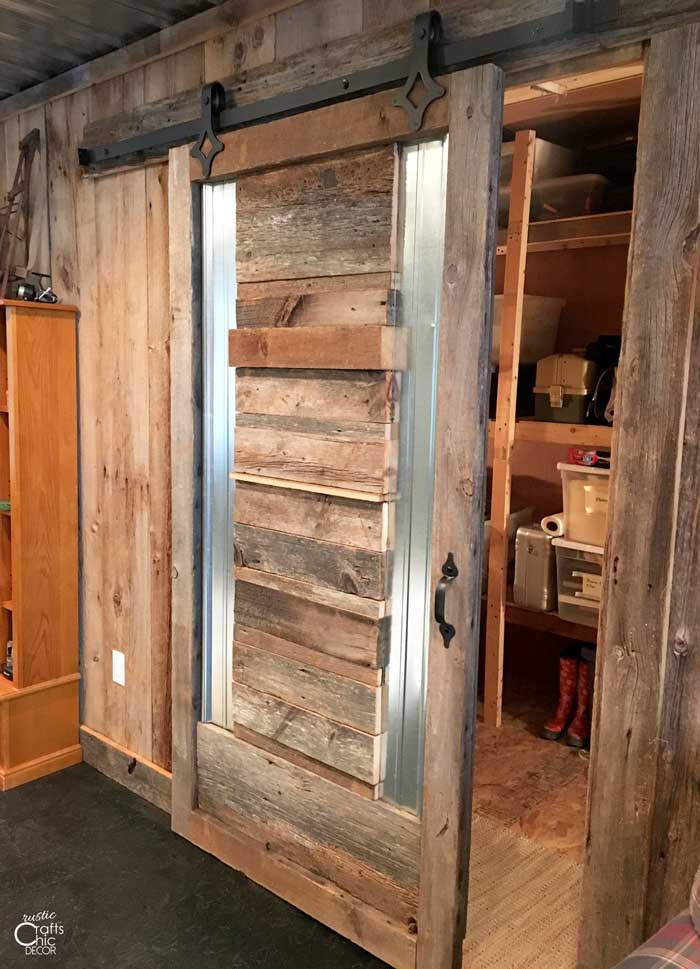 Because we like barnwood so much, we also created a rustic wood wall in the room above our cabin garage. My husband made the barnwood door using varying depths and sizes of wood. Since we have a corrugated metal ceiling, we incorporated some of the metal into the door as well.
Salvaged Wood Wall In The Bedroom

SOURCE: Decoist
You can see how the salvaged wood adds a nice contrast to the rest of the room. Hanging the boards horizontally is an easy way to go. Just start from the bottom or top of the wall and work your way to the other end. The last piece may need to be sliced to get the right fit.
Mixed Reclaimed Rustic Wood Wall

SOURCE: Fama Creations
You can really create an interesting look when you mix your reclaimed wood pieces. The different colorations, textures, and depth really give this dining room a lot of character. It definitely takes a little more planning to create but would be worth the effort. Here is a case where laying out the boards beforehand, on the ground, is a must. Then, number the backs to keep them in order.
New Knotty Pine Tongue And Groove

If you don't have access to any salvaged or reclaimed wood, you can still always use new. Tongue and groove knotty pine planks are popular to use in rustic areas. We actually used the knotty pine on the ceiling of our cabin. However, you can get the idea of how it would look on the wall. With the tongue and groove design, it is also very easy to install. We like the golden warm tone which contrasts nicely with our whitewashed plywood walls. To see more detail on our plywood walls, check out my post on installing and finishing plywood walls.
Use Pallet Boards For A Small Area

SOURCE: Kelly Simon Says
If you don't want to make a full rustic wood wall, you can easily create a smaller fun accent. Pallet boards make a wonderful canvas for artwork. The little bit of wood on the wall still will and warmth and character. It also helps to break up a large painted wall.