Because storing wine bottles can take up much needed cabinet space, I have some ideas for DIY wine racks. A great way to save on space is to make a wine rack for your wall. Not only does this free up cabinet space but these ideas also look amazing.
DIY Wine Racks
All of these wine racks can be adapted to the wall space that you have.
Wood and Plumbers Pipe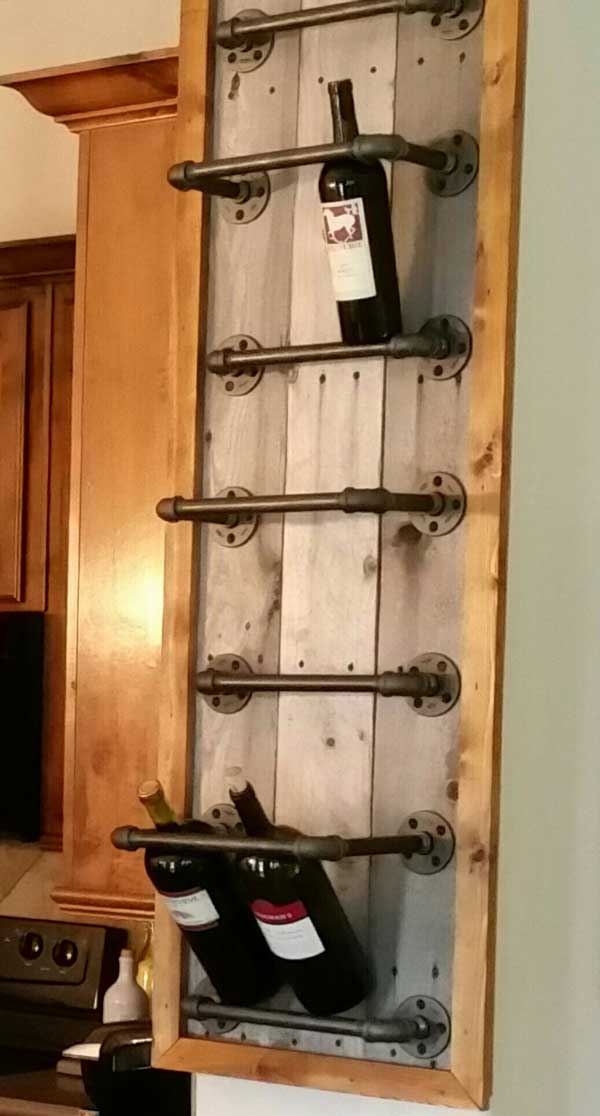 This decorative wine rack idea combines salvaged wood with plumbers pipe. The key to this wine rack is to attach the bottom plumbers pipe at a shallow enough depth so that the wine bottle doesn't fall through. The top pipe is then at a larger depth to slide the wine bottle through.
DIY Pallet Wine Racks

Using wood pallets is a great choice for making a wall wine rack. These are easy to make and have a perfect rustic style.
Wood and Leather Wine Rack

The leather straps to this wine rack add a classy touch to the rustic style.
Zig Zag Wood Wine Holder

Create a fun design with a zig zag shape. The plans for this wood wine rack are easy to follow.
Heat Duct Wine Rack
Something you may not have considered using for a wine rack is heat ducts!

Using heat ducts gives a unique industrial look. If you don't mind not seeing the wine labels, this would be a great option.
DIY Riddling Wine Rack

This wine rack just says fun! The project takes a little bit more time but the step by step tutorial is easy to follow.
Repurposed Vintage Milk Crate
This last wine rack idea isn't really a DIY. It's simply a matter of hanging an old milk crate on the wall sideways. Since a milk crate was designed to hold milk bottles, it is already a great design for holding wine bottles!