I have been to several flea markets and antique stores and have seen so many different door knobs for sale.  The beauty of the old glass knobs has me tempted to switch out all of our knobs at home but this wouldn't be real practical and I have never seen a whole set of matching knobs anyway. Since I wouldn't be switching out my knobs, it got me thinking about door knob crafts. There are lots of ways to use these knobs decoratively in a home. So, I came up with a collection of door knob crafts that would be fun to try.
Ideas For Door Knob Crafts
After seeing some of these ideas, you may want to start collecting vintage door knobs yourself! Whenever you can add something vintage to your home decorating, you get a sense of warmth and nostalgia. These ideas are perfect for a rustic or farmhouse style home.
Make A Rustic Door Knob Jewelry Holder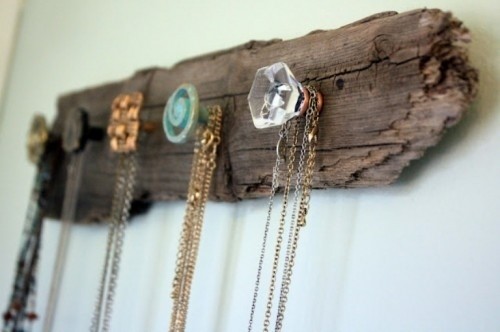 TUTORIAL: Visibly Moved
I love the contrast of the pretty knobs against the weathered wood in this fun jewelry holder.  The decorative knobs make the perfect hangers for the glitzy necklaces. Hang this in a bedroom or bathroom for easy access.
Door Knob Wine Stoppers

SOURCE: Homedit
TUTORIAL: Ehow
If you happen to have wine left in your bottle and need a stopper, then a door knob serves a great second purpose for the job!  Just attach the knobs to a cork, add you have glamorous vintage topper for your wine bottle.
DIY Door Knob Hooks

SOURCE: Blesser House
These door knob wall hooks make quite a statement against the rustic wood. Make this for anywhere in your house that you need to hang something. This is one of the most versatile door knob crafts.
Door Knob Pumpkin Patch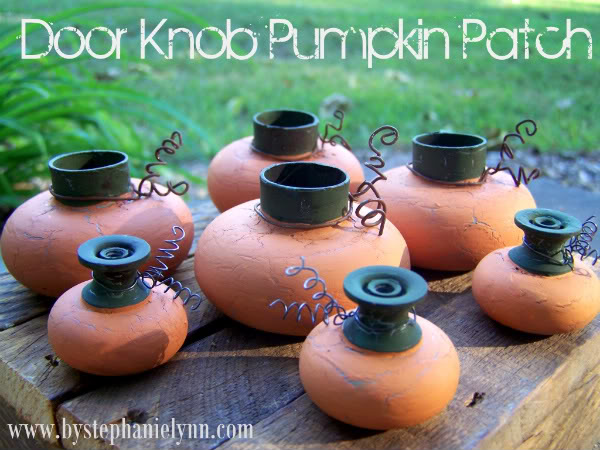 TUTORIAL: How Does She
Here is a door knob craft that is perfect for Halloween!  This little pumpkin patch will add some festive decor to your holiday and the rest of the Fall season.
Door Knob Single Hooks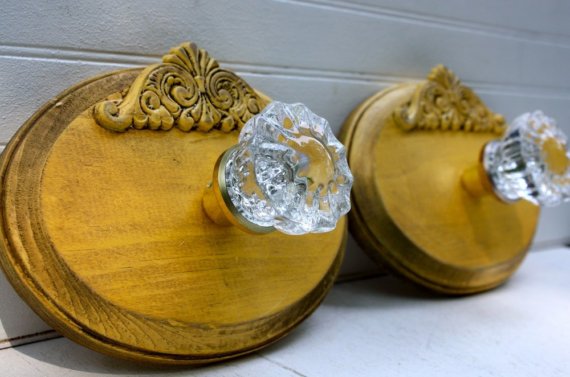 TUTORIAL: Keely Hart
Another wall hook idea with shiny glass knobs and a decorative wood back.
Make A Door Knob Vase

TUTORIAL: Thrifty Fun
Old door knobs with a little hole work perfectly as tiny vases for those small flower arrangements that just don't fit in the average sized vase.
For more ideas for door knob crafts, check out these unique knob ideas.