While it is still nice outside, it is a good time to think about sprucing up your home's exterior.  After all, once Fall hits  it get a little more chancy with the weather. Not only that but schedules usually get a little more hectic.
Besides normal yard maintenance, there are simple outdoor diy projects that can be added to further your curb appeal.
Here are some fun ideas to carry you right through the Fall and Winter season:
Outdoor DIY Projects
1. DIY Outdoor Porch Bench by Sawdust Girl

I love the idea of adding a bench to a front porch space, especially one that can be made so simply! Not only does the bench look great on it's own but it make a fantastic stage for more decor. Think decorative pillows, flower pots, or other items that can be switched out for the various seasons and holidays. Make sure to check out the tutorial for the easy to follow and very detailed construction steps.
2.  Make a post to hang decorative signs.  Found on Wonderful Home Blog.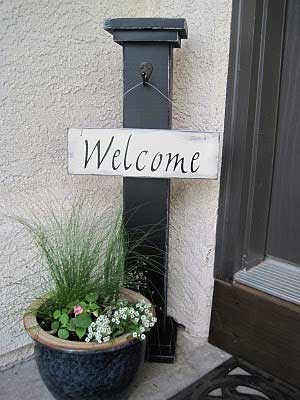 Here is another way to keep outdoor greetings fresh. A decorative post adds some nice flair along side the front door and makes it easy to change out the signs or wreaths as needed. This basic post would be easy to make with a 6×6 main post and 2×8 and 2×10 cut pieces to cap off the top. Then just paint and sand off the corners for a distressed look.
3.  Old Drawer Planter Boxes by My Repurposed Life

Of course, I think this idea is fantastic!  Since I love to repurpose things, what better idea than taking old drawers and turning them into decorative planters for outside. I am picturing filling them with flowers in the Spring and Summer, pumpkins and gourds in the Fall, and evergreens and poinsettias in the Winter……ahhh.
I hope you have been inspired to take advantage of these last couple of weeks of summer to spruce things up for the rest of the year!  Which of these outdoor diy projects would you be most likely to try?